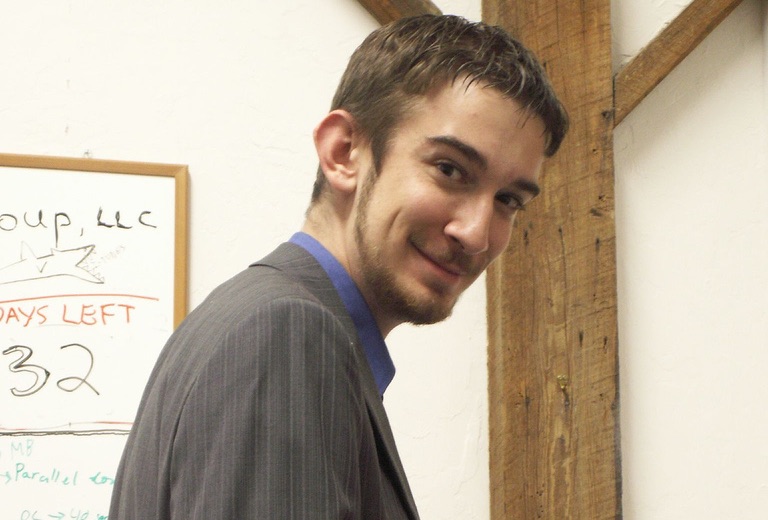 Updated, 1:30 pm PT.  Gainesville Police have issued a Twitter statement noting that there was 'no evidence of foul play or suicide' (here).  Additionally, this report has added details related to recently-murdered Grooveshark exec, Eddy Vasquez.
Grooveshark co-founder Josh Greenberg was found dead Sunday in his apartment in Gainesville, FL, according to details now coming from local news outlets.  The body was discovered by his girlfriend, and completely unexpected.
Greenberg, who was 28, had no significant medical conditions or issues with drugs, according to a statement from his mother.
That introduces the very serious possibility of a suicide, especially considering the recent teardown of Grooveshark, though Gainesville Police noted 'no evidence of foul play or suicide'.  Addressing that issue in a brief statement to the Gainesville Sun, Greenberg's mother noted that her son wasn't depressed but rather focused on future possibilities.  "He was excited about potential new things that he was going to start," Lori Greenberg said. "[The medical examiners] are as baffled as I am."
It was an undoubtedly rough year for Greenberg, however.  On April 30th, after losing a massive lawsuit against Universal Music Group and other major labels, Grooveshark was permanently shut down, with assets seized.  Grooveshark had battled for years against a massive 'legal jihad' spearheaded by Universal, and was ultimately found guilty of intentional, massive copyright infringement.
Greenberg, like CEO Sam Tarantino, spent a majority of their careers at Grooveshark under massive, unrelenting legal pressure.  But they also witnessed meteoric growth: the Grooveshark concept, borne on the University of Florida campus, at one point surged past 40 million users and remained a contender right up until its final day.  That success largely came from blatant infringement, though Grooveshark's failure was rooted in other issues as well, including an arguably ruthless and paranoid business culture and an inability to strategically compete with far-stronger streaming competitors like YouTube, Spotify, and Soundcloud.
The death also carries an eerie undertone.  In late 2013, Grooveshark lost another twenty-something executive, Eddy Vasquez, who was murdered in a fight.
An autopsy into Greenberg's cause of death is now underway, with no statements yet from the coroner's office.