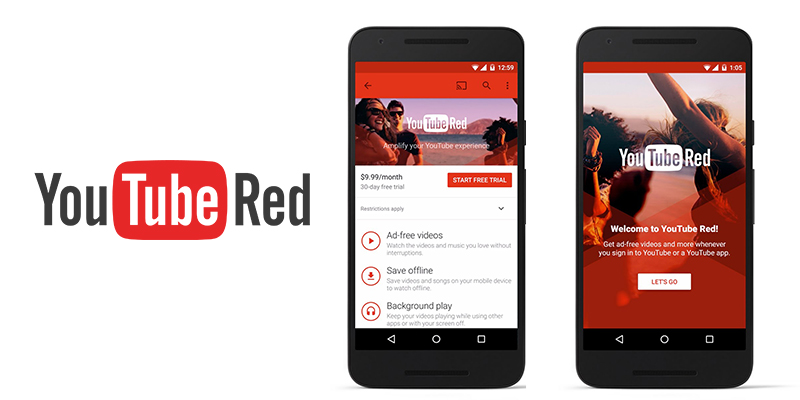 On Wednesday, YouTube finally announced the details around YouTube Red, its first big stab into a premium, ad-free tier.  Here's everything we know so far, from both a creator and consumer standpoint.
1. Forget the name 'YouTube Music Key'
It's now just called 'YouTube Music,' and it's part of 'YouTube Red'.  In terms of timetable, YouTube would only say that Music was coming "soon" and "later this year," with other countries outside the US coming 2016.  YouTube Music will be a big, big part of YouTube's premium expansion.
2. 'YouTube Red' is the broader premium service that starts October 28th as an ad-free iteration.
In less than week, YouTube users will be able to pay $9.99 a month for ad-free access, along with other features like offline mobile access.  That covers different platforms, with one catch…
3. 'YouTube Red' will cost $12.99 for iOS users.
This was confirmed by YouTube, based on a decision  not to absorb Apple's $3-per-month surcharge for App Store subscriptions.  There's early talk of a simple workaround, similar to Spotify, though at this stage it's unclear whether Apple will enforce its cut.
4. YouTube Red subscriptions also cover mainline YouTube, YouTube Gaming, and YouTube Kids.
And of course, YouTube Music.  And, maybe some more (see #10).
5. Creators can't really opt-out of YouTube Red.
Anyone who doesn't participate in 'YouTube Red,' 'YouTube Music,' or any other iteration will have their channels and videos set to 'private'.  Basically, if you don't sign the contract, you're dead to YouTube (and your fans on YouTube).
6. Yes, there's a big porn site called 'RedTube'
That's definitely going to complicate things for the all-important, 15-year-old male demographic.
7. The YouTube Music app will be similar to YouTube's mainline app.
YouTube is still unveiling aspects of the app, but this isn't a radical departure.  It will have a three-tab structure, with a toggle that allows people to move from video to music-only mode.  Perhaps the coolest part will be instant playlisting based on thumbs-upping and favoriting, as well as smart recommendations based on 'learned' musical preferences.
8. YouTube Music will offer offline music access.
This could be the coolest feature, especially since its always been missing from YouTube.  No word yet on exactly how many songs and playlists can be cached.
9. YouTube Music will have artist pages of some sort.
YouTube was vague on this during its Wednesday announcement, though so far, YouTube Music 'artist pages' look like mere collections of artist videos (which sounds sort of like an expansion of artist playlists currently on YouTube).
10. YouTube Red will initially feature ad-free content, but special, premium content is next.
Eventually, YouTube is aiming to feature premium content for premium-paying subscribers, but for now, the focus is on ad-free content.
11. 'YouTube Originals' are already happening.
A big part of the premium-only tier will be YouTube Originals, which will heavily feature top, YouTube-bred stars in original productions.  Some portion of those productions will only be available to paying subscribers.  A big player in that expansion will be PewDiePie, among other YouTube natives.
12. It looks like YouTube Red and YouTube Music accounts will also include Google Play Music All Access.
This certainly makes sense, given the huge overlap. According to early information revealed by YouTube executives, Google Play Music All Access will be included in YouTube Red premium account costs.  But Google is a big, dysfunctional place, so let's see what happens once YouTube Red and YouTube Music are live.
13. YouTube says it will pay a "majority" of Red revenues back to content creators.
Beyond that, we're not sure of exact payout terms here (chime in if you know more).  So, let's see.
14. YouTube Red will pay creators based on actual views.
That sounds logical, and addresses a huge complaint against streaming services like Spotify.  But it's unclear whether that translates cleanly into YouTube Music.
15. Major content owners are also part of YouTube Red.
Mega-media companies like 21st Century Fox, NBCUniversal and Time Warner are part of Red, and currently part of the ad-supported mainline YouTube service.  According to the New York Times, those partners will receive 55 percent of the revenue from premium subscriptions.
16. YouTube has also reportedly threatened to eliminate content from major media companies that refuse to participate in Red.
That's also according to the New York Times.  "The executives said YouTube had implied that if they didn't provide content for subscribers, there was a chance their ad-supported content would not be available on YouTube in the United States," the Times reported.
17. YouTube Red will have a free, one-month trial window.
It's unclear if users will be asked to submit their credit cards upfront, like Apple Music (and subsequently face automatic charges if they forget to cancel in time).