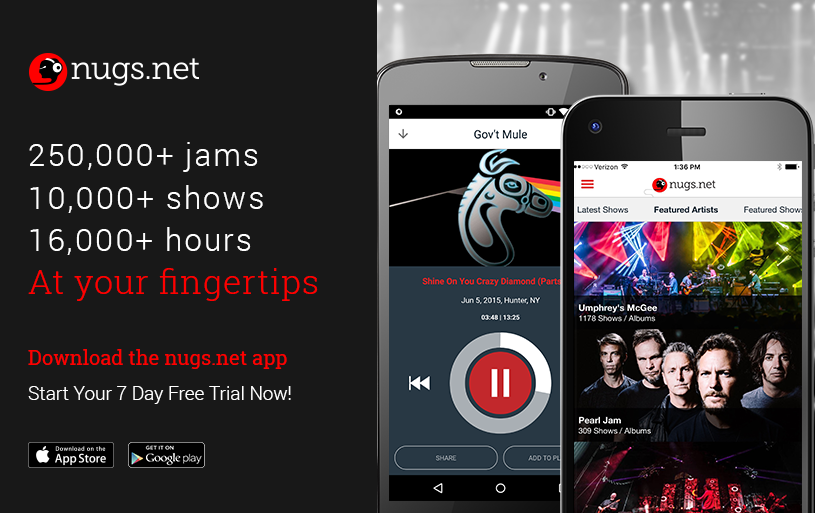 nugs.net, has launched their first subscription streaming service. The app allows subscribers to listen to 250,000+ jams as part of 10,000+ shows for over 16,000+ hours of music.
The nugs.net app features thousands of concerts on demand, free 24/7 nugs.net radio streams and recommended shows. Other features include playlisting and offline playback, so you can access your shows when you're off grid.  The app also has social sharing functions, curated weekly featured shows, high-quality audio streaming, fan reviews, and is available in both iOS and Android formats.
The service is $12.99 per month or $129.99 per year, which gives users unlimited access to the app's catalog of live sets. Non-subscribers can listen to a rotating selection of featured shows, plus a free stream of nugs.net radio, a 24/7 playlist of selected live tracks from nugs.net's extensive archives.
The nugs.net app currently includes the likes of Pearl Jam, Phil Lesh & Friends, The Black Crowes, The Disco Biscuits, Widespread Panic, Gov't Mule, moe., Umphrey's McGee, and Yonder Mountain String Band, among others.  All of which were part of the service at launch, and who will add new shows nightly throughout their tours.
This could an interesting test of the targeted streaming space.  "For the fan of live music, there's never been an easier way to have all of your favorite concerts at your fingertips," the company proclaimed to the jam band faithful.  "The nugs.net app lets you choose that epic show from your favorite band's tour, or find the best sets from back in the day. With the nugs.net app, fans can revisit their favorite performances with ease and keep up with last night's show."
There is currently a free seven-day trial for the subscription service available at nugs.net/app.