Scott Weiland: October 27, 1967 – December 3rd, 2015.
Updated, 12/4, 10:30 am PT: The Hennepin County Medical Examiner's office has now confirmed Weiland's death, with the singer passing shortly before 8:30 pm CT on Thursday, December 3rd.  Weiland was in his tour bus (or some sort of large recreational vehicle) outside of the Country Inn & Suites at the Mall of America in Bloomington, Minnesota. 
Subsequent statements on Weiland's Instagram and Facebook accounts have followed, including a confirmation from Weiland's wife, Jamie Weiland.
Our breaking story, published moments after news of Weiland's passing, follows:
Scott Weiland, the lead singer of Stone Temple Pilots, was found dead on Thursday night at the age of 48.  Weiland was found dead in his tour bus in Bloomington, Minnesota by his manager.  Drugs are a suspected cause of death, with cardiac arrest rumored.
Dave Navarro initially tweeted the news, before erasing the grim update.
Weiland defined Stone Temple Pilots, often abbreviated as 'STP,' a band that technically existed between 1986 and 2013 but enjoyed its greatest success in the early- to mid-90s.  Indeed, Weiland's vocal talent and persona powered STP into the pantheon of top 90s rock groups, surpassed only by legendary grunge rockers like Pearl Jam and Nirvana.  Among STP's greatest hits include "Sex Type Thing," "Interstate Love Song," "Big Empty," "Wicked Garden," "Creep," and "Plush".
STP, originally named Mighty Joe Young, was signed by Atlantic Records (WMG) and enjoyed platinum-smashing success out of the gate.  The success story continued through several 90s albums, though the streak failed to carry into the 2000s.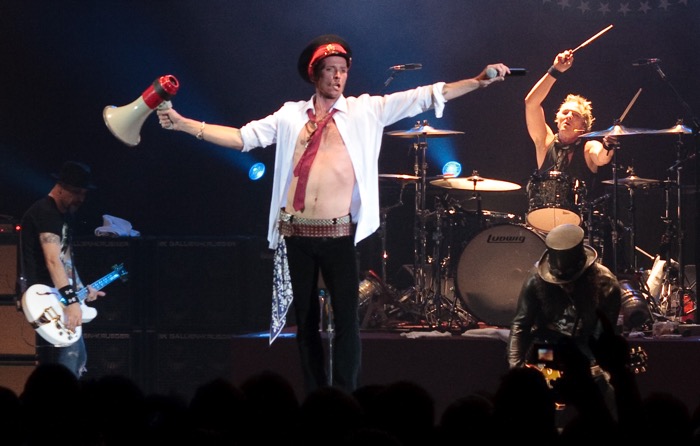 Things trudged on in the 00s, though Weiland was officially kicked out of STP by 2013, after which the band remained active.  Sans Weiland, the identify of the group suffered, with most unaware that Stone Temple Pilots was still alive.  Beyond STP, Weiland also pursued a solo career, and became a core part of the rock supergroup, Velvet Revolver.
He died while on tour with his latest group, The Wildabouts, though ticket sales had been sluggish.
Tragically, Weiland battled serious drug addiction throughout his career, including bouts with heroin and unsuccessful rehab stints.  Addiction is often an outward sign of deep, inner turmoil, and much of that fueled Weiland's musical passion and creativity.  But there's of course a horrific downside: Weiland's crutches were well-known among fans, with Weiland notorious for erratic behavior and missed shows, among other issues.  More seriously, drugs are likely the reason why Weiland was kicked out of STP and faced such an untimely, tragic death.
More as additional details of this tragic death become known.