1+ = 50 Beatles videos, digitized into 4K from 35mm.
The Beatles' 1 was a stunningly simple idea: package virtually every number one-charting Beatles track, release it with a lot of fanfare, and make a trillion dollars.  Released back in 2000, 1 went on to sell 31 million copies, one of the most successful releases of all time.  It's also in the record books as one of the fastest-selling releases in history, thanks to an extreme Christmastime sales surge.
Now, heavy-spending Beatles fans have another juicy release to focus upon, with top-charting hits the focus once again.  Called simply 1+, it's a collection of 50 unreleased videos, digitized into 4K from 35mm.  Fans will get restored videos for 27 number one songs (from both the US and UK), as well as 23 more, including alternate versions and rarely-seen clips.
On the digital side, this is an iTunes exclusive, part of a broader, Apple exclusive on Beatles digital releases.  The physical version has been available since early November.
The collection of promotional and music videos has never been properly aggregated into a collection, and 1+ adds additional audio and video commentary from Paul McCartney and Ringo Starr (whose first-issue White Album was just auctioned for nearly $800,000).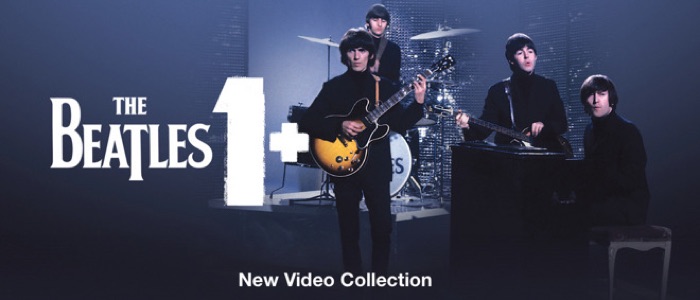 There's also a 124-page illustrated book that annotates the videos, with great Beatles historical bits tossed in.  In total, this is over 3 hours of total footage (or '200 minutes').  The videos have been remastered with new stereo and 5.1 Dolby Digital surround audio mixes.  The videos were taken from 35mm negatives, scanned in 4K, and digitally restored.
In terms of pricing, it's $26.99 for the high definition release, and $21.99 for standard definition.
Here's the full track listing.
1. Love Me Do
2. From Me To You
3. She Loves You
4. I Want To Hold Your Hand
5. Can't Buy Me Love
6. A Hard Day's Night
7. I Feel Fine
8. Eight Days a Week
9. Ticket To Ride
10. Help!
11. Yesterday
12. Day Tripper
13. We Can Work It Out
14. Paperback Writer
15. Yellow Submarine
16. Eleanor Rigby
17. Penny Lane
18. All You Need Is Love
19. Hello, Goodbye
20. Lady Madonna
21. Hey Jude
22. Get Back
23. The Ballad of John and Yoko
24. Something
25. Come Together
26. Let It Be
27. The Long and Winding Road
28. Twist & Shout
29. Baby It's You
30. Words Of Love
31. Please Please Me
32. I Feel Fine
33. Day Tripper *
34. Day Tripper *
35. We Can Work It Out *
36. Paperback Writer *
37. Rain *
38. Rain *
39. Strawberry Fields Forever
40. Within You Without You/Tomorrow Never Knows
41. A Day In The Life
42. Hello, Goodbye *
43. Hello, Goodbye *
44. Hey Bulldog
45. Hey Jude *
46. Revolution
47. Get Back *
48. Don't Let Me Down
49. Free As A Bird
50. Real Love
* alternate version
Video Extras
Paul McCartney audio commentary
Penny Lane
Hello, Goodbye
Hey Jude
Strawberry Fields Forever
Ringo Starr filmed introductions
Penny Lane
Hello, Goodbye
Hey Jude
Get Back
Strawberry Fields Forever