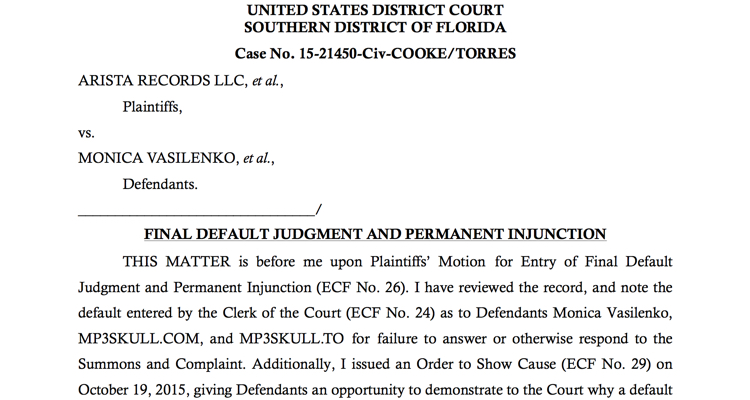 The Recording Industry of America (RIAA) has now won a piracy lawsuit against MP3 skull for $22 million. 
The battle started last year, when a group of labels including Sony Music Entertainment, Universal Music Group, and Warner Music Group filed a lawsuit against MP3 Skull for massive copyright infringement.  For years, MP3 Skull has been a top-ranked site offering downloadable mp3 links.
The pirate site chose not to respond in court,  and as a result, the RIAA decided to file for a default judgement. An Order to Show cause was issued, giving MP3 Skull the opportunity to contest the motion and ultimately demonstrate to the court why a default judgement should not be entered against them.
The site also failed to respond to the Order to Show cause.
As a result of MP3 Skull failing to respond at all, the judge at the Florida court awarded the plaintiffs $22,200,000, for the 148 music tracks that were listed as evidence. This works out at  $150,000 per track, which is the maximum in statutory damages for each.
On top of this, the Judge issued a permanent injunction, allowing RIAA to take control of the domain name.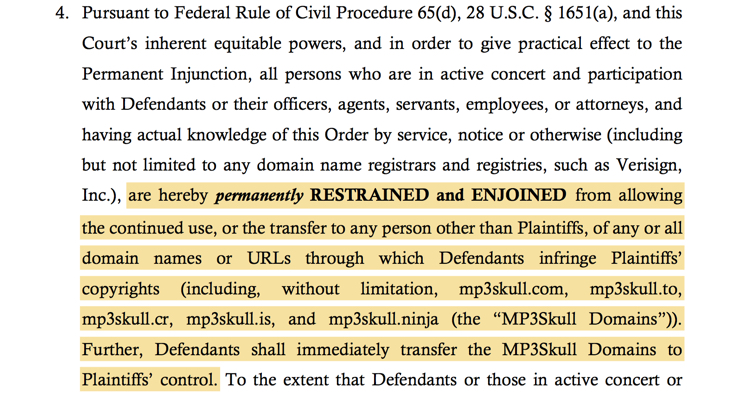 This is a great win for the RIAA, although MP3 Skull is already operating under the new domain name mp3skull.yoga, which visually and operationally doesn't look any different from the previous site that they were operating. Whether this case will do any good to prevent future copyright infringement is unknown at this time, though a myriad of other domain name variations are also likely to emerge.  That includes .info, .onl, and whatever else is available to aspiring pirates.
Indeed, where there's a market opportunity, there are pirates.  The RIAA, famous for its endless 'whack-a-mole' shutdowns, maybe foolishly repeating their own history (again).