Pretty much every musician in the world is on SoundCloud.  There's no doubt that SoundCloud has become one of the best platforms for sharing your music and allowing fans to connect and engage with your tracks.
It's also becoming important for brands, labels, and other potential partners.  Tom Leo, founder of YouKnowIGotSoul.com, says that he seriously questions any music submission that is not accompanied by a SoundCloud link.  I agree that SoundCloud has grown to be a trustworthy brand, and artists who host their music on SoundCloud appear to be more credible than artists who just send MP3 attachments in their email submissions (seriously, don't do that!)
So, to all my fellow musicians, hear me on this.  We know how much work gets put into the creative process.  Just think of all those countless studio sessions where night turns into morning, and you have to go to work in the morning straight from the studio (hopefully not smelling like Henny and other studio delectables).
Once your music is finally ready to be shared with the world, you post it up on SoundCloud and begin your grassroots indie marketing efforts. Then one day, you wake up to one of these dreaded emails.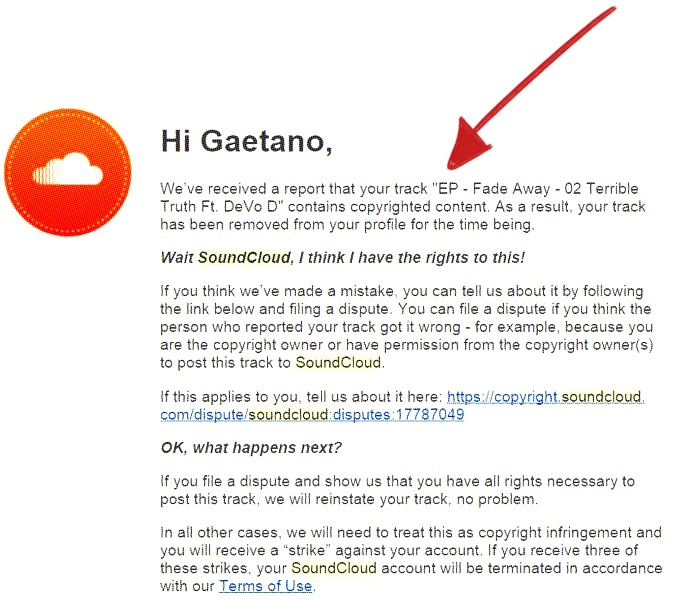 Welp, that sucks.  How the hell did my original music get flagged for copyright infringement?  The truth is, I have no idea.  Could it have been a hater?  Or a SoundCloud crackdown gone wrong?  Who knows.
Why didn't I get a warning first?  I should have been given the opportunity to present my case first before they blatantly yanked my music off the site!
If this sh*tty circumstance happens, here's what you should do.
1. Fight Back
Don't lay down!  It can be intimidating at first glance, but it's not as serious as it seems.  Unfortunately though, the truth is that you can't really do all that much. Hopefully you've registered your works with the U.S. Copyright Office, and/or a PRO such as ASCAP or BMI.
In my case, I own the rights to this original song according to an official U.S. Copyright registration.  It is also a registered work with BMI under my legal name.
2. Agree to SoundCloud's Terms
This pretty much sucks, but you have to do it.  The terms basically state that if you lie, they are going to delete your account.  And of course, the classic disclaimer that pretty much says that SoundCloud cannot be held responsible for anything.  Long story short, you can't sue them for any losses and liabilities as a result of your track being removed (even if they reinstate it).
3. Wait
It becomes a waiting game after you file your dispute, and that's pretty much all you can do.  Within your SoundCloud account, you can see a summary of all your disputes and such.
4. Consider Better Alternatives to SoundCloud
Personally, I'm really annoyed by all of this.  It was just an extra inconvenience that I didn't need.  And by the way, have you heard any of the SoundCloud news lately?  They've been making headlines, but not for good reason.  The truth is that they've been absolutely TANKING.  Investors and shareholders can't be happy with their latest financial report which disclosed a horrific $56 million in losses last year.
Industry experts have recently speculated that SoundCloud is on the edge of collapse and may not be around much longer. Hence, why you may have seen their desperate attempts to secure new investments and deals as of late.
If you're an artist looking for a good alternative to SoundCloud, I'd recommend Bandcamp.
I love Bandcamp because they allow a really cool "Name Your Price" feature which I've decided to employ for my Fade Away EP.  I went this route because I felt like it was more important to give fans and supporters a choice of how much they want to give, rather then forcing a $10 download.  Some downloaded it for free, some payed as much as $50 for it.
Regardless, you still get access to your customer information and get to thank them for their purchase (very important!)
Bandcamp Analytics.
Analytics are one of the best features that Bandcamp offers. The screenshot below shows where all my referral traffic is coming from (past 30 days).  Looks like direct links have garnered the most visitors, followed by If This Then That, and YouKnowIGotSoul.com.  There are a number of other things you can track with Bandcamp Analytics too, like which songs are getting the best engagement, and sales data.
5. Breathe, and Think Long-Term…
Who knows if SoundCloud will reinstate my songs.  I did my due diligence.  Now all I can do is place my faith in them to do the right thing.  More importantly, they may not even be a part of the conversation a few years from now.  I wouldn't recommend completely abandoning the SoundCloud ship just yet, though.  If you have music on SoundCloud, leave it up there, but you should start looking ahead to the future just in case the worst should happen.
Gaetano is a NYC based Singer, Songwriter, Producer, Guitarist that has worked with some of the biggest names in music. After releasing 2 EP's and producing records for major artists, Gaetano has been documenting his music industry experiences via his blog.
To get in touch with Gaetano, follow him on Instagram: @official_gaetano