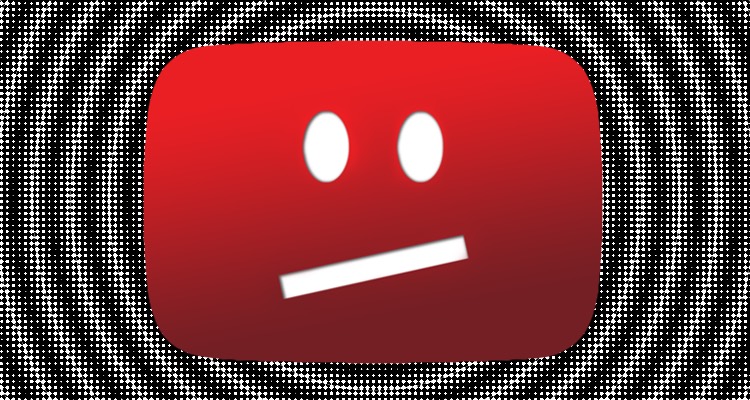 Seven years ago, I decided to try to make music reviews on YouTube, using a silly gimmick where I'd play piano in silhouette. And it went great! …for the first couple weeks. A month into this project, my fourth video got deleted; apparently Warner Music Group didn't like me using footage of Jason Derulo. I tried disputing it; I was ignored. That video remains unviewable on YouTube, but I pushed on regardless. Seven years later, I'm still doing it:
I had no idea at the time that making these silly comedy reviews would become my full-time job. But if I had, I would have also guessed that the YouTube situation would have resolved itself. Not so. I wish clips of Jason Derulo weren't still giving me as many issues as they did in 2009 (I wish I weren't dealing with Derulo at all, honestly, but that's a personal preference), but unfortunately use of copyrighted clips is still a deeply contentious issue, which you may be aware of if you've seen this:
This is popular YouTube comedian and movie critic Doug 'The Nostalgia Critic' Walker. He's a colleague of mine who I've been lucky enough to collaborate with on occasion, and he came up with the rallying cry "Where's the Fair Use" after the YouTube bots deleted yet another one of his videos. (If you see the hashtag "#WTFU" floating around, that's what it means.) Walker, and various other big-name YouTube producers, are trying to push YouTube into giving more consideration to fair use; so far, nothing has changed.
I, along with Walk and many others, used to get around the bots by avoiding YouTube completely, but last year the hosting site we were using, blip.tv, closed its virtual doors. There are other alternatives to YouTube, but most of them are both unstable and unprofitable, and none of them receive anything near YouTube's traffic.  In the current landscape, if you want to make new media content where it can actually be seen or monetized, then YouTube is your first, last and only option.
A note about "fair use": This is a nebulous legal concept that allows creators to use a limited amount of copyrighted content if it is used in a transformative capacity — for example, if you're a reviewer using clips of copyrighted music to make commentary videos.
The current YouTube system gives absolutely zero consideration to "fair use"; an automated algorithm just deletes your video if it detects any content and that's the end of that.
Or if you're lucky, sometimes YouTube will decide that you can keep displaying your content on their site, you just can't earn any money from it. This is my situation. I have 52,000 subscribers, viewership of between 100,000 and 200,000 views per video, and for every hit I get, I make a grand total of $0.00. All the ad revenue from my videos goes to YouTube and the copyright holders; I'm entirely funded by my loyal viewers on Patreon. For those who don't have that option and rely on YouTube ads for income, that means they're constantly living under the threat of having their livelihoods torn out from under them.
It's also worth noting that this system is rife with abuse, not just from big media companies but also just from trolls exploiting the system. Just in the last month, Walker had a "Phantom of the Opera" parody taken down despite it containing 100 percent original content. It was reinstated after roughly a week, but even this level of disruption is enough to cause problems for creators who promise their viewers a regular schedule.
Me, personally, I deal with the constant threat of deletion the same way I did in 2009; I use a site with less traffic as a backup. In '09 it was DailyMotion, today it's Vimeo; I get a tiny fraction of the views there but at least my viewers can watch them somewhere.
It's also impossible to predict what's going to get me in trouble and what isn't. Most of my videos I can upload just fine, even if I don't make money off of it. But one of my recent videos, a look back at '80s one-hit wonder Toni Basil of "Mickey" fame, got insta-blocked; for some reason, whoever owns the rights to the "Mickey" video just does not want it to be viewable anywhere. It's not even on Toni Basil's official channel that she runs (although the song without the video is readily available otherwise).
Recently, Vimeo tagged my videos for copyright infringement; fortunately, I was able to dispute it and had it overturned with an hour. This is in marked contrast to YouTube, which is infamously unresponsive to its users. It's important to note that Vimeo responded to me because I'm their customer (an active Vimeo account costs money). YouTube lets me use their service for free; in fact, for this reason they're arguably the least culpable for the situation.  YouTube is still basically a start-up; it has yet to make a profit.  It's not a mystery why YouTube sides with them over its users; Warner Music has lawyers and I have a cheap video camera I got as a Christmas present.  If it doesn't want to be crushed under the big media companies' giant corporate thumb, it has to acquiesce to their demands.
If anything, this battle has very little to do with the law and everything to do with leverage: The big media companies use their might to push YouTube into doing what it wants and now some video producers are trying to use whatever clout they have to push it back the other direction.
To be clear, I know the world doesn't owe me a well-paying career out of making silly internet videos. I know I operate in a grey area, and I know if and when the courts start going through the murky waters of fair use law, they may very well be against me. I've heard it argued that WTFU's definition of fair use is over-expansive and self-serving, and it's a decent point: Media creators have every right to look out for their own interests and fight piracy, after all, and that includes smaller independent studios just as much as the big guys. Fair use isn't a right; it's just a defense. But currently we aren't even allowed a defense. We just get deleted and that's that.
That said, there are some steps in the right direction; YouTube announced in November that it was starting a legal fund on behalf of its users. However, it seems likely to be used for only a tiny handful of users, and there has been no other information about the fund since the announcement. I don't expect it to have much impact on me or my colleagues.
Furthermore, it's not going to affect anything when copyright holders can issue wave after wave of takedown notices, in bad faith, without consequence. There is currently no punishment for abusing the system like this, and until there is, the situation isn't going to change. And it's not going to work in copyright holders' favor either: Whatever model of consumption they expect the Internet to conform to… it clearly isn't working.
And it doesn't fit at all with how people consume content today. The media landscape is now a culture of remixes and mashups. Some of the most popular YouTube channels (such as CinemaSins, Honest Trailers or any numbers of cover artists and video game channels) rely on other people's original content. "Legitimate" websites like Sports Illustrated and Vox Media embed blatantly copyright-infringing YouTube clips of FIFA or John Oliver right on their websites. These are sites that produce their own copyrighted content, mind you, and they participate in the new YouTube-based culture just as much as me, a nobody with a webcam. (And I'm at least transforming other people's content into something original-ish.)
I don't know what the solution to this is. YouTube wants to be a legitimate service, and becoming an unmoderated hub for piracy would destroy that goal, even without the specter of lawsuits. I just know that the current system isn't working. It's too prone to abuse; an automated algorithm can't operate in good faith. I do believe that eventually everything will stabilize into a paradigm acceptable to all, but the current struggle is nowhere near its endgame.