How many streams does it take to get into the Spotify top 200?
Charting on Spotify can change things for an artist, and potentially alter an entire career.  But most artists (and even labels) have no idea what it takes to climb into the coveted top 200 ranking.  Now, there are some concrete stats: according to worldwide data shared with Digital Music News this week by research firms DDMCA, Fanalists, and Jibe, the answer varies greatly depending on the country.
Here's a list of the top 10 Spotify countries, with the minimum number of daily streams accrued by the #1, #50, and #200 tracks within the month of April.
The United States is obviously the toughest country for charting, though it also has a lot of people (320 million at last count, with 85%+ on broadband).   And in the US and elsewhere, the reality is often that major labels are heavily pushing their focus tracks.  That makes it nearly impossible to establish a top-ranked song, though independent artists have certainly gained chart positions (and inclusion on coveted playlists).
There are also huge opportunities for artists in smaller countries, especially in streaming-heavy countries like Sweden, Norway, and the Netherlands (where this report was published).  Specifically, a track in Norway can enter the top 200 by garnering just 6,755 streams, and 8,464 in the Netherlands.  That said, many of the top positions are crowded by major-backed, bigger-budget artists.
Also keep in mind that there are lots of services that will buy Spotify streams for artists and labels.  Without getting into the ethical debates surrounding this, it certainly seems like a lot of artists are juicing their totals.  The tough part of all of this is that a lot of big-time labels, managers and publishers take streaming counts seriously, even if they might be purchased.  They simply don't want to take a gamble on an artist with zero traction.
This is also a shifting (and surging) target.  As streaming continues to explode, the number of streams required for a charting position is also starting to surge.  Here's just a quick look at the number of minimum number of global streams required to break the 200 threshold, for both 2016 (above) and April, 2015.
This is a Dutch report, so the Netherlands is broken out.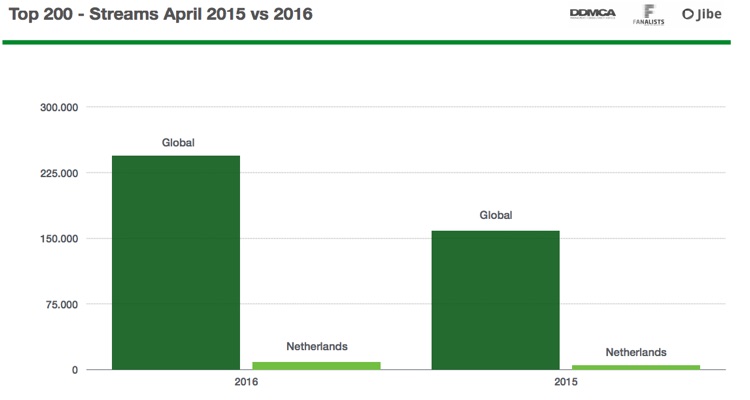 And, for those that want the super deep-dive, year-over-year, here you go.  It's a breakdown of all of the stream minimums for both April, 2016, and April, 2015, with percentage gains year-over-year calculated as well (on the right side).  Just click the image to expand the view.
Top image by Tnarik Innael (CC by 2.0).  Charts and diagrams supplied by DDMCA, Fanalists, and Jibe.