Spotify's losses may be mounting, but its salaries are exploding.
Buried within Spotify's 2015 financial filings, released this week, was an interesting wrinkle: this is actually a great place to work.  Outside of the obvious perks of working in tony areas like downtown Manhattan, Stockholm, or London with younger, talented people, there's the money.  According to Spotify's annual report, the average employee, from receptionist to CEO, earns an average salary of  €151,180, or $168,747 in current exchange rates.
That figure spans the range of compensation, including direct payments, social security, tax-deferred pensions, and company shares.
152% increase in salaries over 5 years…
Those salaries are rapidly increasing, according to the filings. Last year, the average Spotify employee made approximately €135,000, or $150,687.  Back in 2010, Spotify had a much scrappier compensation policy: €60,000 ($66,972) per year, on average.   That means the average employee compensation has ballooned by 152%, despite losses that have nearly quintupled to $188.7 million during the same period.
But that represents only part of the increase.  Because Spotify has been rapidly expanding its workforce (and places to put that workforce).  That includes a 300 person expansion last year alone.  Perhaps more telling is the outright explosion in salaries for the highest executives and board members.  Amongst that group, annual compensation reached €16.9 million ($18.9 million) for the year.  That's a whopping 300% increase since 2014.
That's dragging averages up, though all boats are rising here (for every employee, that is).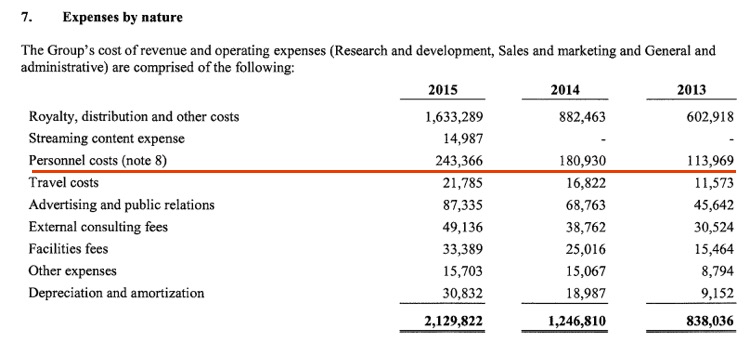 So why the monstrous increases in compensation?
This is borrowed money after all.  Literally: Spotify just secured debt topping $1 billion.  And that ads to its previous equity financing of $1.56 billion according to tallies tracked by Crunchbase.  This is one extremely-leveraged operation.  And the question is whether all of that cash is merely raising the willingness to spend freely on everything, including people.
Spotify says that stronger salaries are required to be competitive, and innovative.  "If we cannot maintain Spotify's culture as we grow, we could lose the innovation, teamwork and focus that contribute crucially to our business," the company's filing defends.
But the uglier part of that explanation involves artists, a group that is witnessing its per-stream royalties sink over time.  That is, despite promised increases from CEO Daniel Ek.  In essence, the employees at this company are getting richer, while the artists powering their success are getting poorer.
For its part, Spotify says its royalty payments have never been higher, which is correct.  But most of that expense seems to be going towards labels, without trickling down to that other group of 'creative employees'.