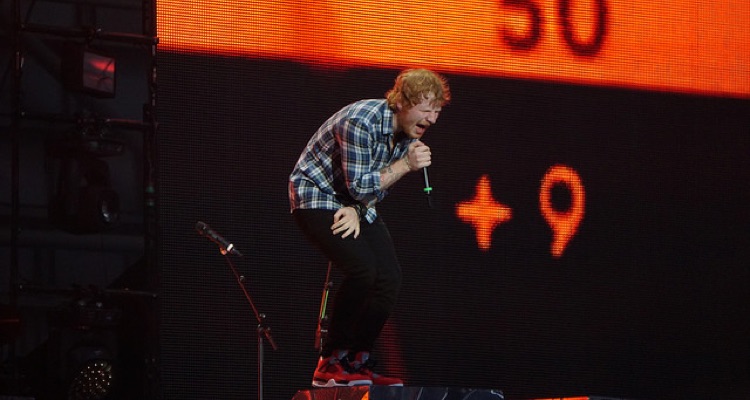 Another music industry lawsuit. This time it's Ed Sheeran that faces the brunt of a copyright infringement lawsuit…
Ed Sheeran is being sued for a massive $20 million for copying an X-Factor winner's song, according to a report by Billboard.  And the lawyer chasing him is fresh off a juicy, $7.4 million victory against Pharrell and Robin Thicke for their Marvin Gaye sound-alike, 'Blurred Lines'.
In this episode of massive copyright infringement, the massive global hit 'Photograph' has reportedly been swiped from Matt Cardle, the 2010 X-Factor winner.  Four years ago, Cardle released a song titled 'Amazing', which was written by Martin Harrington and Thomas Leonard.  It is Harrington and Leonard that are suing Sheeran for what they call a 'note-for-note copying' of their song.
Alongside Sheeran, Johnny McDaid is a credited co-writer of 'Photograph'; Warner Music, Sony/ATV Songs and Polar Patrol Music Publishing are also being sued.
'Amazing' hit number 84 in the UK and has racked up over 1 million views on YouTube, but the success of the song pales in comparison to that of Sheeran's 'Photograph,' which has hit nearly a quarter of a billion views on YouTube.  It is also the first song of Sheeran's to hit the Billboard artists 100 chart.
According to reports, it's the chorus that bears the most similarities, with 39 identical notes.  But, it's not just the notes that are strikingly similar, it's the melody, rhythm, and style of vocals.  Harrington and Leonard are seeking $20 million as a result, along with statutory damages and most likely, a running royalty.
Richard Busch, the attorney who filed the Marvin Gaye case regarding 'Blurred Lines,' is certainly a ferocious opponent.  Sheeran better get ready for a battle.
Below are both songs. There is definitely a striking similarity, what do you think?
(Image by Mark Kent, Creative Commons, Attribution-ShareAlike 2.0 Generic, cc by-sa 2.0)