Live music revenue just keeps exploding…
In the US, live music revenue has been increasing year-on-year.  Between 2014 and 2015, there was an increase in expenditure in the US by a massive $240 million, a figure that sharply contrasts pre-recorded music.
PwC predicts that the US music industry will see a year-on-year incline of 4.7% from 2015 through to 2020, stimulated by a 5.2% year-on-year increase in ticket sales and a 2.7% year-on-year increase in sponsorship. To highlight just how significant its contribution to the US music industry has been, it generated nearly 6 times the revenue generated by streaming in the US in 2015.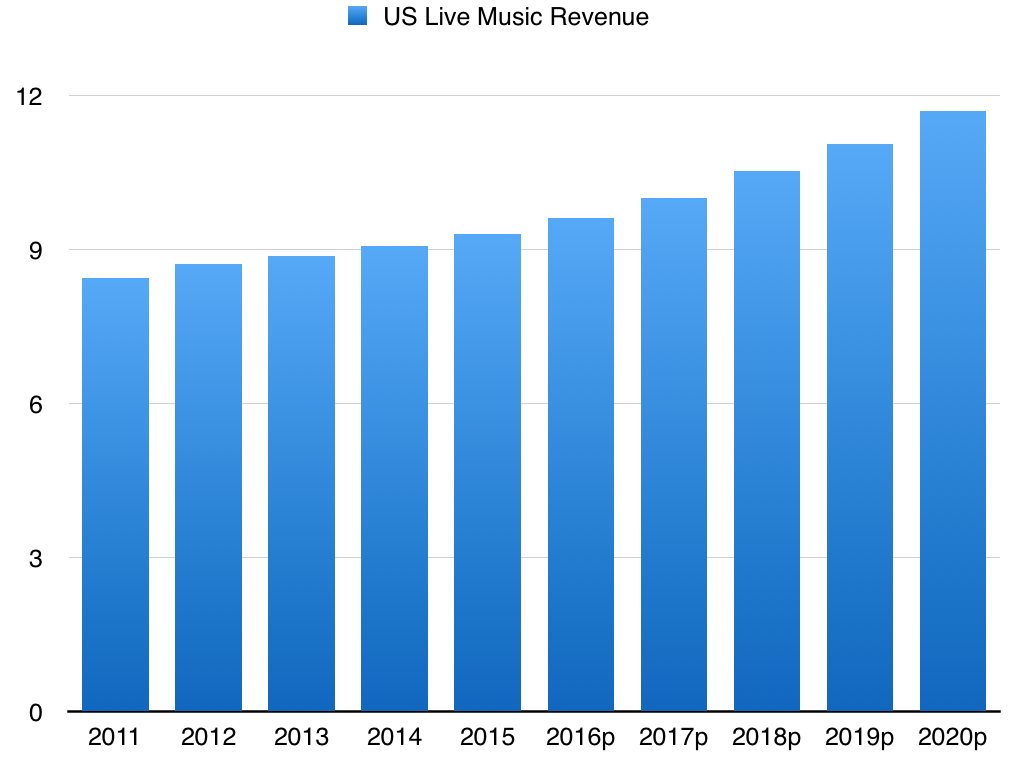 But, it's not just the US that are experiencing increased levels of spending in the live music sector.  The UK is also experiencing a similar incline.  UK Music, a cross sector trade group, published its annual report which highlighted a healthy increase in British concerts.
In 2015, 27.7 million people attended a live music event in the UK.  Out of that 27.7 million, 24 million attended a concert or gig and 3.7 million attended a festival.
Nearly 40% of the overall number were 'music tourists', and the UK experienced a 16% increase on the previous year of tourists coming from outside the UK to attend an event. In total, music tourism contributed £3.7 billion to the UK economy, up 7%.  "The appetite for live music continues to grow," said UK Music chief exec Jo Dipple.  "What this report shows, unequivocally, is the economic value of live music to communities, cities and regions."
The UK's Secretary Of State For Culture, Media & Sport, John Whittingdale, added…
"This is a fantastic achievement and a great testament to both our live music industry and the musical talent it supports."
(Image by The Zender Agenda, Creative Commons, Attribution 2.0 Generic, cc by 2.0)