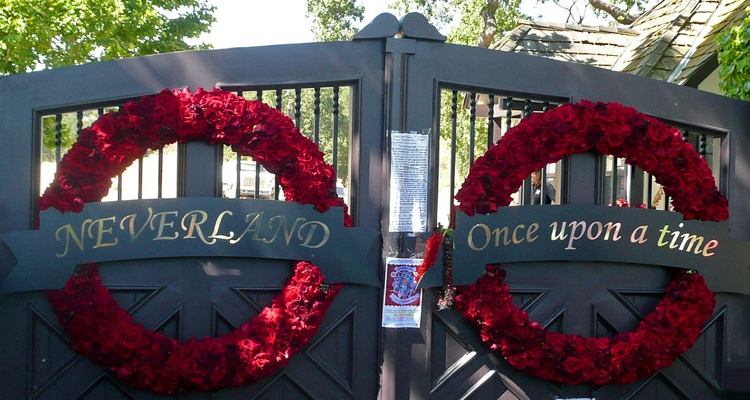 Michael Jackson may have been a seriously sick individual.
Authorities discovered stockpiles of child pornography and disgustingly lewd images of animal torture at Michael Jackson's residence at Neverland Ranch, but didn't disclose those findings to the general public according to a recently published report.  The image pile also includes depictions of S&M, strange collages of children's faces pasted on adult bodies, and other seriously deranged material alongside graphic DVDs and computer files.
Radar Online has now released an 88 page dossier of disturbing images and documents, which somehow never crossed into public view until early this morning.
(Please note: the dossier can be found here; I've looked at just a few pages and it's pretty disturbing stuff.  Definitely NSFW; but consider whether you want to see these types of images and disgustingness).  
The lurid evidence appears to have been collected during a 2003 raid by police of the Neverland Ranch.  Jackson was later acquitted of wrongdoing on 14 counts, just one of several court battles involving allegations of child molestation and other sexual crimes.  The stockpile itself, which was complemented by other forms of media like video, was characterized by authorities as useful for 'lowering the inhibitions' of child victims.
"The documents exposed Jackson as a manipulative, drug-and-sex-crazed predator who used blood, gore, sexually explicit images of animal sacrifice and perverse adult sex acts to bend children to his will," Radar's source explained.  "[Jackson] also had disgusting and downright shocking images of child torture, adult and child nudity, female bondage, and sadomasochism."
The discovery puts a glaring spotlight on the Santa Barbara Country Sheriff's Office, which appears to be the organization in charge of the raid.  This is the department that would have known about the existence of such material, and responsible for its handling.  The Office has now responded to an inquiry from Digital Music News, confirming that these documents 'appear' to be genuine but were leaked without authorization:
"Some of the documents appear to be copies of reports that were authored by Sheriff's Office personnel as well as evidentiary photographs taken by Sheriff' Office personnel interspersed with content that appears to be obtained off the internet or through unknown sources.   The Sheriff's Office did not release any of the documents and/or photographs to the media.  The Sheriff's Office released all of its reports and the photographs as part of the required discovery process to the prosecution and the defense.
The documents with a header titled Sheriff's Department that contain a case number appear to be Sheriff's Office documents.  The photos that are interspersed appear to be some evidentiary photos taken by Sheriff's investigators and others are clearly obtained from the internet."
Why these lurid images and documents are only coming to light in 2016, more than 13 years after the raid and subsequent court battles, is anyone's guess. The discovery coincided with accusations from Gavin Arvizo, 13 years old at the time, who came forward with claims child molestation.  Jackson was completely acquitted of those charges by 2005, and died four years later.
We'll report more information, including responses, when we receive them.