Is society trying to tear Michael down?
Michael Jackson family members blasted back against leaked documents tying Michael Jackson to pedophilia, declaring the documents both false and 'click bait' designed to exploit the singer's name.  "Everything in these reports, including what the County of Santa Barbara calls 'content that appears to be obtained off the Internet or through unknown sources' is false, no doubt timed to the anniversary of Michael's passing," the family stated to Billboard.
"Those who continue to shamelessly exploit Michael via sleazy internet 'click bait' ignore that he was acquitted by a jury in 2005 on every one of the 14 salacious charges brought against him in a failed witch hunt."
The document collection itself, first leaked by Radar Online, actually appears genuine, based on both statements from the Santa Barbara Sheriff's Office and actual court filings citing the detailed evidence.  The list of evidence collected from Neverland Ranch is hardly the stuff of wholesome entertainment, with strange, perverted collections including images of nude children, and images of naked adults with the faces of children 'morphed' on top.
A complete list of the evidence reveals troves of underage nudity, not to mention animal cruelty.  The report also points to far worse material, including images of Jackson's own underage relatives wearing only underwear (Digital Music News didn't see that in the evidence report that was published).
Taj Jackson, Michael Jackson's surviving nephew, called the information 'fake,' and slammed members of the media for publishing the evidence documents. "Fake news travels fast," Taj blasted. "The world picked up this trashy story. There's such a race to be first, only a few checked to see if it's even true."
Jackson's surviving daughter Paris also fought back against the documents, calling it an attempt to tear down the 'King of Pop' after his death.  "The most pure people are always torn down.. It will continue to be proven that my beloved dad has always been and forever will be innocent."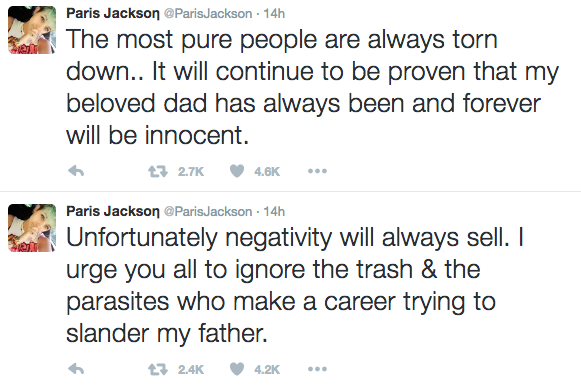 The question is whether Jackson's kin are refusing to recognize blatant evidence of pedophilia, while irresponsibly spinning what appears to be a real stack of documents.  Perhaps the more serious question is why the Santa Barbara Police Department didn't take greater action against the star, especially after finding a mountain of underage pornography and materials clearly damaging and exploitative towards children.
In an email exchange Tuesday, the Santa Barbara Sheriff's Office flatly refused to answer any of Digital Music News' questions related to why more action wasn't taken.  Instead, the department's Public Information Officer, Kelly Hoover, stuck to a prepared statement and declined to answer any additional inquiries.
That statement doesn't deny the authenticity of the evidence documents, but does suggest additional materials may have been added (perhaps on specific books or drug medications):
"Some of the documents appear to be copies of reports that were authored by Sheriff's Office personnel as well as evidentiary photographs taken by Sheriff' Office personnel interspersed with content that appears to be obtained off the internet or through unknown sources.   The Sheriff's Office did not release any of the documents and/or photographs to the media.  The Sheriff's Office released all of its reports and the photographs as part of the required discovery process to the prosecution and the defense.
The documents with a header titled Sheriff's Department that contain a case number appear to be Sheriff's Office documents.  The photos that are interspersed appear to be some evidentiary photos taken by Sheriff's investigators and others are clearly obtained from the internet."
Jackson himself was ultimately acquitted of 14 counts of child molestation and sexual crimes in 2005, and died four years later.  Now, the question is whether more from the evidence stack will be released, and whether Santa Barbara police will be held accountable for both concealing that information and failing to arrest Michael Jackson.
More as the story develops.