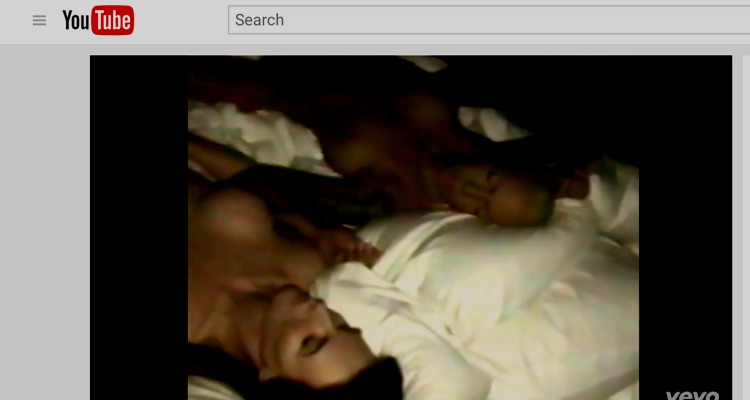 Ray J has had enough of Kanye referencing him in his songs, and the 'Famous' video was one step too far…
Last week, Kanye West released the controversial video to his song 'Famous,' exclusively on Tidal.  A few days later, the video surfaced on YouTube.
Now, if you haven't seen the video already, it's 10 minutes and 44 seconds long.  Five minutes of the video consist of heavy breathing and nude screenplay.  In the video, several celebrities — including Kanye West, Kim Kardashian, Rihanna, Chris Brown, Amber Rose, Taylor Swift, and Ray J — can be seen laying in bed, 'naked' alongside one other.
The actual celebrities were not physically present in the video: they are wax-like replicas that look convincingly real.  However, since its release, some of the celebrities that had their identity used in the video were unsurprisingly not in favor of Kanye's 'artistic' choices.
Now, there is talk of possible legal action.
Ray J is one of those celebrities that are now considering filing a lawsuit.  In an interview with Entertainment Tonight Ray J said…
"I'm engaged. My marriage is all messed up cause of craziness.  I'm not part of nothing crazy.  I walk down a good path.  My fiancee tripping.  It's all bad in my world, and that ain't cool.  Don't put me part of nothing that's weird, that don't make no sense. Can I grow up?"
Ray J's business manager David Weintraub added…
"There's too many times Kanye has done this, and you can't really continue to use people's likeness without either compensation or clearance.  It seems to be becoming an issue— this is like the fourth time in six months he's done this.  We haven't really worked anything out.  There were kind of discussions but it's getting old, so our legal team is working out what we want to do with everything."
Then again, Kanye has been expecting a lawsuit the whole time.  In fact, before any of the celebrities featured in the video responded, West said 'sue me!'  It seems as though West was ready for the backlash, but the question is: how many more featured celebrities are going to follow suit?