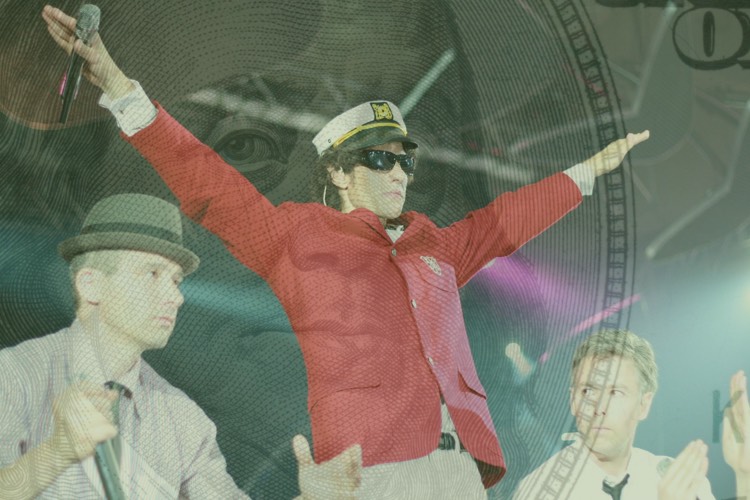 Guess everyone's got a price tag, including the Beastie Boys.
The Beastie Boys have long been adamant about keeping their music off of advertisements, despite the guaranteed financial windfall.  The group has even sued multiple brands to scrub their music from spots, while refusing to license any and all high-priced offers.   One legal battle, waged against Monster Beverage Corp., resulted in a decision valued at more than $2 million (and a subsequent out-of-court settlement).
This was about the Beastie Boys' core values towards capitalism, creativity, and never selling out, no matter how big the jackpot.  Beastie Boys member Adam Yauch, aka MCA, even prohibited any commercial licensing of the group's music in his will (Yauch died in 2012).  The $6.4 million trust, assumed by Yauch's wife in 2012, explicitly forbade any use of the Beastie Boys' music in any advertisement, period.  "It's a pretty bold move that cements Yauch's ideological reputation, considering the amount of money there is to be made by corporations likely desperate to use the Beastie Boys' trademark sound in their commercials," Pitchfork declared at the time.
Which sort of makes it surprising that the popular Beastie Boys song 'Sabatoge' is now a centerpiece for the trailer for the upcoming Star Trek Beyond movie, in theaters this month.  Not only is 'Sabatoge' a critical part of this massive commercial  advertisement for a multi-million dollar, for-profit Hollywood blockbuster film, it's referenced by the actors themselves right at the beginning.
Take a look.
All of which blatantly contradicts with the Beastie Boys repeated vows to never, ever license their music for any advertisement.  And, seriously undercuts years of moral high-horsing against base commercialism in music.  In a lawsuit against GoldieBlox in 2014, a company that used the track 'Girls' without permission, the remaining Beasties grandstanded after winning a court victory:
"Make no mistake, your video is an advertisement that is designed to sell a product and long ago, we made a conscious decision not to permit our music and/or name to be used in product ads."
Even more pronounced was Yauch himself, who specifically declared in his will that "in no event may my image or name or any music or any artistic property created by me be used for advertising purposes."
All of which makes the inclusion of 'Sabatoge' in a massive advertisement perhaps the biggest sellout of the decade.  And worse, a direct slap against the wishes of an important Beastie Boys member, one who doesn't really have a vote.
Update, 6:30 am PT: Several people have noted that the Beastie Boys previously licensed 'Sabotage' for earlier Star Trek movies, which wasn't mentioned in the first version of this article.  But I'm not sure if that helps or hurts the Beastie Boys' case here: after all, a movie synchronization license straddles the line on 'advertising' (it's a commercial licensing that helps to sell a product, after all).  And here, it's clearly used in a major commercial.
Image adapted from an original by Michael Morel, licensed and transformed under Creative Commons Attribution 2.0 Generic (CC by 2.0).