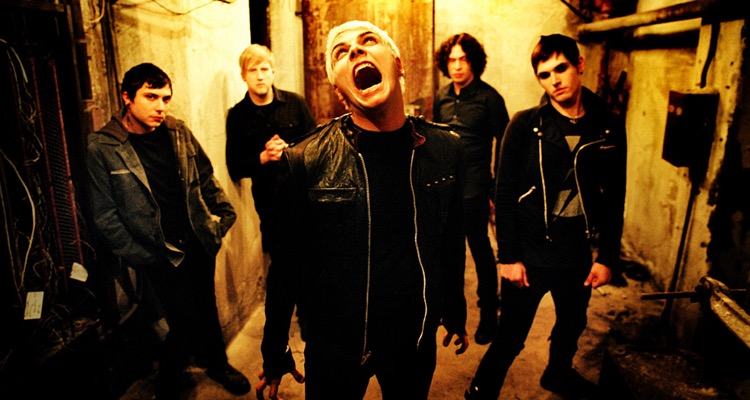 "Why MCR, why? Why R u doing this to us fans?"
Social Media can be a great tool for promotion (no, this article wasn't written in 2011, please bear with me).  These days, many major artists don't even need to pay to advertise their new song or album; a post on Twitter, Facebook, and Instagram will guarantee a few million YouTube views or Spotify streams.  And who knows, maybe even a few of them will actually pony up the cash on iTunes (but don't get your hopes up).  But those Internet people are a fickle bunch, and sometimes social media posts don't go quite the way you hoped.
Take for example My Chemical Romance's latest promotional effort.  The pop-punk-emo band disbanded about 3 years ago, meaning the Buzzfeed crowd is already nostalgic for them.  On July 20th, they posted this teaser video, about 30 seconds of the piano intro from 2006's Welcome to the Black Parade followed by a date, "9/23/16".  And fans lost their minds… "OH MY GOD, THEY'RE BACK!  BRAND NEW MCR!  I THINK I STILL HAVE THEIR OLD T-SHIRTS THAT I BOUGHT FROM HOT TOPIC 5 YEARS AGO!!!  I'M TOTALLY BUYING TICKETS WITH MY ALLOWANCE!" said the Internet.
Man, this is great news for MCR right? Great social media promotion, the money's going to be rolling in.  Oh wait, hold on a sec… turns out this cryptic message wasn't for a reunion tour at all.
In fall of 2006, My Chemical Romance released The Black Parade, and in an effort to squeeze a few nostalgia dollars out the adults that used to be teens and tweens who probably downloaded the album on Kazaa back then, they're re-releasing the album on its 10th Anniversary (sort of, the album was released in October of 2006, but September's close enough).  Nothing more.  This teaser was just to let you know that in a couple months they're putting out an album you've listened to a thousand times while crying about how no one understands you like these eyelinered fellas do.  So after seeing the excitement they had generated, MCR had to break the news to the fans gently with this post:
We've been really touched and blown away by the response to the teaser trailer.  We are not touring and there is no reunion planned – only a release for the anniversary of The Black Parade.
Here are some of the responses via YouTube comments:
"Why MCR, why? Why R u doing this to us fans?"

"I'm mad. I'm so fucking mad. And I'm not letting myself believe shit like this again. I'm really more mad at myself for getting my hopes up than anything else."

"Rant: I don't know about y'all but I'm fucking pissed.  Why did they have to make such a big deal out of this?  Why did they have to change their logo and update their website and make a cryptic video with nothing but "9/23/16″?  And why all this for a rerelease?  If the band's dead, bury it. Don't give us false hope just because you wanna make some extra cash… It's distasteful."

"It kinda feels like they broke up all over again…"
Then there was this hopeful guy or gal:
"I refuse to believe anything until September at this point.  Who's with me?"
That post got 106 likes.  106 other people are with this person in the belief that, despite the band and the label saying "we are not touring and there is no reunion planned," MCR still might do something more than put out a 10 year old album.  In true emo fashion, they've decided that instead of being disappointed all at once, they'd like to prolong their disappointment, letting the hope build for 2 months before being let down.
Now, I don't know who expected that Emo kids wouldn't act all… emo… when it turned out the band wasn't creating anything new, but this is a great example of hype gone wrong.  If you're going to post a cryptic teaser, you have to expect that people's expectations will be high.  Did the band or Warner think that people WOULDN'T expect a reunion tour, or a new album, or something other than a reissue?
The moral of the story is that you need to control the hype and meet expectations.
Cryptic, stylized teasers are for big news. Reissuing a CD that you can still find in a $5 bin (assuming you can find a place selling physical CDs that hasn't closed) isn't big news.  It's news worthy of a tweet like "hey guys, remember this album?  We're releasing it again!" along with a picture of the album being held by… I don't know, the drummer or rhythm guitarist. Control the hype, or disappoint thousands of twenty-somethings and teens who won't buy anything now, because they feel "betrayed". Of course, the only thing more disappointing than not having an MCR reunion? Having an MCR reunion.
NOTE: Buckley knows how and when to tease…