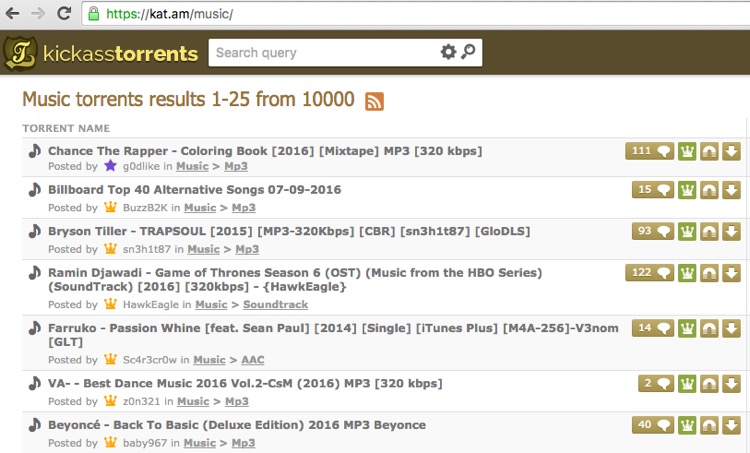 KickassTorrents was the new Pirate Bay. Actually, maybe it still is.
After getting raided and forcibly taken offline last week by the US Departments of Justice and Homeland Security, KickassTorrents has now resurfaced.  The resurface happened on Friday, July 22nd, roughly 48 hours after the initial takedown on Wednesday, July 20th.
The new home, at kat.am, is steadily regaining full function, according to a shadowy group of operators.  "We are trying our best to restore complete functionality, keep checking back for updates," the opening page of kat.am declares.   "Meanwhile, spread the word. Long live KAT."
(Quick warning: the site is serving some aggressive pop-ups and pop-unders at the moment.)
Meanwhile, other Kickass clones are surfacing.  That includes a mirror enabled late last week by IsoHunt, with others undoubtedly attempting to intercept lingering demand for the torrent hub.
Immediately before the raid, KickassTorrents enjoyed a long run as the largest torrent site on the planet.  That was a throne once held by the Pirate Bay, a site ultimately decimated by repeated raids, imprisonments, and DNS snips.  That looks like the rocky road ahead for Kickass, though just the TPB, this isn't an easy boat to sink.
In a message issued to the Verge on Friday, an anonymous operator of the resurfaced KickassTorrents pointed to a healthy, recovering destination.  "[KickassTorrents is] hosted on multiple cloud servers to prevent blockade, and the hosting information is well hidden behind Cloudflare," the note informed.  "We have the complete torrent database of KAT, including the comments, user information intact."
Not coming back so easily is Artem Vaulin, accused by the DOJ of billions in piracy damage, with estimated advertising revenue topping $16 million annually.  On kat.am, donations were being courted for Vaulin's defense.
Separately, details are surfacing on a potentially lethal mistake by the KickassTorrent gang: US-based servers.  That includes mail servers hosted in the Chicago area, which were quickly mirrored by federal authorities and examined.