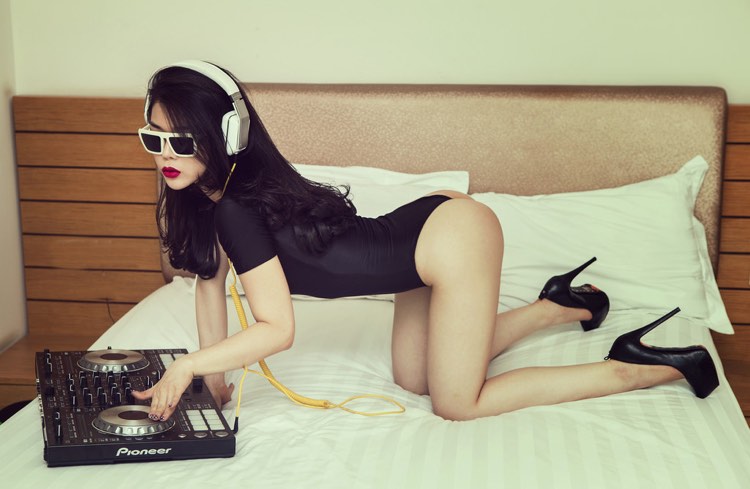 You might have heard, but "sexism" is a touchy subject these days on the Internet.  From the "Gamergate" scandal to Amy Schumer's public drubbing of a teenage boy who made a joke about having sex with her, it doesn't take much to set off an argument of "men vs women" online. And as much as gender equality is something we should be talking about, sometimes bringing it up is just for the sake of starting a fight.
NME recently reported on Forbes' annual list of the highest paid DJs in the world.  Calvin Harris, Tiesto, David Guetta, Zedd, and Steve Aoki made the top 5, pulling in tens of millions for their appearances behind the gear as well as producing songs for pop stars (NME's article incorrectly states that it's based solely on their DJ income, Forbes says the numbers are calculated based on "live shows, merch, endorsements, recorded music and outside business ventures"). Neat, right? I mean, I guess someone wants to know this, but the part that grabbed my attention (the part that was intended to grab the reader's attention, as it was NME's only contribution to the story that may have well just been a link to Forbes.com) was their secondary headline: "There are no women in the megabucks list". The second paragraph of the story also ends with this sentence: "There are no female DJs in the list."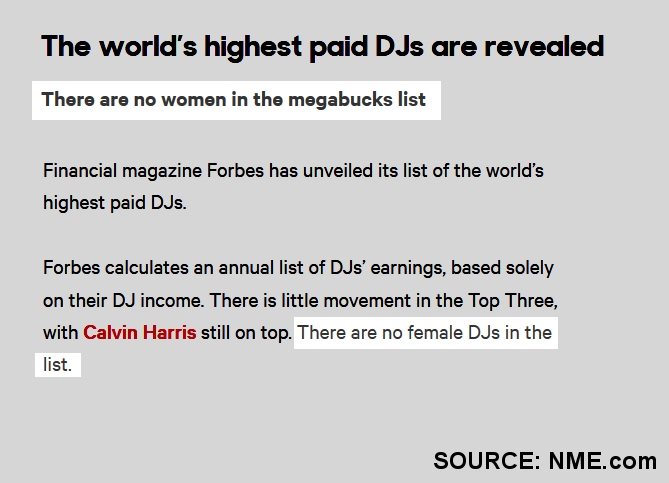 Now, maybe I'm just not very knowledgeable. I mean I only read Billboard and Mediabase charts as part of my day job (you don't think this and YouTube sub-stardom pay my rent, do you?), but I can only name one female DJ: Paris Hilton, a woman who would be on this list if she DJed as often as these 12 fellas (she reportedly makes up to a million dollars per set, but at that price I imagine there are very few places with the scratch to hire her).
Is this because someone is not allowing women to be DJs?  Are women excluded from going to their local music store and buying a deck while the guy behind the counter making $8/hr mumbles to himself "oh, good, just what this city needs, another DJ" while dusting sandwich crumbs off his Joy Division t-shirt?  Last time I was in a music store I didn't see a "no women" sign on the door.
Is it simply possible that women haven't been that interested in DJing or producing, and so there aren't any ladies that have built themselves up the way Calvin Harris has, or the other 11 dudes on the list who routinely work with female talent, like Diplo, Zedd, Kaskade and David Guetta have?  Nope, it must be that the industry is sexist, which is exactly what this article is trying to infer. Otherwise, why even say it?  It's a writer being divisive for the sake of being divisive.
Great, there aren't any women on a list of highest paid DJs. There also aren't any prominent women DJs, and I don't believe that's the fault of the industry, or even some sort of systemic cultural problem where women aren't encouraged at a young enough age to be DJs.  I get that this happens with sports, like a little girl watching football with her dad says "I want to do that when I grow up!" and Dad says "sorry honey, that's for men," and over time this attitude breeds an idea that sports are masculine.
But does anyone think DJing is "masculine"? It's a man's game?  Only guys can beatmatch songs and drag faders around on a mixing board, or if you're certain DJs (who may or may not be on this list), premix a set at home and then press a button and spend the night Jesus posing, crowd surfing, and throwing food?
And if you believe that everyone is sexist, then wouldn't you believe that we'd want to encourage more women to be DJs?  Since there's a perception that DJs just stand there and pose (as joked about in the previous paragraph), why wouldn't every club want a hot chick standing up front and center for men to gawk at, and women to say "yeah!  Someone on our side to play the music we want to hear instead of a bunch of bro shit all night!"  If only club owners weren't so sexist that they only hired male DJs, and were a different kind of sexist and only hired female DJs, right?!
If there was a list of the highest paid celebrities in general with no women on it, that sounds like something to discuss (Forbes' Global Celebrity 100 is topped this year by Taylor Swift, however the top 20 is only 25% women, with Adele, Madonna, Rihanna, and Ellen also appearing on the list, certainly a topic worth exploring), but bringing it up in this list is just petty and irresponsible journalism, trying to start more fights where one doesn't need to be started.
Not everything is sexist. It just looks that way when you're trying to spin a story for a few extra views.
NOTE: Buckley would make the list of lowest paid DJs, which would probably also be a list of dudes.
Top image by Trinh Canh, licensed under Creative Commons Attribution 2.0 Generic (CC by 2.0).