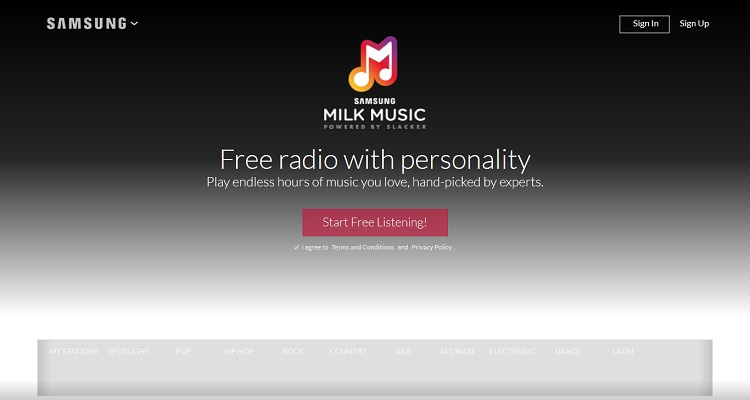 Milk Music has gone sour.
Samsung will shut down its Milk Music service on September 22, according to an official statement posted on the website.  This move doesn't exactly come as a shocker, as the music streaming service was only available only on several Samsung Galaxy models and a few other Samsung Note devices, which is never a good way to start your own web radio music service, despite recent sales topping the iPhone 6S.
Milk Music was launched in 2014 in order to provide a Pandora-like radio service for Samsung Galaxy users. The company had also launched its video app, Milk Video. According to Variety, Samsung had planned media expansions into other outlets, like sports. These plans were never able to come to fruition, as the company shut down Milk Video in September of last year.
The news of Milk Music's closing also falls in line with Samsung recently laying off a significant number of its Media Services Center America wing, with Variety reporting that several key executives were also axed.
The official statement on the Samsung website goes on to say that the company has made "the strategic decision to invest in a partner model focused on seamlessly integrating the best music services available today into our family of Galaxy devices." The statement goes on to mention that Samsung will work with partners in order to "accelerate innovation, enhance device sales and provide amazing new experiences for our customers."
The Milk Music streaming service wasn't a departure from what could already be found available on other, better music streaming services, with The Wall Street Journal's Nathan Olivarez-Giles writing, "while Milk Music is new, its approach to streaming music is anything but," despite Samsung officering more than 13 million songs streaming on more than 200 radio stations. Milk Music users are being pushed to use Slacker which offered the U.S. backbone for Milk Music, once the service shuts down.
The official statement ends with Samsung stating,
"We have no additional details to share at this time."