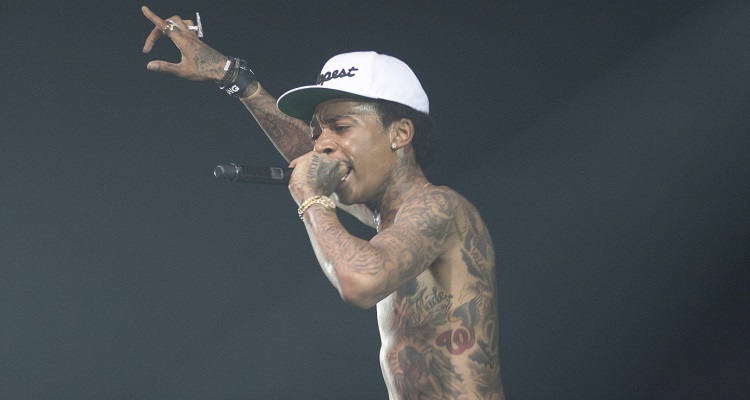 Wiz Khalifa is now one of two artists to reach the two billion milestone.
Wiz Khalifa must feel on top of the world. Today's his birthday. Besides being able to celebrate his birthday with his friends and loved ones, Khalifa's "See You Again" featuring pop and R&B singer Charlie Puth has surpassed the 2 billion view mark on YouTube just 2 days before his 29th birthday. He can now say that Korean K-pop and hip-hop sensation Psy is no longer alone at the 2 billion milestone.
Psy still beats out the singer in total playbacks, however, with his number currently around 2.6 for "Gangnam Style", but 2 billion is nothing to smirk at. Besides reaching this digital landmark, See You Again had also spent around 12 weeks at the number 1 spot on the Billboard Hot 100 chart. The track was first included in the Furious 7 soundtrack, and the song ended up being nominated for three Grammys, for Song of the Year, Best Pop Duo/Group Performance, and Best Song Written for Visual Media. For Song of the Year, Khalifa's song lost out to Ed Sheeran's "Thinking Out Loud." Bruno Mars took the Best Pop Duo Grammy for "Uptown Funk", and Common and John Legend's "Glory" took home the prize for Best Song Written for Visual Media. See You Again didn't go home empty-handed, as it did win at the Teen Choice Awards for Choice R&B/Hip-Hop Song, Choice Collaboration and Choice Song from a Movie or TV Show.
Khalifa's video currently stands at around 2.01 billion views, with the number rapidly rising as the news spreads on social media. The video's comments section has also filled with users congratulating the rapper for having reached this milestone. Wiz Khalifa has also commented on the milestone through his Twitter account, posting a cell phone message he received about the news.
Wiz Khalifa in Concert image by Simon, licensed under Creative Commons Attribution 2.0 Generic (CC by 2.0)