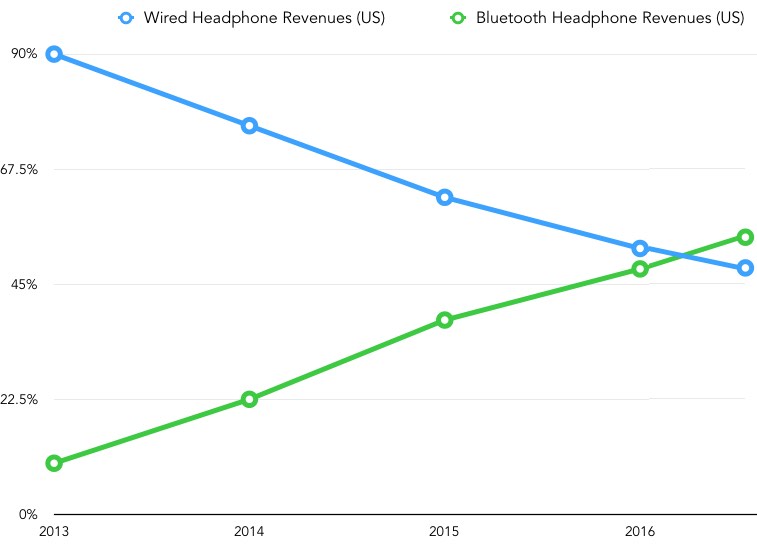 "June [2016] was the first month in which Bluetooth headphone dollar sales overtook non-Bluetooth sales in the U.S., a strong indicator that wireless listening is poised to become the leading way consumers experience music on the go."
NPD Group Study on Wireless Headphones, Headphone Jacks.
What's the real reason for Apple's decision to dump the headphone jack in its upcoming iPhone 7 and iPhone 7 Plus?  Increased battery life and more processing power are often cited as leading reasons, thanks to the freed up space.  Jack-less phones can also be thinner phones are another advantage, though the 7 will be just as thick as the iPhone 6.
But a dramatic shift towards wireless headphones is already underway, with cumbersome, wired headphones potentially gone in 5-10 years.  And, that will wipe away the headphone jacks that support them.  But is this the start of an inevitable tide of headphone jackless phones?
Currently, wired headphones with 3.5mm jacks still make up a vast majority of headphone sales in 2016, according to data released by NPD Group, but that is already starting to shift rapidly.  According to NPD, June was the first month in which Bluetooth-enabled, wireless headphone revenues exceeded those of wired, more traditional headphones.
That figure also includes earbuds, with are also starting to go wireless as well.  Indeed, Apple is likely to jumpstart the wireless earbud market in a major way, with AirPods hitting the market within weeks.
Guess Ben Stiller was ahead of this time…
But lest I digress.  More telling is the rate of growth between wired and wireless, with Bluetooth-enabled devices surging ahead.  "While the headphone category saw a 7 percent year-over-year increase in dollar sales for the first half of 2016, Bluetooth headphones saw double-digit growth with a 42 percent year-over-year increase in dollar sales for the first half of the year," the NPD report continues.
All of which suggests that within just a few years, traditional, wired headphones will start to disappear. Accordingly, headphone jacks on mobile phones will also start to recede, with Apple's iPhone 7 potentially the first of a slew of phones that skip the traditional jack.
That includes Samsung, LG, and other smartphone giants.  Already, we're seeing a few Android models completely ditching headphone jacks, with USB-C ports playing a dual role.  USB-C could become Android's equivalent of the Lightning jack, with a headphone jack-free mobile world emerging in just a few years.
Those left clinging to the past will be forced to use a confusing mix of different adapters, though one question is whether laptops will soon follow suit.
One last point not covered by the research report: wireless headphones currently suck!  Bluetooth is great a failing, though an updated Bluetooth protocol, not to mention Apple's upcoming W1 wireless chip architecture are hitting the market this fall.  So, when it comes to purchasing a new pair of wireless headphones, the best advice it to wait a bit.