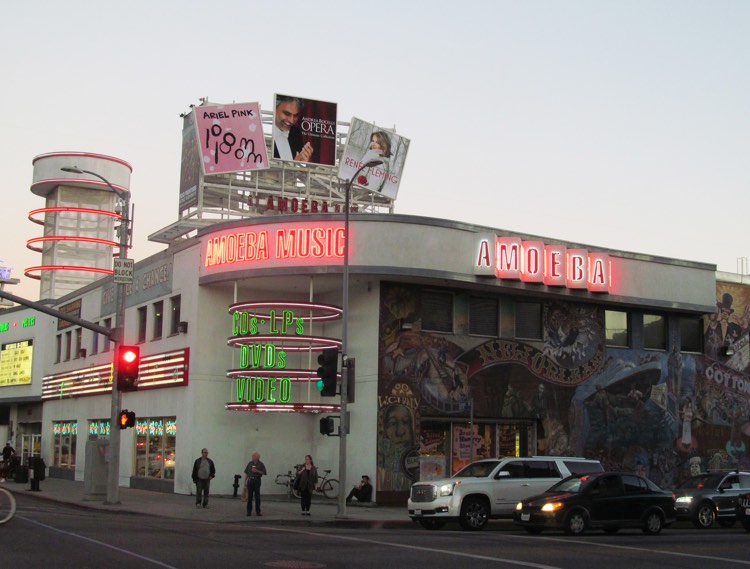 Amoeba Music at dusk on 6400 Sunset Blvd., Los Angeles in 2014 (photo by rocor, CC by 2.0).
One of the most iconic record stores in America is on the verge of being destroyed, with fancy condos already being planned.  But will the Amoeba Music landmark be saved?
The following is a developing story. Please check back for ongoing updates.
Tower Records on the Sunset Strip perished nearly a decade ago.  Now, the other shoe looks ready to drop: Amoeba Music, one of the largest and most iconic records stores in Los Angeles (and the world).   Amoeba's massive parcel, located on 6400 Sunset Blvd., between Ivar and Cahuenga, was actually sold last year for a cool $34 million, a massive return for the owners of the fabled record store.
That sale, consummated on October 15th, 2015, covered the expansive 44,616 square foot lot.
Enter real estate development group GPI Companies, which has now divulged plans to bulldoze the current Amoeba.  In its place?  According to details unearthed by local paper LAist, GPI is planning a 20-story, sleek apartment or condo complex.  That will include all the high-end trimmings, including a rooftop pool and shimmering glass exterior.
All of which is causing an early groundswell for preservation, with a potential outcry to declare the iconic record store a historical landmark.  That said, Amoeba isn't exactly a ancient historical fixture: established in 2001, Amoeba's icon status developed quickly, and its owners are clearly profiting off the surge in real estate value.
Enter LAist journalist Julia Wick, who unearthed a glossy rendering of the proposed structure, created by architectural design firm Shimahara.  The firm confirmed the location as 6400 Sunset Blvd., which matches the current Amoeba address, but had little knowledge of actual construction plans for the lot.
In comments to LAist, GPI says they haven't made any formal applications or construction (or demolition) plans, though a number of LLC filings specific to the location have been approved.  Wick even chased down the local councilman for the area, Mitch O'Farrell, who disclosed that some discussions with GPI have already taken place.
The leaked rendering, which is now highly germane to the topic at hand, now appears removed from the Shimahara site.