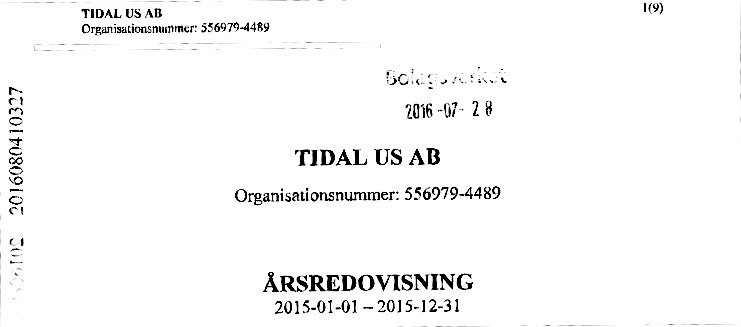 TIDAL is in serious financial trouble, according to financial documents filed in Sweden.
TIDAL owner Aspiro AB just filed a number of financial statements with Swedish authorities, and the results are pretty scary.  Aspiro AB, the TIDAL parent acquired by Jay Z last year, posted a net loss of 239 million Swedish kronor, according to the document, or roughly $28 million in red ink.
That represents nearly a threefold increase over 2014 losses, while revenues only increased 30 percent over the same period to 402 million Swedish kronor ($47.2 million).
The documents complement scattered reports of seriously-delayed payments, with one local Swedish Norwegian newspaper, Dagens Næringsliv, pointing to more than 100 delinquent bills.  That includes everyone from indie labels to digital distributors to taxi companies, all of whom seem to be getting stiffed or seriously delayed.
According to the main financial filing, short term debt owed to a range of suppliers increased to 158 million Swedish kronor ($18.5 million), roughly five times the debt of 2014.
Separately, a number of indie labels and artists have been complaining to Digital Music News of delinquent payments.
A separate, second document, specifically for 'Tidal US,' outlines net losses of 130 million Swedish kronor, or $15.2 million.  That suggests that a healthy subset of the losses are coming from the US battleground, where competition against incumbents like Spotify and Apple Music is especially fierce.
Digital Music News also found a third document, simply attributed to 'Tidal International,' which points to far smaller net losses in the 4 million Swedish kronor range.  If you're getting confused, please join the club.
Shifting back to the umbrella, Aspiro AB filing, it looks like major labels Universal Music Group, Sony Music Entertainment, and Warner Music Group are draining Tidal of nearly 300 million Swedish kronor, or roughly three-quarters of all revenue.   Those royalty obligations appear to be crippling Tidal during its early stages, though the company has been able to attract a respectable 4.2 million subscribers (at least at last count).
Most impressive is that roughly half of those subscribers are paying approximately $20 per month for higher-end fidelity packages, also according to the company.
Here are the two of the critical filings: first Aspiro, then Tidal US.  Don't say we didn't warn you…