Hi, my name is Buckley… and… I'm a comic book nerd.
Oh wait, this isn't Dorks Anonymous, this is that website I sometimes write for.  Well, with that confession out of the way, you will not be surprised to hear that I was pretty excited about last weekend's release of Netflix's Luke Cage. Excited enough that I watched all 13 episodes in 3 sittings.  In fact, I wasn't the only one hammering away at Netflix's bandwidth, as there was speculation that the 2 hour outage that the streaming service suffered on Saturday was a result of the demand on the servers to watch the latest entry in Marvel's growing collection of bingeable (is that a word?) comic book super hero shows.
Geeks are a passionate bunch. And that passion can translate into excitement for other things linked to the thing they enjoy. Take for example the music in the show.  One of Luke Cage's major locations is a nightclub called Harlem's Paradise, run by the shady arms dealer/music aficionado Cottonmouth.
Performing at the club are actual musicians such as Raphael Saadiq, Faith Evans, and Charles Bradley. But the performance that is arguably getting the most attention takes place in episode 5, when 2015's breakout hip hop star Jidenna takes the stage.
Jidenna performs Long Live the Chief, a single from last year (the YouTube video and iTunes releases both happened in December), in full while Cottonmouth watches in an empty club (when you have access to a lot of weapons and money, I guess you can get major artists to show up and play one song just for you). This has resulted in a pretty sizable boost for the Classic Man rapper. 9 months after its initial release, it's on the iTunes 100 chart at #56 (last time I checked), and had over 50,000 new views on YouTube on Saturday alone, a one-day number it hasn't seen since its release back in December.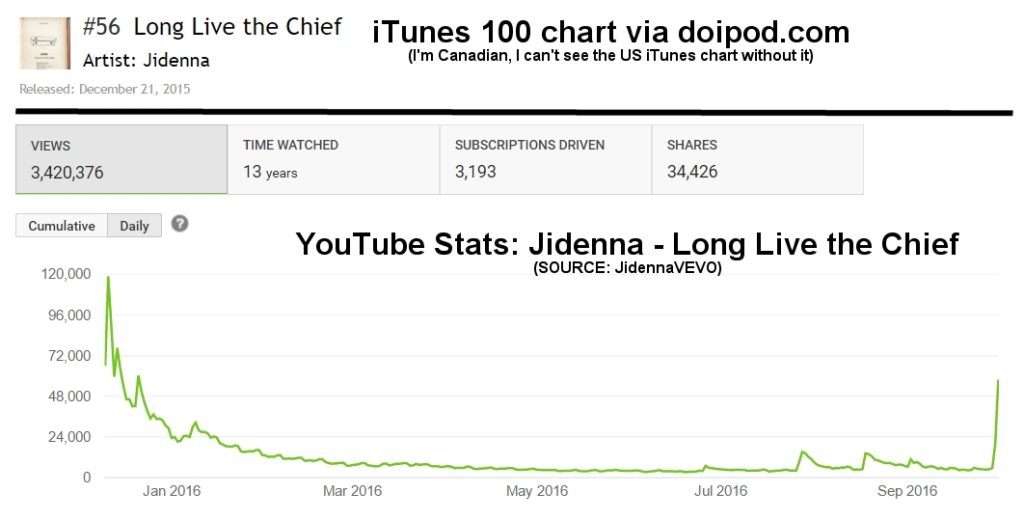 'This isn't the first time super hero fans have helped drive music sales.'
Almost every top comment on the video is from people saying that Luke Cage brought them there, and the other comments are from people getting angry at those people for not knowing about a song before it was cool to know about it (hipsters… they're in every fandom… "oh look at me, I'm special because I knew about something without the help of a TV show about a bulletproof crime fighter! Give me a fuckin' prize for being a REAL fan!"… but that's a rant for another day).
This isn't the first time super hero fans have helped drive music sales.  The soundtrack for the 2014 blockbuster Guardians of the Galaxy, Awesome Mix Vol 1, topped the Billboard Top 200 for 16 non-consecutive weeks and eventually went platinum in the US.  The soundtrack included such classic rock, pop and R&B tracks as Blue Swede's Hooked on a Feeling, The Jackson 5's I Want You Back, The Runaways' Cherry Bomb, and the Marvin Gaye/Tammi Terrell duet Ain't No Mountain High Enough.
Actually, every song on the album was a classic jam, not a single piece of original music appeared on the disc.  People basically bought some fictional dead lady's mixtape because it appeared in a comic book movie.  And of course you've seen how well both Twenty One Pilots' Heathens and the Lil Wayne/Imagine Dragons/Wiz Khalifa/Logic/Ty Dolla $ign/X Ambassadors collaboration Sucker for Pain are doing on the charts, and Suicide Squad (the movie these songs appear in) got panned so hard that fans of the flick started a petition to get Rotten Tomatoes shut down.
'Luke Cage and Guardians of the Galaxy were C-list characters at best…'
I told you… they're a passionate bunch.  I can tell you, as a comic book fan, these aren't even popular comic book properties.  Luke Cage and Guardians of the Galaxy were C-list characters at best, but Marvel said "we've gone through the A and B-listers and we're making money faster than if we were legally allowed to print it on the same machines we print our comics on… let's dip deeper and see if there's anything these people won't watch" and sure as shit… people are watching it!
So, with music sales slumping in the US, and movies & TV shows based on comic books (even lesser known ones) being the current flavor of the… well… decade… it stands to reason that these types of partnerships are very beneficial for musicians.  I just mentioned the bumps Long Live the Chief received on YouTube and iTunes, and it's reasonable to expect that it's seen a solid jump in Spotify streams too, which all translates to additional cash (additional to the cash Jidenna likely received to appear in the show to begin with), and possibly a little interest in more of his work (even his Instagram received a small spike on Sunday and Monday, which means more people he can advertise to when he puts out his next release).
'You know who doesn't give a shit why they have cash to piss away on frivolous things?  The music industry.'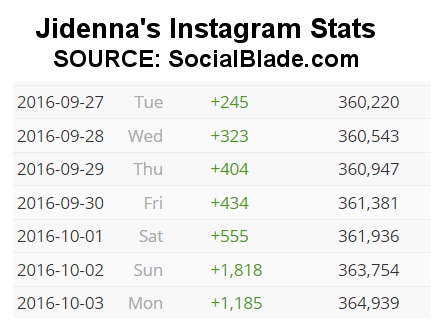 Comic book fans are completionists.  They're collectors who want everything associated with their favorite things. They're loyal, repeat customers who dive into interests head first, and they've got disposable income. This is where I'd make the predictable joke that they aren't spending money on girlfriends or rent because they're lonely and live in their parents' basements, but you know who doesn't give a shit why they have cash to piss away on frivolous things?  The music industry.  They won't judge you for why you have so much money to spend, they just want you to give it to them.
Please? Seriously, they're desperate here, doing the one thing the popular crowd hates to resort to doing: asking the geeks for help.
NOTE: Buckley has a girlfriend AND pays rent, but no one on the Internet will believe that… not even Buckley.