Spotify isn't the greatest streaming music service anymore.  And Apple Music has even more work to do.  That's right: Amazon Music completely crushes BOTH of them, COMBINED.
I use Spotify Premium every single day.  On two Macs, an iPhone, and sometimes a tablet.  I've tried Apple Music, Tidal, Google Play, and even YouTube Red.  Like a lot of people, I decided Spotify was the best.
Sure, I bitch about the crappy payouts artists get from streaming.  But I figure if I pay $9.99 a month, I'm part of the solution.  And Spotify is a great streaming music service.  They built the best one.
Now, I'm starting to think I want to switch my Spotify playlists over.  I'm wondering, how can I do that?
First impressions are everything.  Check out Amazon Music's interface.  It's totally clean!
Give that UI developer a medal!
I'm not overwhelmed with 17 different playlists.  I'm not worried that my streams are going to get pumped onto Facebook.  I have less anxiety; it's clean.
Turns out Norah Jones has a new album.  That was cleanly scrolling at the top.  Jumping in, I can clearly see the lead track based on listens. I can safely take a taste without getting overwhelmed.
Somebody hang this on a wall somewhere!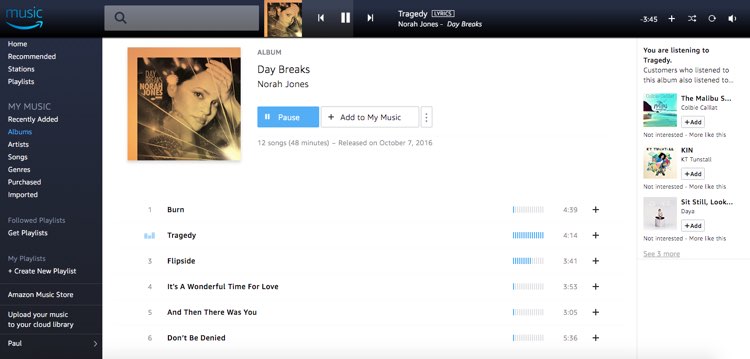 What else might I like?  This isn't my preferred genre, but, what's KT Tunstall up to these days!?  It's all neatly arranged on the right side, with plenty of calming whitespace.
It's so easy to ramble around and explore.
Amazon f'd up a few things on the marketing side, but the damage is reversible.  Because they launched  a half-baked version before this one, people don't think they have a full-blown catalog.  That's wrong: they have pretty much everything.  All three major labels, plus a bunch of the indies that matter.
Drake is the biggest artist in the world.  Do they have Drake?  Definitely.  I can easily check out his catalog while listening to Norah Jones.
Sure, Spotify has the same thing. But this is so much easier!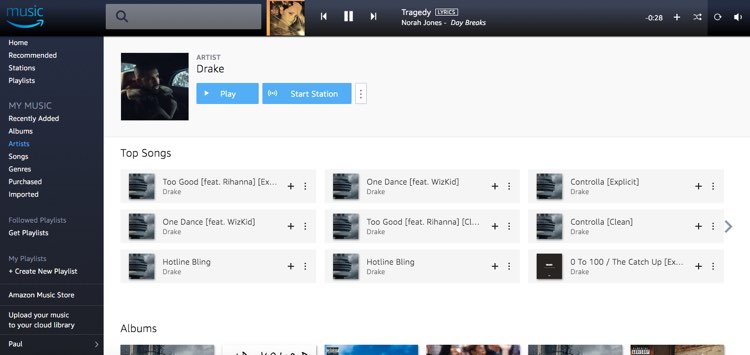 Amazon keeps it simple.  Just click around and sample.  They've made exploration dead simple.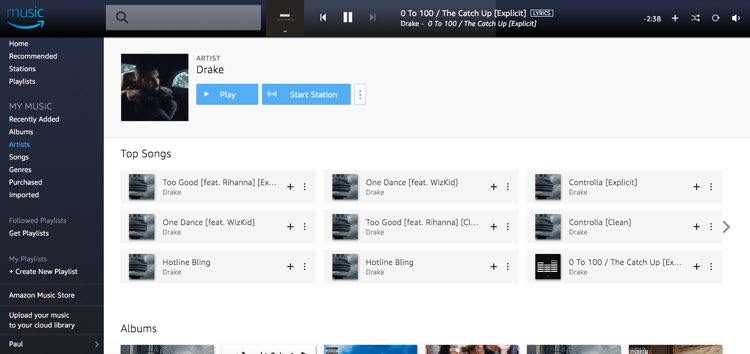 But what about lyrics?  Spotify has the best lyrics, right?  They did an amazing deal with Genius, they're on the cutting edge!
WRONG!
Amazon integrates the lyrics right into their mobile app.  Amazon may have fail-boated with the Fire phone, but they definitely didn't fail on their streaming music app.
It's seamlessly integrated…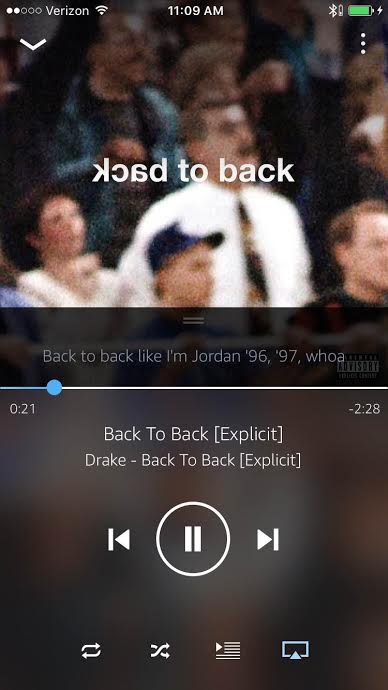 But what about switching between laptop and phone?  Spotify is great at that.  And so is Amazon.
Yeah, you can also port your music to anywhere.  Just pick a place and stream.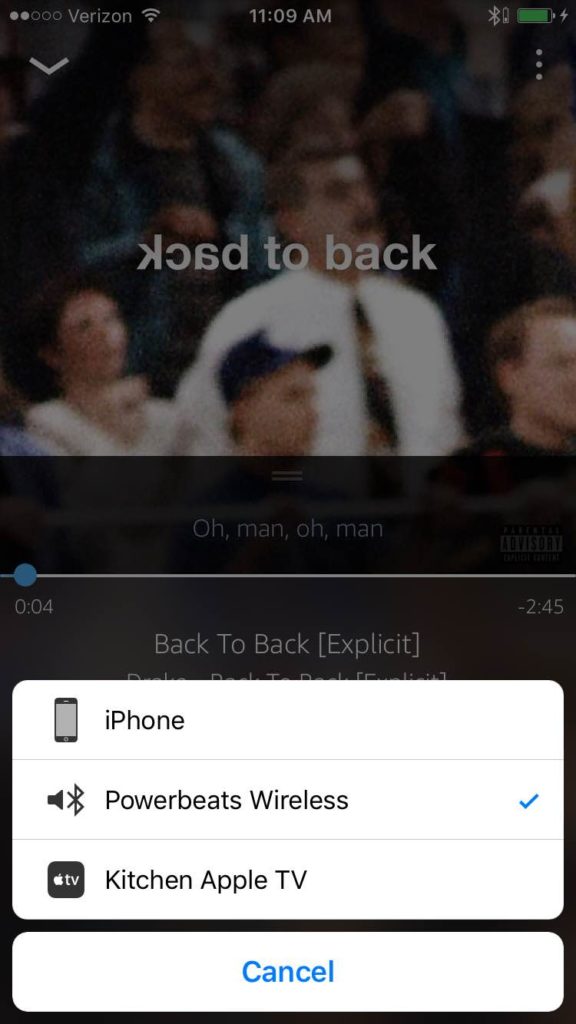 But the real advantage comes into play when you're diving in deep.  I'm trying to put together a killer Rolling Stones playlist, with deep tracks, outtakes, whatever.  And it sucked on Spotify!  I was getting a headache.

Guess what: it's dead easy on Amazon.  I'm exploring, not fighting chaos.  I'm finding stuff I like, and putting this band into perspective.

Oh, by the way: there's an Echo version.  I heard it's amazing, that Alexa crushes Siri, hands down.  But I don't have an Echo.  I'll review that later.
So what sucks about Amazon Music?
The marketing!
I know, this is technically called Amazon Music Unlimited.  I know Amazon's PR person is going to email me wanting a correction.  We'll get in a fight about it.  But Amazon should know better!
They launched a half-baked version before this one.  It's called 'Prime Music' or something.  People are totally confused, because they didn't even have the catalog.  But they've definitely fixed that part, with some nice user interface improvements since then.
Keep it simple Amazon.  Just call it 'Amazon Music'.  That's what people are searching for, it will stick.  And brutally kill the predecessors off.
But if there's one thing Amazon did better than their interface, it's the price.  Guess they're the real pros in this arena.  $7.99 (with Prime) makes sense, and it will make tons of sense to millions of people.
And the Prime tie-in is genius.  I'm a half-baked minimalist.  I'm waging an unsuccessful war against stuff, so Amazon Prime doesn't fit into that.  Now I'm thinking this might make sense for the stuff I DO order.
And I only need one streaming music service.
Nice one, Amazon.