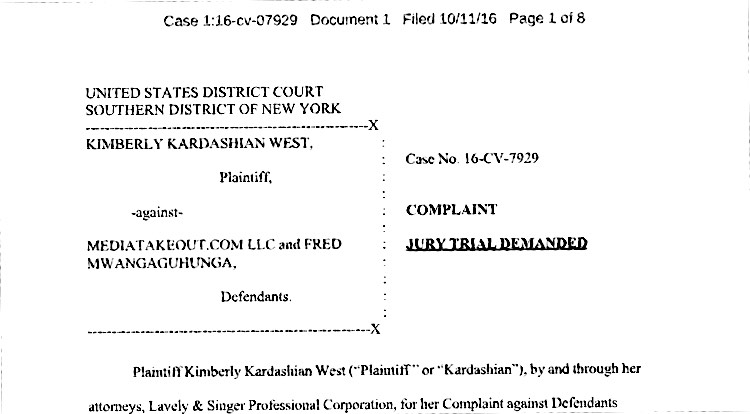 Was it all made up? Even a Supreme Court justice has questioned whether Kim Kardashian completely fabricated her Paris robbery.  But now, Kardashian has filed paperwork in a US Federal Court declaring that the robbery actually occurred.
The evidence doesn't seem to stack up.  And questions about this near-unbelievable robbery continue to remain unanswered.  But Kardashian is now taking serious steps to verify her account, with details of the crime now committed in writing to a federal court judge in the United States.
Here's how: Kim Kardashian's attorneys are now suing a publication that flatly declared the Paris heist a fabrication.  Mediatakeout has since pulled stories stating that Kardashian not only lied, but criminally filed false insurance claims immediately following the robbery.
Mediatakeout wasn't asking questions or raising suspicions, rather, they flatly declared the robbery to be fake citing suspect sources.  That's completely false, and defamatory, according to attorneys representing Kim Kardashian West.  And to prove it, Kardashian and her attorneys have made declarations to a federal court that the robbery was definitely not made up.
Keep in mind that the penalty for knowingly submitting false information to a court of law in the United States can be extreme, both for Kardashian and her attorneys.  That includes perjury, a serious crime.
That stated, Kardashian's attorneys are not mincing words on their account of what occurred.  "On October 3, 2016, Kardashian was the victim of a violent armed robbery in Paris, France," attorneys Andrew B. Brettler, Martin D. Singer, and David B. Jonelis declared in filings with the US District Court for the Southern District of New York earlier this week.
The attorneys, filing on behalf of Kim Kardashian West, continued to outline specific details of the robbery.  Again, without mincing words.  "Kardashian was assaulted and robbed by two masked men, who placed a gun to her head, duct-taped her hands, legs and mouth, and then left her lying helplessly on the bathroom floor of her rented apartment while the thieves absconded with millions of dollars in jewelry."
That shifts the debate on this matter, though the case has yet to yield any known suspects, leads, or substantive evidence.  It's also unclear where French authorities are in their investigation.
Indeed, multiple publications and onlookers have openly questioned whether this robbery was real, simply by looking at a basket of conflicting accounts and evidence.  Those questions and doubts, and the open expression of those questions and doubts, are solidly protected under United States law.  Supreme Court justice Stephen Breyer, for example, cannot be accused of libelous or slanderous activity by simply questioning whether a robbery occurred.
But by flatly declaring the robbery a lie, Kardashian suffered not only defamation by Mediatakeout, but distress as well, according to the filings.  "After having been the victim of a horrific and traumatic armed robbery in France, Kim Kardashian returned to the United States only to again be victimized, but this time by an online gossip tabloid that published a series of articles in early October 2016 referring to her a liar and thief," the filing continues.  
Meanwhile, no word from Kanye West, who abruptly and dramatically canceled a concert upon hearing the news.  Kim Kardashian herself is yet to make a public statement, with the socialite and family unusually quiet on social media.
The complete legal filing can be found here.
More as this develops.