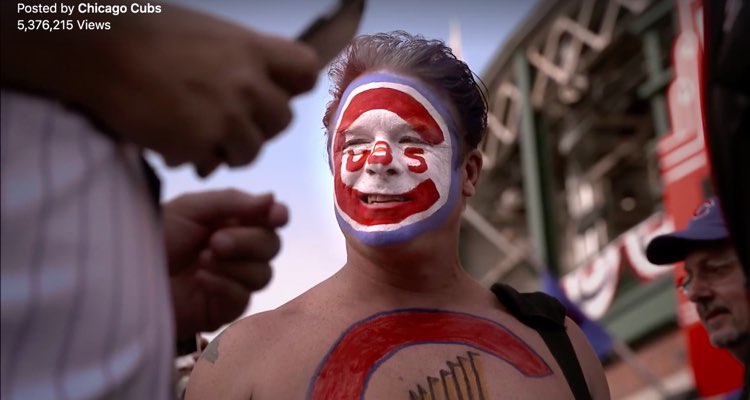 Pearl Jam frontman Eddie Vedder is a longtime Chicago Cubs fan.  Now, Cubs fans are thanking him back by remaking the video for his 2008 song, 'All the Way.'
When it comes to celebrity Chicago Cubs fans, Bill Murray stands out as the biggest.  His presence during the championship run was simply colossal.  But Pearl Jam's Eddie Vedder has long been suffering as well.
And, believing: several years ago, Vedder penned a song for the Chicago Cubs called 'All the Way'.  It was a tribute to longtime Cubs player Ernie Banks, but also a rallying cry for downtrodden Cubs fans.
Here's the original video, shot in 2008.
Now, Chicago Cubs fans are paying Vedder back with a glossy remake of the video.  That includes footage of the World Series victory and playoff run, all of which was obviously unavailable when the song was first written.  And, all just a dream when Vedder first penned the track.
The spruced-up remake was officially released by the Chicago Cubs organization this morning.  Already, more than 5 million people have viewed the video, and counting.
Vedder's loyalty to the baseball team goes back to his childhood.  The Pearl Jam singer was born in Evanston, Illinois, and spent his earliest years in the Chicago area before moving to San Diego.  Unsurprisingly, Vedder is also a fan of the Chicago Bears and Bulls, both teams that have enjoyed greater successes during the past 108 years.  Vedder has worn the jersey of legendary Chicago Bears running back Walter Payton on stage, and performed at both Bulls and Cubs games.
Indeed, Vedder has sung multiple times at Cubs games, and even threw the opening pitch in 2007.  That was a hopeful period for the Cubs, but ultimately a disappointing one.
Moving ahead, maybe Vedder is penning a brand new song for the storied baseball franchise.  The singer,