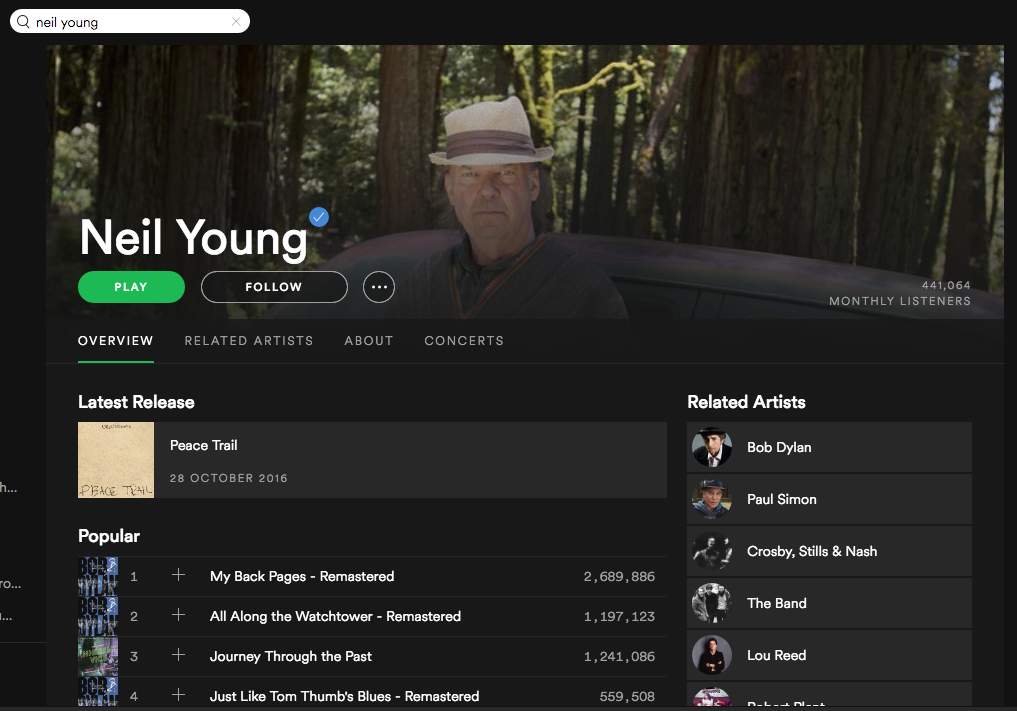 Neil  Young's crusade against streaming music has ended. In a steaming pile of hypocrisy.
Streaming's biggest critic is now bowing down to the machine.  As of (Friday) morning, it looks like Neil Young's entire catalog of music is available for streaming on Spotify.  And Apple Music and Amazon Music Unlimited, not to mention Tidal.
That includes all the classics, with more than a dozen albums overall.  Pretty much everything.  Young is even selling merchandise on Spotify (like t-shirts!).
In fact, Young's entire catalog is available on the free, ad-supported tier, as well as premium.  Neil Young fans now have access to a ton of music, both on Spotify, Apple Music, and other streaming platforms.  And they don't have to pay for it.
15 Months Earlier: "Streaming sucks. Streaming is the worst audio in history."
Which is kind of funny given Young's highly-publicized boycott of Spotify — and streaming music in general — just 15 months ago.  That's when Young not only crusaded against streaming, he pulled his entire catalog from platforms like Spotify.
Here's what he said back then.
Neil Young's Facebook Page.  July 15th, 2015.
"I was there.
AM radio kicked streaming's ass.
Analog Cassettes and 8 tracks also kicked streaming's ass,
and absolutely rocked compared to streaming.
Streaming sucks. Streaming is the worst audio in history.
If you want it, you got it. It's here to stay.
Your choice.
Copy my songs if you want to. That's free.
Your choice.
All my music, my life's work, is what I am preserving the way I want it to be.
It's already started. My music is being removed from all streaming services. It's not good enough to sell or rent.
Make streaming sound good and I will be back.
Neil Young"
As of this morning, Young's catalog is also available on Apple Music, Tidal, and Amazon Music Unlimited.  In fact, Amazon is pushing Young's catalog front and center to attract new subscribers.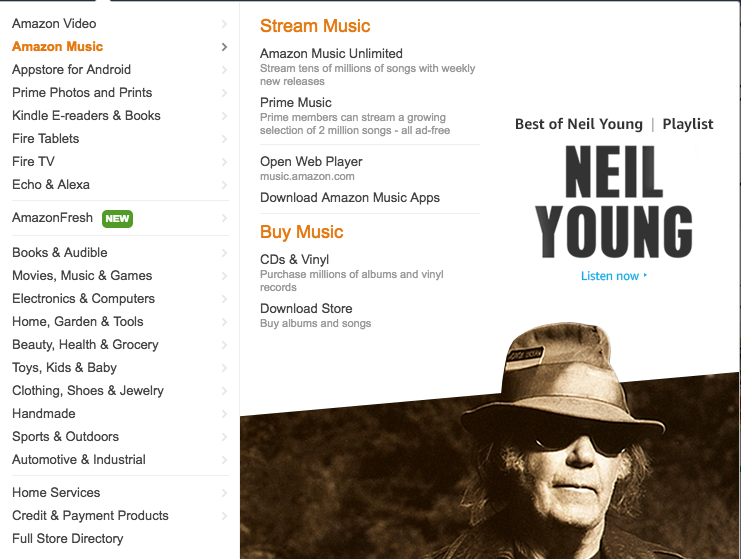 Spotify, Apple Music, Amazon Music Unlimited and Tidal are the largest on-demand streaming music platforms in the world.  Only one of them, Tidal, has a higher-fidelity tier.  Young started releasing his music to Tidal months ago, ahead of Pono.
The others, according to Young, have worse quality than AM radio.  Perhaps most importantly, none of those platforms have materially improved their audio quality in the past 15 months.
Abject Pono failure.
The acquiescence to streaming follows a series of high-profile disappointments for Young.  That includes Pono, a heavily-financed attempt at a higher-quality digital music service.  But despite heavy hype and initial artist support, Pono was criticized as clunky, expensive, and totally out of date.
In fact, Young himself started releasing his own music outside of Pono, depriving his own service of his own exclusives.  Now, the future of Pono is undoubtedly bleak, with executive turmoil, subscriber discontent, and few bright spots to report.
In fact, as of this writing, Pono's site remains 'Under Construction'.  Which probably means it's already dead.
Long live crap-quality streaming!