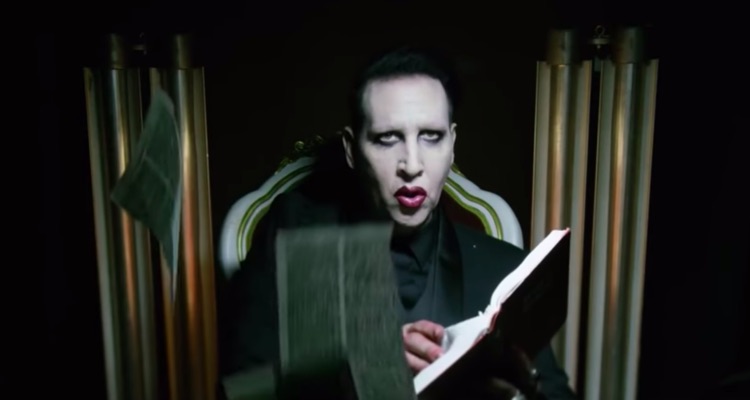 Marilyn Manson's just-released video features a gruesome dance with President-elect Donald Trump.  Warning: extremely graphic content.
A large number of musicians and artists have spoken out against Donald Trump.  Marilyn Manson has taken his hatred to an entirely new level.
On Election Day, Manson released a teaser video for his upcoming song, 'SAY10'. That wasn't enough to sway the outcome of the election, though it's safe to say that Manson wasn't going Republican.
Take a look.
Despite being two decades past his peak, Manson's gruesome video has already garnered nearly 350,000 views.  That's after just 24 hours, with another surge after the results arrived.
Update, Nov. 11th: the video has just cross half-a-million views on YouTube after its Nov. 8th release.
Marilyn Manson is all about extremity, though this was designed to be thought-provoking.  According to the artist, beheading Donald Trump is all about exposing hallow promises and desperate belief.   "It's about the desperate acts of people who believe something that is preached by an unbeliever," Mason relayed.
That said, Manson is no Hillary supporter.  The election was a vote between 'dog s–t' and 'cat s–t,' according to the singer, and Manson felt his impact would be strongest through art.
So I guess that leaves Jill Stein?
But did Manson just commit a federal crime?
Next question: does this video constitute a federal crime?  Threats against a President are taken very seriously by the Secret Service, which now protects Trump.  That theoretically includes President elects, who are also under non-stop protection.
Whether Manson's video constitutes a direct threat is hard to determine, though less-serious threats have become problematic.  That includes a recent discussion by Rush Limbaugh about assassinating Trump, a chit-chat that was taken seriously.