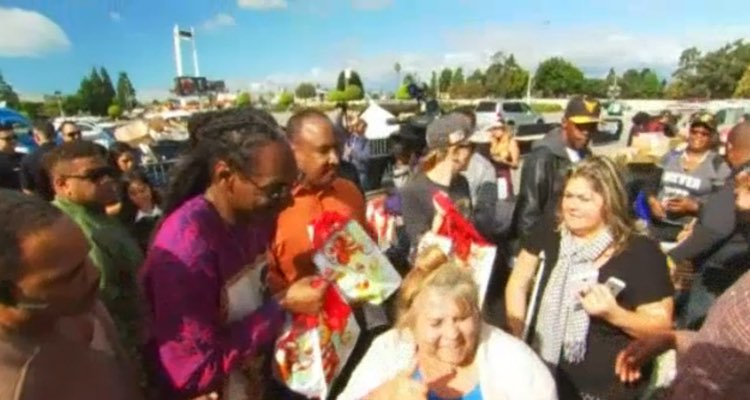 Snoop Dogg handed out roughly 3,000 frozen turkeys to people in need in Inglewood, CA on Thanksgiving Day.  And this isn't the first time the rapper has given back.
Most Americans were stuffing themselves and arguing politics on Thursday.  Rapper Snoop Dogg was in Inglewood, CA, handing out frozen turkeys and complete meals to people in need.
This isn't the first time that that rapper has done this.  In fact, this is the third-straight year that Snoop Dogg has been making it rain for residents in need, part of an expanding tradition.  The legendary Long Beach rapper teamed up with Inglewood mayor James T. Butts to stage the giveaway.
Members of the Los Angeles Rams football team also joined in, and local businesses chipped in.   But Snoop Dogg covered most of the costs associated with the food, and of course lent serious celebrity support.  "To be able to come back and give back when you blessed, to put smiles on people's faces, to be able to feed people…  I love to help because I was given the opportunity," Snoop Dogg told a local NBC reporter.
"I'm the gift that keeps on giving."
Amazingly, Snoop Dogg also had time for a proper celebrity sit-down.  Joining Snoop for the feast were Martha Stewart, Wiz Khalifa, and Seth Rogan, among others.  Just recently, Snoop tied with Martha Stewart to create Martha & Snoop's Potluck Dinner Party on VH1.
Other items on a busy Thanksgiving Day: dressing your dog up in a turkey costume.
Actually, Snoop Dogg's local charity runs deep.  The rapper started a football league for at-risk youth, and was also instrumental in launching a 'Peace March' in the wake of police and gang violence.  And those are just the highlights.
He's also calling out rappers who aren't giving much back.  Perhaps topping that list would be Kanye West, who turned a recent San Jose show into a pro-Trump rally before canceling his entire show.  "I can't believe he still talking," Snoop remarked on Kanye.  "I smoke weed.  Weed don't make you do that. What the f–k is he on?"