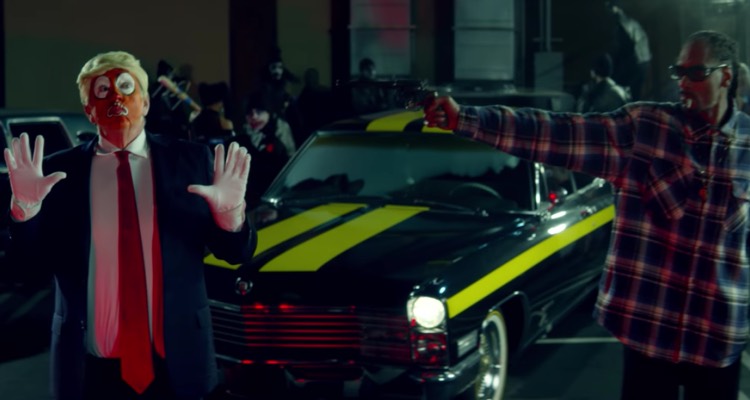 Looks like Donald Trump may have fallen right into Snoop Dogg's trap.
Donald Trump has blasted Snoop Dogg as a 'failing rapper' who should be thrown in jail.  But so far, it looks like Snoop Dogg is enjoying a wildly-successful, prison-free week.
For those just tuning in, Snoop Dogg sparked major controversy by mock assassinating Trump in his latest video.  The video, for 'Lavender,' features a Trump lookalike in a clown costume getting shot at close range.  At the last second, the sports a 'BANG' flag, a decision that may have spared Snoop from felony charges.
Now, that video is surging on YouTube, thanks largely to a free dose of publicity from the President of the United States.  After just four days, 'Lavender' has amassed 6 million views, with hardly any marketing spend.  At present, the video is amassing more than a million views a day, with bigger surges potentially ahead.
Here, you can see that YouTube searches for 'Snoop Dogg' are skyrocketing.
Of course, that means increased advertising revenue for the rapper.  But broader searches for 'Snoop Dogg' are also surging.  In fact, search traffic around 'Snoop Dogg' just reached a five-year high.
Helping matters is a groundswell of support from fellow rappers.  That already includes T.I., Bow Wow, and Common, all of whom have defended the legendary Snoop.  But as broader media catches wind, more responses are likely to pile on.
All of which brings us to…
A New Album Announcement!
Snoop Dogg, a veteran of the spotlight, is smartly using this moment to promote his upcoming album.  Just this morning, the Doggfather teased Never Left, slated for May release.  Produced by Rick Rock, we're guessing the album will contain the ultra-controversial 'Lavender' (another savvy play).
"The album's called Never Left," Snoop Dogg announced.  "It'll be out in May. Yeah nigga."
Threat of felony charges.
Meanwhile, simmering threats of federal enforcement remain.  Unclear is whether Snoop Dogg is currently being interrogated by Secret Service agents, though formal felony charges have not been filed against the rapper.
Additionally, questions also surround Bow Wow.  The Snoop protegé publicly threatened to 'pimp out' Melania Trump in response to Donald Trump's blowback.  That could introduce threats of kidnapping and harming a relative or spouse of a standing US President, both felony offenses.
Whether those threats are characterized as 'political hyperbole' is the next question.  If so, both rappers may enjoy hyperbolic bank accounts from all the free publicity.
More as this develops.