The dapper James Hersey has shared his musical talents with us on tracks like "Wish You Were Here," "I Miss You," and "Coming Over".  You may also recognize "Coming Over" remixed by Kygo & Dillon Francis. DMN sat down with him to  talk about how signing with his label was the best decision of his career, and how he got here.
The young n' dapper James Hersey recently concluded a month-long tour at the Troubadour in West Hollywood.  Digital Music News caught up with him before the show to ask about his label, and more specifically, why he made the decision to sign with one. We were also curious about his upcoming EP, Pages.
Born and raised in Austria, James Hersey grew up destined for a future in music.  He was introduced to instruments as a young child by his guitar-playing dad who always loved to sing.  James followed suit and later proceeded to blaze his own personal path to musical nirvana.
Hersey didn't choose music.  Music chose him. He wrote his first song, "If Only," at the tender age of 12.  The song was written for his girlfriend at the time, and he has been breaking hearts with his alluring musical presence ever since.
Prior to where he is now, Hersey played in rock bands, studied jazz, then dropped out of school.  Then, he went back — all the while, writing songs for the gals who stole his heart. James told Digital Music News that he is most grateful to his family and the music teachers who supported his dreams and encouraged him to purse this career.  That is, oftentimes, the critical difference.
This all leads up to the day that James finally signed with his dream label, Glassnote Records.  Three years later, Hersey now lives in Germany, thriving in this demanding industry.
Signing with Glassnote Records was not a quick and easy process.  The tireless work for years spent on his music, writing endless love songs, and touring with Milky Chance made it all possible.
Glassnote was the only label Hersey had his heart set on.  As a result, Hersey was doggedly persistent about working with them. Hersey tells DMN he came close to signing a deal with Glassnote while on tour with Milky Chance.  However, unfortunately, Glassnote had to pull out before closing the deal because they were busy with Mumford & Sons.  Despite this disappointing setback, James told his manager that he would refuse to sign with any other label.  It turns out persistence goes a long way.
Two months later, he got the call he was waiting for.  Glassnote finished their work with Mumford and asked James if he was still interested in working with them.  This was the start of a beautiful relationship.
We've heard nightmare stories involving unhappy artists and contentious label deals.  This isn't one of those stories.
Backstage, Hersey had only wonderful things to say about Glassnote.  "I feel fully supported and never taken advantage of," Hersey beamed.  Accordingly, the deal offers plenty of freedom to write and produce his own material, a huge perk that can be difficult to find among larger labels.
Albeit smaller, Glassnote is plugged into the major label machine. Actually, the biggest label: Universal Music Group via a distribution pact that gives Glassnote major global support.  And the roster is star-studded: Phoenix, Chvrches, Aurora, Childish Gambino, and Mumford & Sons, just to name a few.
Pro-tip: build yourself up before you sign!
One thing that became obvious in the interview was this: James had leverage before he signed.  These days, that is not only important, but crucial.  In fact, most labels are only interested in artists that have traction, online and off.  This lowers the risk of signing an unproven act, though the flip side is that it gives the artist more flexibility and leverage.
In the case of James, he had already built a pretty solid fan club.  He produced and sang songs with real traction, and had established strong connections. Now, with Glassnote, the focus is on taking things to the next level.
Before working with Glassnote, James released "Coming Over".  The track caught the attention of the dance world, got remixed by Filous, and was later reworked by Kygo & Dillon Francis.  Ultimately, remixes catapulted the track to over 125 million streams combined.
DMN was enamored while dancing as James Hersey closed for Dillon Francis's show at Coachella weekend one; Friday night in the Sahara tent!  It was a site to see him jam out on stage to "Coming Over" with Dillon. One can only imagine how many more streams he got after that impressive performance.
The success arc since signing has been pretty sharp.  Tracks "Miss You" and "Everyone's Talking" have been benefitting from a pretty serious push that only a serious label can provide.
You may hear or have heard "Miss You" on  HITS 1/ Sirius XM.  Thus far, it has amassed over 70 million streams alone across music platforms. Upon release, the track quickly shot up the Spotify Global Charts  in 10 countries and continues to grow.
Similarly, the recent release of "Everyone's Talking" quickly reached 1 million plus streams so far and was featured by VEVO DSCVR.
On the road, Hersey just finished a tour that kicked off at SXSW, with 9 shows in 5 days.  Then, Hersey launched into 24 shows in 30 days co-headlining the NYLON music tour alongside of Powers.
EP – Pages.
Wondering when to expect something a little more than hot singles?  James's first ever EP "Pages" will be out May 5th. Sticking to the theme of love songs, his extended play is about relationships and the struggle that comes when trying to make them work while on the go.
James told Digital Music News he prefers EPs over albums and LPs.  He feels it's easier for his fans to engage with a few of his most favorite songs back to back, than 25 or 30 songs in a row.  That's understandable: albums are appreciated, but it can be tough to sit through every song, especially with all the streaming services available at our fingertips today.
Magic at the Troubadour
The Troubadour is a historical venue located in the heart of West Hollywood.  Big enough to pack in hundreds but still intimate enough to clearly see the performers from anywhere you are.  It's pretty hard to beat. If you want to sit, you have the option to head up to the balcony.
If you want to keep the dance vibes alive after the show, you are less than a block away from the iconic Sunset Boulevard.  Flashy and touristy at times, but packed with bars and clubs to keep the party going late.
Troubadour has been making music magic since 1957.  The venue continues to host some of the industry's most influential artists.  Lenny Bruce, Bob Dylan, Neil Young, James Taylor, and Elton John have all played on the Troubadour stage. In recent years, artists like Coldplay, Alabama Shakes, Alicia Keys, One Republic and more have made an appearance.
Up Close & Personal
If Hersey's music doesn't already give you the feels, try having a conversation with the guy.  Or watch him perform live. Everything from his hipster look, Austrian accent, and goofy personality is absolutely charming. He even gave DMN an exclusive sneak peek of his tour bus.  It was simultaneously laid back and state of the art.
Did I mention his stage presence?  James has a natural connection with his fans. You can tell he plays solely  from the heart. His talent is simply raw and organic.  Check this out.
http://https://www.instagram.com/p/BStrvz3gKGB/?taken-by=digitalmusicnews
Now, the full-blown interview:
Congrats on (almost) making it through your tour! How does it feel? Any wild moments you would like to share?  
The tour has been great! Mixed feeling about it coming to an end. Happy and sad. This is my 24th show in 30 days. A really great moment was when I received an awesome drawing book from some fans. It was 12 or 15 hand written pages  that were drawings of lines from my songs, illustrated lyrics, and not just the songs people know. This was awesome.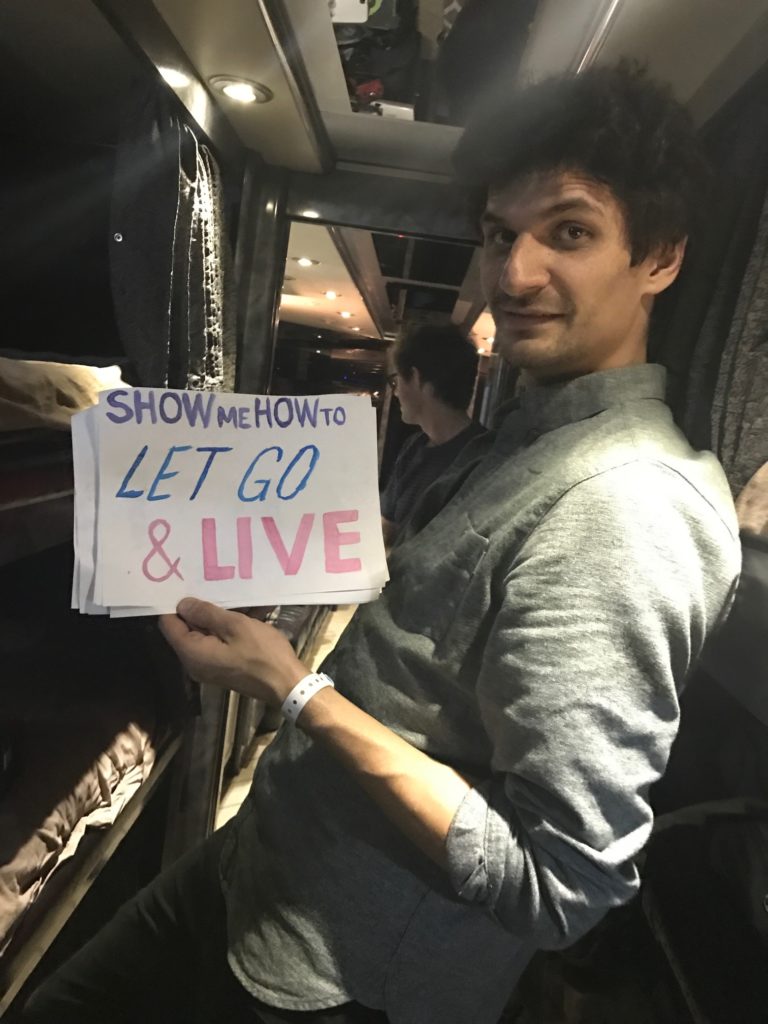 Do you have any pre show rituals? 
Yes, actually I do. When I play with others, we all stand in a circle, hold hands, close our eyes and  do a trust fall kind of thing. We sends positive energy to one another, and good vibes. This helps us get in the zone.  (Although James performed solo for this show, he took DMN through this experience with his manager. I think it worked, he killed it!)
How did you get into the music scene? 
As a kid I didn't really know there was a music industry. My dad would play guitar and sing covers. Music literally became the only thing I wanted to do. I began to play guitar at 15. At 17 I dropped out of school to study jazz guitar. I did really well. Went back to school, and my teachers told me I was the only one who could sing and write. I had immense support from my teachers. One of them even played with me in a band.
In a way,  I was super naive. Which now I think was cool. I would bring my music to radio stations and say, hey guys I got something for you. They would say, "No, that's not how it works." I kept bringing it back, and eventually they played my songs.
You mentioned you wrote your first song "If Only" for your girlfriend at the age of 12. Are you in touch?
Actually, I just started following her on Instagram. Her name is Roxanne. She has a child, super beautiful and happy!
When did you write "Coming Over," and what's the song about? 
March 2014. It's about a girl. It's about needing to express my feeling while not being physically together. Texts, calls, emails don't cut it. This song is a mix of 'I'm sorry, I'm angry, I want this to work out, we need to talk in person, can't keep writing about it.
How do you feel about DJs as big as Kygo, and Dillon Francis mixing your song? How did they hear about it?
It's awesome, all these guys are so talented! Kygo can really play piano. Dillon can produce like crazy. Everything you hear is from him. There is a song on my EP coming out that uses Bongos. When me and Dylan were both in Vienna, Dylan came over and taught me a cool trick to use with Bongos. In the label copy for that song it literally says "Dillon  Francis Bongs". He a sweet guy!
The song was online April 23rd, 2014. (That's my lucky number). There was a remix from a kid called Filous, also from Vienna. That blew up in August. Kygo and Dillon heard it, Kygo's manger hit me up and asked me to come in the studio. We exchanged a few emails. I sent Kygo the stems to the song. A couple of days later it was online, and I saw Dillon on Snapchat bouncing up and down to the song. I remember thinking 'Woah, this is awesome'. Me and my best friend have loved Dillon forever, now he has this track.
What artists inspired you the most growing up?
I have always loved Michael Jackson and Queen. I let my hair grow long and did all the dance moves. Kids in school made fun of me, I didn't care. I played in a lot of punk bands, started writing cute songs on the side.
Now you are signed with your dream label, Glassnote Records.  Tell me about the process of this deal.
I waited a very long time for this to happen! Also, Many labels offered me deals. I turned them down. I wanted to work with an independent label. Glassnote has picked up 25 artists in 10 years. I think they are the coolest label! Not to mention they have some of the best artists. Mumford & Sons, Childish Gambino, Aurora, it doesn't stop.  I'm so happy to be here. I write and produce when I want, they don't give me trouble over nothing. I pretty much refused to work with anyone else. If you  know what you want, why settle?
All artists/people have tough moments. Was there ever a time where you just wanted to give up?
As I mentioned I have always been set on signing  with Glassnote Records. I signed with them in Winter of 2015. It took a while to get here. There was a lot of back and forth. They made me an offer, I was so excited about it, but then they backed out. They were too busy working the Mumford & Sons. When they said no, I told my manager i didn't want to sign with my anyone else. Then I was super sad, I stayed in bed  for a while. Then, I got a call saying Glassnote had finished their releases with Mumford, and  wanted to sign me!
You mentioned your dad teaches guitar and sings. Would you ever collaborate with him?
He is not really into performing. I did take him to the radio station once and made him sing with me. We had fun, but he said "Son, why did you surprise me like that?"
If you could pick one artists to collaborate with who would it be?
Coldplay's Chris Martin. I think we could write great songs together.
What advice do you have for other artists? 
If you really want to make it, you can't give up. You need to know when your music is finished and put it out there. I feel like what stops most people is they work and work, but don't release. They never release anything because their not sure its perfect. That's not the point. Just finish your music and release it. Give the people a chance to love you and your music.
 Your first ever EP Pages drops May 5th.  What's the theme? 
It's kinda about traveling and figuring out problems with relationships.  For the art work I chose the love story of my parents, which is the epitome of perfect for me.  They became pen pals when they were 15 between Austria and Boston.  Then met at 18 and fell in love. However, they had to be apart for a while. In this time they wrote many love letters back and forth. It's an epic story.
The artwork
"Miss You"— My mom when she's 14
"Everyone's Talking"— My dad at 18
"Coming Over"— My parents together
"Pages EP Cover" — The city in Austria where my mom and I were born
Can we expect a full blown album from you? 
No. I like EPs. I think it can be difficult to listen to entire albums. Plus, EPs are great because I get to pick a few of my favorite songs, and put them together. Also, it's less time-consuming for my fans. Easier to engage. Twenty-two tracks in a row is a lot!  Unless its Drake, I don't want to listen to that many. Thanks to Glassnote, I can execute what works best for me.
Any upcoming music videos? 
Yes! It's already shot and should be out by the end of the month.
Which music video track will be released?
This is a mystery. We will just have to find out. My bet is on "Coming Over" or "Miss You".