There wasn't an earplug that could save me from the hours of relentless, high-pitched screaming.  I saw a girl crying in the presence of an EXO 'idol'.  The threat of trampling hovered at any moment.  Here's why I decided not to commit suicide and soldier through my first Kpop performance.
"Do you like Kpop?"
I turned around.  It was a great-looking, twenty-something Korean woman, laughing with her friend.  They were fascinated that some white guy might actually like their music.  I told them it was my first Kpop show, while totally mis-pronouncing the name of the group that I was about to see (note to self: it's pronounced like 'XO,' not 'E-X-O').
So yeah, they weren't that far off.
We were all members of the press, waiting to get directed into the Forum in Los Angeles.  The two girls worked for Hello Asia.  The other people covering the event were from KCON and 'Koogle TV', both Korean-focused sites.
In other words, no one outside of Asian-American media outlets have caught on to what's happening.  Not Pitchfork, not Rolling Stone, not Billboard.  And nobody from the mainstream media, at least not at this show.
Which is funny, because it looks like there's a massive market developing here in the US.  Not just for Kpop, but for 'all pop'.  And the 'first movers' here are spending a crap-ton on tickets, merchandise, and other 'fandom' disposables.  Not to mention all of their free time.  They're obsessed.
How obsessed?
The Forum staff told me that fans, known as EXO-Ls, were camping out for hours ahead of the show.  That is, even though they had tickets.  Three hours before the 7:30 start time, a giant line of fans circled the massive Forum parking lot.
Here's a shot of fans winding around the venue (yeah, it's broad daylight).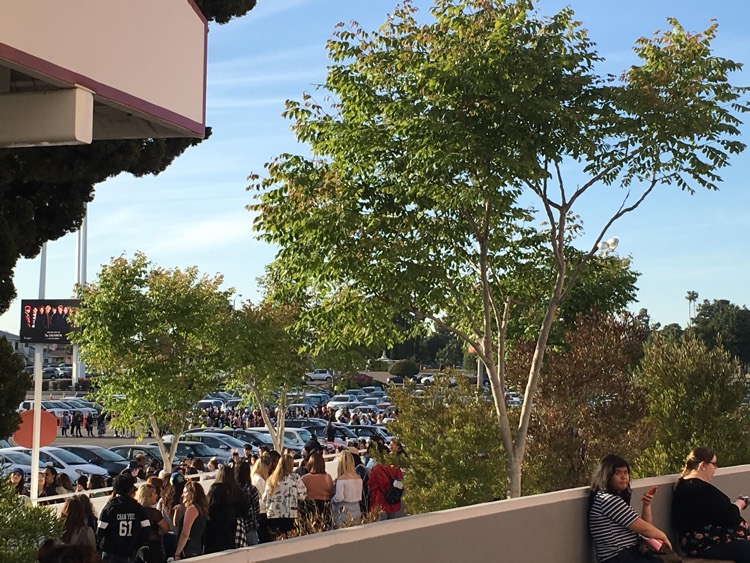 The staff had to meter access into the event, otherwise people would get trampled.
And each group that was admitted started racing towards the stage, while staff members struggled to stop them from running (and trampling each other).
At one point, fans were cramming around a flight of stairs descending into the general admission floor.  I thought someone was going to fall, get trampled, or otherwise fall from the rafters.  Staff members were screaming, 'stand back!'
They even had to pause the show in the middle because of trampling fears.  A member of EXO demanded that people move back, or he wouldn't start singing.
But here's the craziest part: this wasn't only Korean girls.  Maybe 60% were Asian overall, with the other 40% coming from every other race.  That said, there were only about 5% males, and approximately 0% males above the age of about 20 (unless you count me and the people who were working there).
This is 'niche marketing' perfected.  But this level of fan connection was scary.
These guys hail from a country thousands of miles away.  Their fans are largely Chinese or Korean.  A majority of the members can't speak English (there was even a translator for when the guys spoke to the crowd).
Yet somehow, EXO absolutely understood their newfound American audience, to a tee.  And the 8 members of EXO (sans Lay, due to a scheduling conflict) delivered a performance that deftly blended cinematic scenery, video vignettes, and a string of perfectly choreographed performances.  It was all masterfully choreographed, right down to the dancing.
And the fans were screaming at every scene, every vignette, every nuanced look.  At the top of their lungs.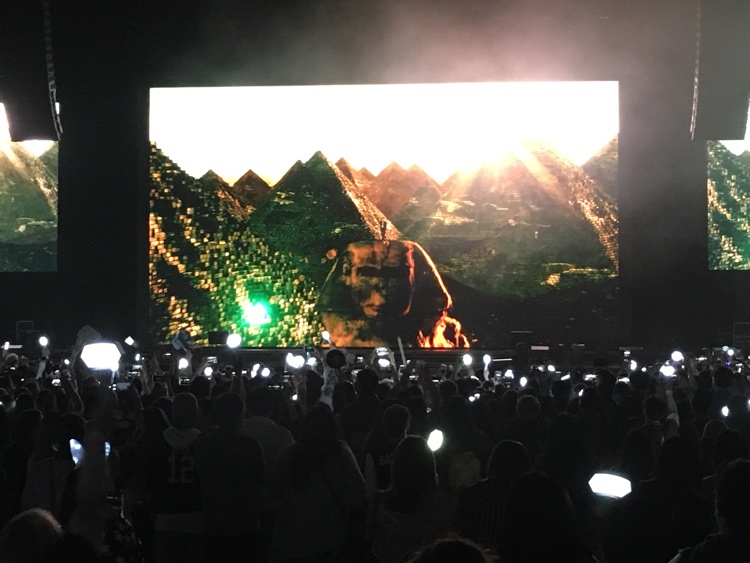 The show was called 'EXO Planet #3: The Exo'rdium'.
Sounds contorted, but it worked.  After a mini-movie that plotted the members in a high-action, Hollywood style film sequence, the guys got on stage.  They blasted out with 'Monster,' one of their biggest hits.
And the fans were obsessively eating up every moment of it.  For hours on end, without a break.
Actually, 'Monster' is a great piece of songwriting.  And damn those guys can dance!  But listen to a few more songs, and you start to realize that the Kpop industry just might be one of the smartest sectors of the music business.
Sure, Kpop gets criticized for 'appropriation' and treating their members like indentured servants.  But EXO — and other groups like BTS and Big Bang — know how to write and perform great songs.  They're using 90s rap and r&b because those formats work.  Strip out the darkly urban part, mix in some upbeat, early 00s pop, and you've got some really addictive music.
Say what you will.  But this is a formula that's obviously working for groups like EXO.  And yes, American girls from Los Angeles are singing every word, while waving $55 EXO light sticks in the air (the case costs another $20)!
It's the modern-day answer to boy bands from the US, like NSYNC and the Backstreet Boys, not to mention newer sensations like One Direction.  They're filling a demand, and this is only growing.
All of which makes me wonder: where are the American boy bands?