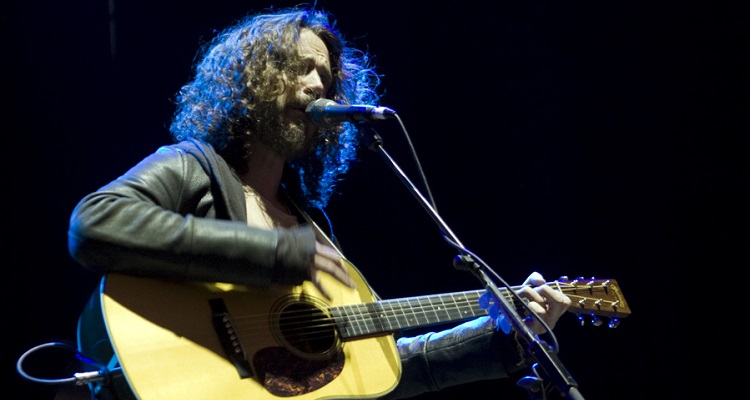 Soundgarden's Chris Cornell now joins a growing list of grunge pioneers who have tragically passed away.
Around midnight, Detroit Police Department officers responded to a 911 call from the MGM Grand Casino.  Dontae Freeman, a Detroit PD spokesman, only said that the unidentified white male victim, born July 20, 1964, had apparently committed suicide.  When police officers arrived, they pronounced the victim dead at the scene.
Hours later, a spokesperson for Soundgarden confirmed the news: Chris Cornell had passed away at the age of 52.
The birth date and description of the individual who committed suicide by hanging himself exactly matched that of the legendary musician.
Freeman told reporters what had happened. Chris Cornell's wife had called on a friend to check up on the singer.  When the friend got to the hotel, he found the singer unresponsive on the bathroom floor.  After police officers contacted EMS, they pronounced him dead at the scene.
Officers discovered Chris Cornell with a band around his neck.
Freeman stressed that only the "preliminary determination" indicates an "apparent suicide."  In a statement, he emphasized that officers haven't reached a definitive conclusion yet.
"At present our investigation is leaning toward the possibility of suicide, but we must wait for a medical report to determine the cause of death.  At this time we cannot release too much information about what we observed in Cornell's hotel room or what led us to this conclusion."
Freeman promised more details in a press conference later during the day.
Cornell's representative, Brian Bumbery, said in a statement,
"Chris Cornell passed away late Wednesday night in Detroit, MI.  His wife Vicky and family were shocked to learn of his sudden and unexpected passing, and they will be working closely with the medical examiner to determine the cause. They would like to thank his fans for their continuous love and loyalty and ask that their privacy be respected at this time."
Hours prior to the suicide, Cornell had performed with Soundgarden at Fox Theatre in Detroit.  Music critic Gary Graff told CBS Detroit that Cornell looked very happy and psyched during the performance.
"[Cornell] was great last night, you know. He was at peak powers, his singing was tremendous, he was clearly in a great mood. He was loving being on stage, he was loving being in Detroit. Several times during the show he talked about how much he loved the city and loved the audience. He said, you know, 'Detroit, you never disappoint.'"
Before his performance, Cornell had tweeted,
#Detroit finally back to Rock City!!!! @soundgarden #nomorebullshit pic.twitter.com/BqXx9veFoD

— Chris Cornell (@chriscornell) 18 de mayo de 2017
Chris Cornell joins a growing list of grunge pioneers who have tragically passed away. Prior to his drug overdose, friends had placed Layne Staley on a 24-hour suicide watch.  Kurt Cobain committed suicide with a shotgun.  Scott Weiland passed away from a lethal mix of cocaine, alcohol, and methylenedioxyamphetamine (MDA).
Perhaps Dave Grohl remains the standout, high-functioning exception.  But Seattle grunge now appears to be a cursed genre.
---
Top image: '·S' (CC by 2.0)
Correction: in our initial report, we misspelled the name of the Detroit Police Department spokesman.  It is Dontae Freeman.