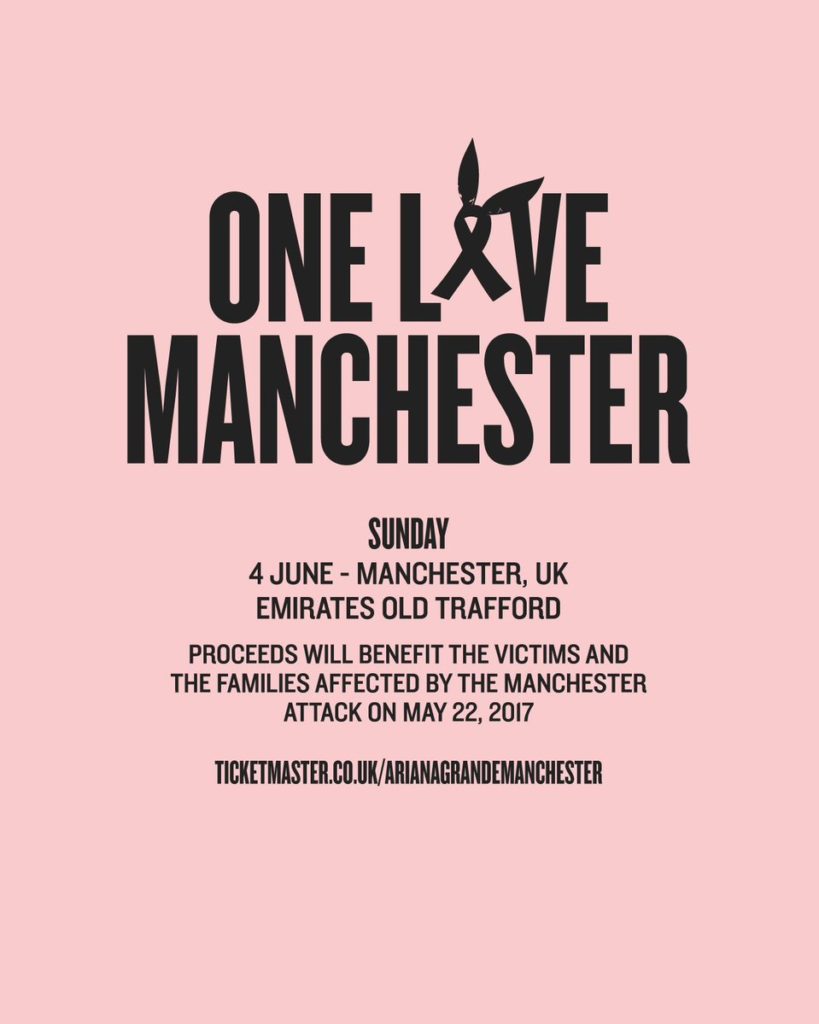 Ariana Grande's defiant Manchester Benefit Concert is drawing massive support.  45,000 tickets sold out instantly, and the list of supporting artists keeps growing.
After regrouping in the US, Ariana Grande is drawing massive support for her Manchester Benefit Concert.  Just this morning, the singer quickly sold out tens of thousands of tickets in under 6 minutes.
The event, One Love Manchester, will be held at the Emirates Old Trafford Cricket Ground on June 4th.  All proceeds will be given to victims of the May 22nd attack at Manchester Arena.  Specifically, the 'We Love Manchester Emergency Fund' will collect and administer the proceeds.
The May 22nd event claimed the lives of 22.  Roughy 100 sustained serious injuries.
Tickets went on sale at 10 am local time.  In minutes, roughly 45,000 tickets were sold.
Ticketmaster UK confirmed the sellout, while issuing the following statement.
"With over 450,000 searches on our site for One Love Manchester over the last 24 hours, demand was always going to be extremely high. We are happy to report that there are thousands of fans who successfully purchased tickets during the general on sale."
Free tickets were given to those attending the May 22nd event.  Remaining tickets were sold for £40 ($52).
Beyond the venue, the event will be live broadcast on BBC Television, BBC Radio, and Capitol Radio Networks.  A streaming partner is also in the works.  Accordingly, the event could reach an audience in the millions.
Performers confirmed to perform include: Justin Bieber, Coldplay, Miley Cyrus, Katy Perry, Pharrell Williams, Usher, One Direction's Niall Horan, and Take That.  Others may also join in, with special surprise guests possible.
Expectedly, security will be extremely tight at the venue.  All attendees can expect thorough checks prior to entering, with perimeter checks also expected.
The event is good news for Ariana Grande fans.  After the May 22nd suicide bombing, questions surrounded Ariana Grande's mental condition.  The singer cancelled the remaining dates of her European tour and returned to Florida.  The possibility of serious PTSD entered the discussion, though One Love Manchester suggests a quick recovery and attitude of defiance.