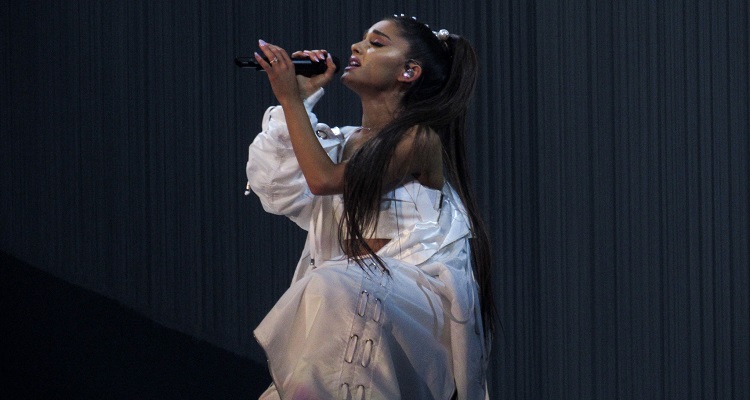 Proving love trumps terror, Ariana Grande's One Love Manchester was a huge success.
Following May 22's suicide bombing that took the lives of twenty-two innocent concertgoers, Ariana Grande posted a heartfelt apology to her fans on Twitter.   She wrote, "broken. from the bottom of my heart, i am so so sorry. i don't have words."  Suspending her European tour, she vowed to return to Manchester for a benefit concert to help victims and their families.
Now, the day after the event, the concert became the most-watched show this year on the BBC.
Held on Sunday evening, Ariana Grande's One Love Manchester raised millions for the 'We Love Manchester Emergency Fund,' created to help victims and their families.  Variety reports that the BBC One aired the concert live and garnered a huge audience.
According to the Broadcasters Audience Research Board (BARB), the event drew nearly half of the UK's viewing audience with 14.5 million viewers and a 49.3% share.  It also averaged 10.9 million viewers during the show.  UK viewers, as well as people from around the world, could also view the show on Facebook, YouTube, and Twitter.  BBC Studios produced the TV coverage.
Artists, including Take That, Robbie Williams, and Katy Perry, joined the benefit concert. Justin Bieber, Liam Gallagher, and Coldplay also performed.
50,000 people attended One Love Manchester.  Held at the Old Trafford Cricket Ground, several people who went to the May 22 concert also attended.
The event raised £2 million ($2.58 million) for the We Love Manchester Emergency Fund during the live broadcast.  Prior to the benefit concert, Ariana Grande's label, Universal Music Group, pledged $500,000 in support of the Manchester victims.  In a statement, UMG said,
"The Universal Music Group global family is proud to stand with Ariana Grande and its other performing artists in their support for the victims and families affected by the Manchester attack with a combined donation of $500,000 to the 'We Love Manchester Emergency Fund."
Warner Music Group and Sony Music UK also donated money to help the victims.
Image by Emma (CC by 2.0)