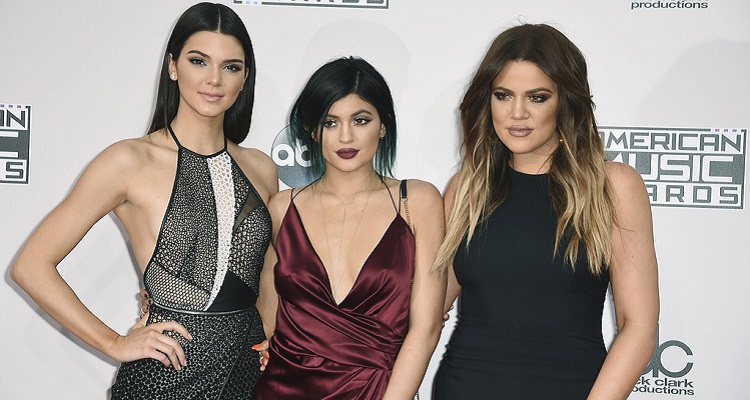 Kylie Jenner and Kendall Jenner just stepped in something serious.  After superimposing their photos on Notorious B.I.G. and Tupac images (among others) and trying to make a profit off of it, the respective estates are issuing threats.
Updated: The Estate of The Doors is now rumored to be filing legal action.  We'll keep you updated.  Here's our original story focusing on the estates of Notorious B.IG. and Tupac.
Never ones to shy away from controversy, Kylie Jenner and Kendall Jenner have once again come under fire.  Despite a public apology, Tupac Shakur and BIG's respective estates may sue the Jenners.
Maybe it seemed like a good idea at the time.  As part of their 'Rap vs. Rock' campaign in the Kendall + Kylie collection, the Jenners somehow thought it would be a clever idea to take iconic images, superimpose their photos and make a profit.
The entire music industry, along with fans and the internet, disagreed.
The t-shirts included iconic images of Tupac Shakur, Notorious BIG, The Doors, Pink Floyd, and Ozzy Osbourne, among others.  They sold the "rare" and "vintage" T-shirts on their website for a hefty $125 each.
Once the internet got ahold of the news, however, people blasted Kendall and Kylie Jenner on social media.  Accordingly, this attracted the attention of multiple musicians and their respective agencies, managers, and heirs.
In one vintage t-shirt, the sisters superimposed an image of themselves over Notorious BIG and Tupac Shakur.  Notorious BIG's mother, Voletta Wallace, took to Instagram to condemn the products.  She questioned the sisters' mentality and logic behind selling such items without permission.
Kendall and Kylie Jenner had also posted their likeness over a shirt featuring Ozzy Osbourne.  His wife, Sharon Osbourne, immediately blasted the singers on Twitter.  She stated that the girls hadn't "earned the right" to put their face on musical icons.  Sharon Osbourne also added a veiled jab at the Jenners' lack of any kind of professional experience.
Girls, you haven't earned the right to put your face with musical icons. Stick to what you know… lip gloss. pic.twitter.com/BhmuUVrDBn

— Sharon Osbourne (@MrsSOsbourne) 29 de junio de 2017
Paris Jackson, the daughter of the late King of Pop, criticized the sisters.  On Twitter, following Osbourne's statement, she said that the sisters had no right to associate themselves with iconic groups. Jackson tweeted,
"as a huge fan of zeppelin, the* doors, Floyd.. I mean these bands literally helped shape who I am today. I can't condone this 'fashion.'"
The sisters have since taken down the entire "Rap vs. Rock" catalog.  A 404 page now appears.  Ironically, the error message invites fans to make purchases of other content.  The error page reads,
"The page you requested does not exist. Continue shopping."
Kendall Jenner has since issued a public apology. She wrote on Twitter,
"These designs were not well thought out and we deeply apologize to anyone that has been upset and/or offended, especially to the families of the artists.  We are huge fans of their music and it was not our intention to disrespect these cultural icons in anyway.  The tee shirts have been pulled from retail and all images have been removed.  We will use this as an opportunity to learn from theses mistakes, and again we are very sorry."
Fans immediately took to Twitter to defend Kendall Jenner and Kylie Jenner.  One fan told Kendall Jenner, "no apologies necessary."  However, had a small-time rapper performed the same stunt with the Jenners' likeness, how quickly would their fans criticize the move?  How quickly would the small-time rappers face a hefty sued from the Jenners?
The publicity stunt also attracted the attention of lawyers for the respective estates of Tupac Shakur and Notorious BIG.  Despite the public apology, Notorious BIG's estate hinted at possible legal action in a statement to People magazine. The estate said,
"While we appreciate that the Jenners have made an apology and pulled the unlawful and unauthorized items, this matter has yet to be resolved."
Stay tuned.
---
Image by Disney | ABC Television Group (CC by 2.0)