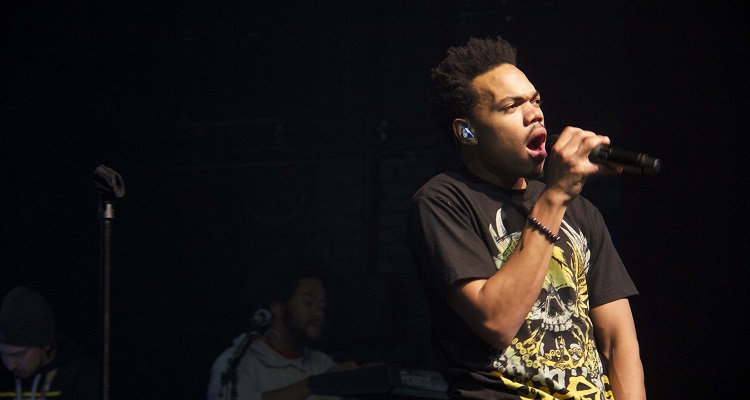 A New York based musician has asked a federal court to destroy all recordings of Chance the Rapper's song, 'Windows.'
In 2012, independent artist Chance the Rapper released his debut mixtape, 10 Day, for free.  Now, the famous rapper faces a copyright infringement suit over a song on the album.
New York based jazz musician and composer Abdul Wali Muhammad filed the copyright infringement lawsuit.
So, what did Chance the Rapper allegedly do?
Formerly known as Eric P. Saunders, the jazz musician claims to own the rights to 'Bridge Through Time.'  In court documents filed in the US District Court, Illinois Northern, Muhammad alleges,
"Chance sampled a significant portion of that song in Chance's song "Windows."  Chance did not have permission from Muhammad to use any portion of Muhammad's copyrighted song."
Muhammad states that the rapper's "blatant and willful" actions constitute copyright infringement.
A quick background on Abdul Wali Muhammad and his song, 'Bridge Through Time.'
In the lawsuit, Muhammad describes his background in the music industry.  He has performed with various artists, including Brook Benton, Melvin Van Peebles, and Bobbi Humphrey, among others.  The jazz musician has also won an ASCAP Songwriters Award.  He currently practices criminal and civil rights law in New York State.
His song, 'Bridge Through Time,' has been performed by several artists, including Lonnie Liston Smith.  Muhammad linked to two instances of lawful performances on YouTube.
What are the causes of action?
Chance wrote and performed 'Windows.'  He made the track available on SoundCloud and YouTube, among other platforms.
Muhammad linked to a YouTube video of 'Windows.'
Muhammad once again claims that Chance "took a substantial majority of the song 'Bridge Through Time' and reused it in his song 'Windows.'" The rapper allegedly never requested permission from Muhammad to use any portion of the musician's song.
The jazz musician alleges,
"Chance has infringed Muhammad's Copyright through Chance's unauthorized use, distribution and public display of Chance's song 'Windows.'"
Muhammad first became aware of the infringement last April.  His attorney sent Chance the Rapper a copyright infringement notice.  He attached the letter in the lawsuit.
Furthermore, writes Muhammad,
"Chance failed and refused to take any action to halt access to the infringing song after specifically being advised of the infringement."
It's important to note that Chance distributed the Day 10 album as a free digital download. Muhammad alleges, however, that the song and subsequent infringement furthered Chance's career.
Accordingly, 'Windows' would help Chance become popular, writes the jazz musician.
"Chance and Chance the Rapper LLC have received profits attributable to the infringement of Muhammad's Copyright.  The song "Windows" was popular and helped to elevate Chance's career, which in turn spawned concerts, concert sales, sales of merchandise and other sources of revenue."
So, what has Muhammad asked the court?
Muhammad has asked the court for:
– Statutory damages along with an increased award
– Attorney's fees and costs
– A jury trial
The jazz musician alleges that continued distribution of the song has caused, and will cause, substantial, immediate, and irreparable injury.  This injury has no "adequate remedy at law."
The composer would like the impoundment of all recordings of 'Windows.'  In addition, at the final judgment, he requests,
"[The] destruction or other reasonable disposition of the all copies and files or other means by which the song "Windows" could be played or reproduced."
You can read the entire lawsuit below.
---
Image by The Come Up Show (CC by 2.0)