With over 50 people dead and 400+ injured, the Las Vegas shooting is being called the "worst shooting in US History."
Near the end of the Route 91 Festival in Las Vegas late Sunday evening, festivalgoers started hearing loud noises that sounded like fireworks.
Suddenly, everything went dark.
When a performer ran onstage to turn on the lights, Taylor Benge found a man with a bullet wound on his chin.
Confusion, panic, and chaos that started with a "round of pops."
Speaking with the Washington Post, the 21-year-old festivalgoer described the chaotic scene.
Benge had heard "a round of pops" that lasted for ten seconds, as if someone had "[held] down a trigger."  Other eyewitnesses would later state that the shooting lasted close to ten minutes.
To avoid the gunfire, Benge and his sister "threw themselves on the ground."  He explained,
"My jeans are covered in someone's blood, my T-shirt is covered in someone's blood, my sister's whole leg was covered in blood."
This Guy was screaming come On Pu*** in Las Vegas because the shooter was a coward with no balls and he wanted a piece of him. pic.twitter.com/gzr0N2MiWA

— Florida Street Team (@ChatRevolve) 2 de octubre de 2017
Another attendee, Megan Greene, described the confusion that took hold of most festivalgoers.  Before fleeing into the MGM Grand, and along with several Route 91 Festival attendees, she hid behind a truck.
"Everyone started running for the exit.  We were in the street and they told us to get down, get down."
The 22-year-old daughter of former Las Vegas Metropolitan Police Department Sheriff Bill Young had also attended the concert.
His daughter, Young later told reporters, had said that the weapon "sounded like a machine gun."  She and her friends hid under a desk.
Young described his cell phone conversation with his daughter during the shooting.
"I picked up the phone, my cellphone, and she was screaming and yelling, 'Dad, dad, dad, dad, somebody's shooting at us, and I don't know what to do.'  She was hysterical and I tried to just calm her down.

"She could hear the gun shots — sounded like a machine gun, she said — and they didn't know where they were coming from.  She had nowhere to take cover, so I told her just to run as fast as she could, as quick as she could out of the arena.  Get as far away from it as she could where she thought the line of fire might be."
#Video pic.twitter.com/VohIUyZRCI

— Rafael González (@reywayuu1) 2 de octubre de 2017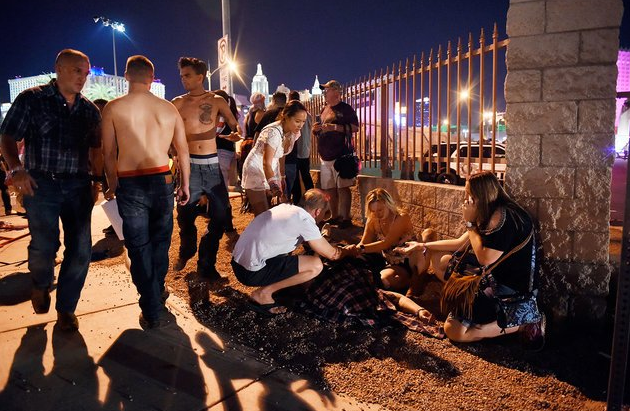 The massacre began after Jason Aldean took the stage.  He and other festival performers would later take to social media to confirm that they were okay.
Another performer, Jake Owen, stood several feet away from Aldean when the shooting started.
"It got faster and faster, almost like it was an automatic rifle.  At that point, everyone on stage started running everywhere."
Owen quickly ran to his bus to avoid the hail of gunfire.  When he got to the bus, the gunfire "still hadn't stopped."
Contradicting Taylor Benge's earlier claim, the shooting, according to multiple eyewitnesses, lasted nearly ten minutes.  Owen told MSNBC,
"It wasn't something that was quick.  It was chaos for a pure seven to ten minutes."
Once the gunfire had ended  Stephen Paddock, the 64-year-old gunman, had killed over 58 people.  An estimated 515 more were taken to local hospitals.
The gunman acted alone.
Paddock had checked into a room on the 32nd floor of the Mandalay Bay Resort and Casino on September 28th.  According to Las Vegas Metropolitan Police Sheriff Joe Lombardo, Paddock had brought "an excess of ten rifles" with him.
Police still don't know whether Paddock had purposefully rented a room that overlooked the concert venue.
Authorities have ruled out international terrorism in the Las Vegas shooting.
But, what set Stephen Paddock off?
Police still haven't established a motive.
Stephen Paddock didn't have a criminal background.  He had only received a citation several years ago.  Lombardo said that the courts had "handled [the citation] as a normal practice."
Paddock's family remains in shock about the massacre.  Eric Paddock, the shooter's brother, said that he was "dumbfounded" about the shooting. He told reporters,
"[Stephen] was just a guy. He lives in Mesquite, he went to the hotels, he gambled, he went to shows.

"We are completely at a loss."
Eric repeatedly described Stephen to the Las Vegas Review-Journal as "just a guy."  According to him, Stephen didn't have "serious health or money problems."
"We have no idea how this happened. It's like an asteroid just fell on top of our family.

"As far as we knew, he had enough money to live the rest of his life in comfort.

"We're lost. We don't get it. This is like someone else did this."
Possibly sharing a motive, Eric Paddock told The Daily Mail,
"Something happened, he snapped or something."
The shooter's family has worked closely with the Las Vegas Police Department.
After the massacre, a Las Vegas Police Department SWAT team barged into Stephen Paddock's room.  They found him dead, possibly from a self-inflicted gunshot wound.
ISIS claims responsibility for the Las Vegas shooting.
Despite initial dismissals of international terrorism, ISIS has since claimed responsibility for the shooting.
Through its Amaq news agency, the SITE Intel Group tweeted,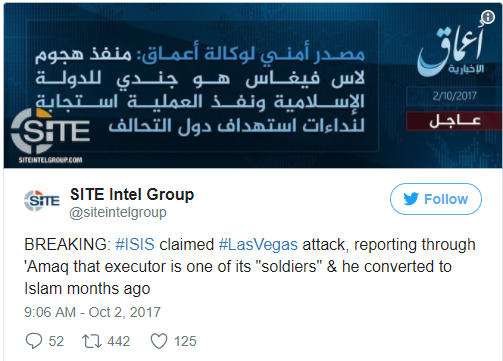 The group has yet to offer reputable proof of its claim.  In addition, Eric Paddock has denied that his brother had any religious or political affiliation.
The SITE Intel Group noted, however, that in a video in May, the terrorist group had prominently featured the Las Vegas Strip.  In 2014, an al Qaeda affiliate had also labeled the Las Vegas Strip a potential target.
---
Image by James Melvin Phelps (CC by 2.0)