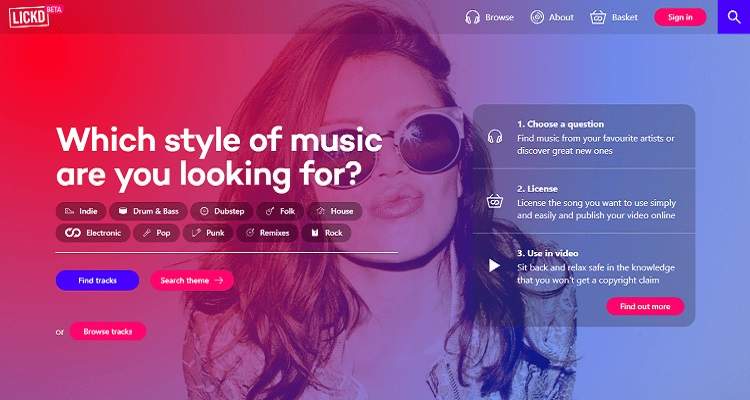 But, will Lickd truly solve the YouTube 'value gap' problem plaguing the massive video platform?
Yesterday, start-up company Lickd provided YouTube content creators with some very promising news.  The pay-per-license commercial platform recently moved into the open beta phase.
Previously known as hookd, the start-up company promises creators the ability to integrate commercial music into their videos.  Lickd will license music that won't risk a "claim from YouTube's Content ID."
The company has also signed a deal with drum n' bass label, Hospital Records.
So, how does it work?
According to the company's website, simply head to lickd.co.  Then, after choosing your track based on your preferred music style, like dubstep, electronic, or rock, you purchase a license.
Licenses start at £6 ($8).  The start-up company will determine the exact cost by the creator's average YouTube video viewership.  Hospital Records has made most of its back catalog and new releases available to users on the pay-per-license platform.
Lickd's Vouch software integrates with Content ID.  So, after purchasing your license, the company claims that your YouTube video will have "a legal license to use a particular track."  Thus, no worries about seeing your video taken down.
CEO and founder Paul Sampson previously worked with CueSongs, a marketplace that also provides users with commercial music licenses.  With Lickd, Sampson hopes to provide the music industry with a steady revenue stream.
In a statement, he said,
"It's an exciting time for us, with a new name and a new opportunity for all YouTube creators to sign-up to Lickd and benefit from better music and more income.  At the same time, the music industry gets revenue from an influential part of the YouTube community who currently avoid commercial tracks. It really is win-win."
In addition, Sampson vows that in the long run, the start-up company will "help the music industry close the 'value gap,'" a problem that harms content creators and rights holders on the massive video platform.
"The fact that YouTube doubles up as the world's largest streaming platform means it's time the music industry made social technology part of the solution, rather than the problem.  Lickd is the beginning of that movement."
Speaking about the deal, Romy Harber, Label Manager at Hospital Records, added,
"YouTube creators are becoming huge stars in their own right and Lickd gives us a great way to access that market. It's an exciting prospect, and we look forward to working with them – enabling creators to use upfront music from our artists."
You can check out the platform here.
---