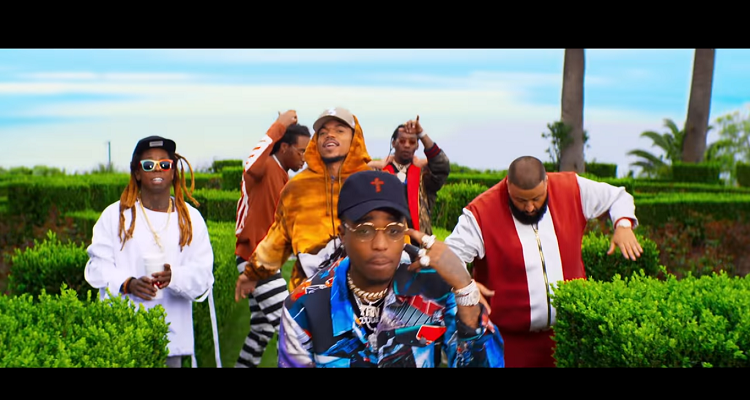 Hip-hop and latin music take the top spots in Digital Music News' 'Top 100 Songs' list.
Breaking down the top 100 songs today, you'll find some interesting information.
Underscoring the global rise of Latin music, Luis Fonsi and Daddy Yankee's 'Despacito' has taken the top spot.  You'll also find music fans listening to Enrique Iglesias, Pitbull, Shakira, and other Latin artists on the list, including Spanish-only songs.
Signaling a shift away from pop, however, artists like Miley Cyrus and Taylor Swift make few appearances on our list.  Music listeners prefer hip-hop artists and producers, including DJ Khaled and Kendrick Lamar.  Ed Sheeran's Divide also continues to be a fan favorite.
For this list, we've also placed the songs below in descending order starting with artist names.  Without further adieu:
100. Kiiara – 'Whippin' [Feat. Felix Snow]
99. Anuel AA – 'Sola' (Remix) [Feat. Daddy Yankee, Wisin, Farruko, Zion & Lennox]
98. Migos – 'T-Shirt'
97. Ozuna – 'Tu Foto'
96. Bruno Mars – '24K Magic'
95. Lorde – 'Green Light'
94. Childish Gambino – 'Redbone'
93. AJR – 'Weak'
92. Hailee Steinfeld & Grey – 'Starving' [Feat. Zedd]
91. One Republic – 'No Vacancy' [Feat. Amir]
90. Cashmere Cat – 'Quit' [Feat. Ariana Grande]
89. Daddy Yankee – 'La Rompe Corazones' [Feat. Ozuna]
88. Blackbear – 'do re mi'
87. XXXTENTACION – 'Look At Me!'
86. Little Mix – 'Touch'
85. Zion & Lennox – 'Otra Vez' [Feat. J Balvin]
84. DJ Snake – 'Let Me Love You' [Feat. Justin Bieber]
83. Migos – 'Slipper' [Feat. Gucci Mane]
82. Big Sean – 'Bounce Back'
81. The Chainsmokers – 'The One'
80. Drake – 'Fake Love'
79. Katy Perry – 'Chained To The Rhythm' [Feat. Skip Marley]
78. CNCO & Yandel – 'Hey DJ'
77. JP Cooper – 'September Song'
76. Sam Hunt – 'Body Like A Back Road'
75. Drake – 'One Dance' [Feat. WizKid & Kyla]
74. Migos – 'Bad and Boujee' [Feat. Lil Uzi Vert]
73. Ed Sheeran – 'Perfect'
72. J Balvin – 'Sigo Extrañándote'
71. Future – 'Selfish' [Feat. Rihanna]
70. The Weeknd – 'Starboy' [Feat. Draft Punk]
69. Travis Scott – 'goosebumps'
68. Shakira – 'Chantaje' [Feat. Maluma]
67. Hailee Steinfeld – 'Most Girls'
66. Kendrick Lamar – 'ELEMENT'
65. ZAYN – 'Still Got Time' [Feat. PARTYNEXTDOOR]
64. Kodak Black – 'Tunnel Vision'
63. Ed Sheeran – 'Castle On A Hill'
62. The Chainsmokers – 'Closer' [Feat. Halsey]
61. Harry Styles – 'Sweet Creature'
60. Pitbull – 'Hey Ma' [with Pitbull & J Balvin Feat. Camila Cabello] – Spanish Version
59. Burak Yeter – 'Tuesday' [Feat. Danelle Sandoval]
58. Lord Huron – 'The Night We Met'
57. Chris Jeday – 'Ahora Dice' [Feat. J Balvin, Ozuna, & Arcangel]
56. Kendrick Lamar – 'LOYALTY.' [Feat. Rihanna]
55. Drake – 'Portland' [Feat. Quavo & Travis Scott]
54. James Arthur – 'Say You Won't Let Go'
53. Wisin – 'Escápate Conmigo' [Feat. Ozuna]
52. Katy Perry – 'Bon Appétit' [Feat. Migos]
51. Martin Jensen – 'Solo Dance'
50. Niall Horan – 'Slow Hands'
49. Jax Jones – 'You Don't Know Me' [Feat. RAYE]
48. Nicky Jam – 'El Amante'
47. The Weeknd – 'I Feel it Coming' [Feat. Daft Punk]
46. Kendrick Lamar – 'LOVE.' [Feat. Zacari]
45. Maroon 5 – 'Cold' [Feat. Future]
44. ZAYN & Taylor Swift – 'I Don't Wanna Live Forever (Fifty Shades Darker)'
43. Calvin Harris – 'Rollin' [Feat. Future & Khalid]
42. Starley – 'Call On Me (Ryan Riback Remix)'
41. The Chainsmokers – 'Paris'
40. Clean Bandit – 'Rockabye' [Feat. Sean Paul & Anne-Marie]
39. Khalid – 'Location'
38. Imagine Dragons – 'Believer'
37. Halsey – 'Now Or Never'
36. G-Eazy & Kehlani – 'Good Life'
35. KYLE – 'iSPY' [Feat. Lil Yachty]
34. Lady Gaga – 'The Cure'
33. Danny Ocean – 'Me Rehusó'
32. Maggie Lindemann – 'Pretty Girl – Cheat Codes X CADE Remix'
31. Enrique Iglesias – 'SÚBEME LA RADIO' [Feat. Descemer Bueno & Zion & Lennox]
30. Imagine Dragons – 'Thunder'
29. Logic – '1-800-273-8255′ [Feat. Alessia Cara & Khalid]
28. Cheat Codes – 'No Promises' [Feat. Demi Lovato]
27. Post Malone – 'Congratulations' [Feat. Quavo]
26. Calvin Harris – 'Slide' [Feat. Frank Ocean & Migos]
25. Ed Sheeran – 'Galway Girl'
24. Martin Garrix & Dua Lipa – 'Scared To Be Lonely'
23. Julia Michaels – 'Issues'
22. Kendrick Lamar – 'DAMN.'
21. French Montana – 'Unforgettable' [Feat. Swae Lee]
20. Maluma – 'Felices Los 4′
19. Kygo & Ellie Goulding – 'First Time'
18. Lil Uzi Vert – 'XO TOUR Llif3′
17. Harry Styles – 'Sign of the Times'
16. Drake – 'Passionfruit'
15. Charlie Puth – 'Attention'
14. Luis Fonsi – 'Despacito' [Feat. Daddy Yankee]
13. Clean Bandit – 'Symphony' [Feat. Zara Larsson]
12. Bruno Mars – 'That's What I Like'
11. Shawn Mendes – 'There's Nothing Holdin' Me Back'
10. Miley Cyrus – 'Malibu'
9. Jason Derulo – 'Swalla' [Feat. Nicki Minaj & Ty Dolla $ign]
8. Kygo – 'It Ain't Me' [Feat. Selena Gomez]
7. Zedd – 'Stay (With Alessia Cara)'
6. The Chainsmokers & Coldplay – 'Something Just Like This'
5. Future – 'Mask Off'
4. Kendrick Lamar – 'HUMBLE.'
3. Ed Sheeran – 'Shape Of You'
2. DJ Khaled – 'I'm The One' [Feat. Justin Bieber, Quavo, Lil Wayne & Chance the Rapper]
1. Luis Fonsi & Daddy Yankee – 'Despacito (Remix)' [Feat. Justin Bieber]
---
Featured image by DJKhaledVEVO (YouTube screengrab)