There's a sea of young, burgeoning, American male rappers today but Daniel Hernandez, aka 6ix9ine, stands out.
How did 6ix9ine just come up out of the blue and become an instant hit?
Just a few months after wowing social media with his rainbow-colored hair (and teeth) in July 2017, 6ix9ine peaked at number 12 on the US Billboard Hot 100 with 'Gummo', his commercial debut single. 'Kooda' followed, and then a collaboration with Fetty Wap and A Boogie wit da Hoodie on 'KEKE' last month.
Suffice it to say, the Scumgang member is on the path to stardom.
But now, 6ix9ine is generating more buzz for other reasons. Other than his "punchy, full-throated rhymes".
In October 2015, the Brooklyn-born rapper pled guilty to charges of using a child in a sexual performance.  In a series of videos posted on social media, a 13-year-old girl engages in a sex act with another party.  Part of Hernandez's plea agreement required that he pass his high-school equivalency test.
Two years later, Hernandez is still trying to scrap through his GED requirement.
As admitted by his attorney in a Manhattan court room earlier this week, Hernandez has "struggled through it."
The 'KEKE' sensation was also afforded the chance to explain himself by judge Felicia Mennin. In a voice much less guttural compared to his vocals on mixtapes and on stage, 6ix9ine mumbled that he had been able to pass every other test apart from science.
This prompted Mennin, perhaps more lenient than usual on this occasion, to defer her ruling to April 10th, 2018.  "One last chance," she begrudgingly said.
By April 10th, the rapper must have completed that science bit or face dire consequences — one to three years in prison.
But 6ix9ine will not be locked up — not if he can help it.  He will do everything to not end up like his peers, the likes of Kodak Black and Bobby Shmurda.
On Wednesday (Jan 31) he popped up on Instagram (since deleted) in full study mode: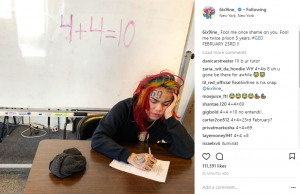 The caption was:
"Fool me once shame on you. Fool me twice prison 3 years. #GED FEBRUARY 23RD ‼ "
There is also a video on YouTube of the young star digging into his books:
The video also originated from a deleted post on his Instagram. Original caption: "Never failed a HIV test you think ima fail this GED. Ha maybe… just maybe."
Determined, to say the least.
---
Featured image via Instagram