Following a successful debut on Wall Street, Spotify bets you're ready to pay even more for a subscription while driving.  But, why not just use your Bluetooth-enabled smartphone in your car instead?
According to a report published in February, Spotify is planning to enter the crowded audio hardware market.  The company posted three interesting job advertisements on its site: an Operations Manager in Hardware Product, a Project Manager in Hardware Production and Engineering, as well as a Senior Manager.
The move, of course, makes sense for the company.  In an interview with Billboard, Jimmy Iovine, the head of Apple Music, admitted that companies can't make money from streaming alone.  In a direct swipe at its competitor, Iovine said that Spotify would "have to figure out a way" to get users "to buy something else."
Which of course, Spotify's elephantine competitors are doing.  Amazon, for example, sells Alexa devices and Prime memberships, among countless other things.  Apple manufactures its own smartphones, tablets, smartwatches, and now, smart speakers.
So, what does the Swedish company have, other than streaming?
Now, according to a new report, we may finally understand how Spotify plans to expand its business.  It may even turn a profit, too — but don't gamble your kid's tuition on it.
Pay even more for a smart speaker in your car, powered by Spotify.
In an e-mail, the company may have accidentally leaked plans for an in-car controller — and possibly standalone music player.
According to Reddit users who received the email, the device would feature 4GB of RAM and would use voice controls.  The device would reportedly use Amazon Alexa and "the 4G to run it."  Not much else is known about how it would work.
So, what's the asking price?  $14.99.  Users willing to make a year-long commitment would pay $155 upfront, or around $12.99 a month.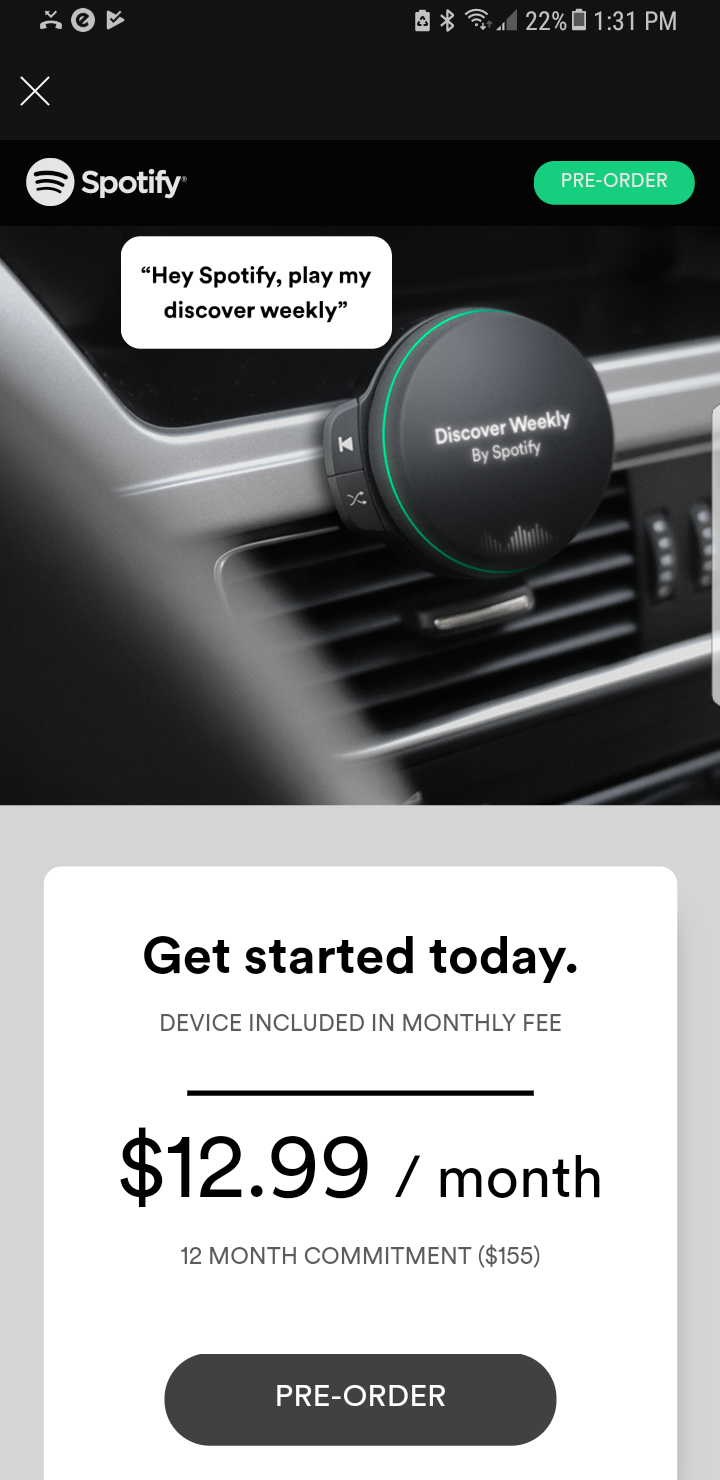 Spotify quickly backtracked from the accidental leak.  The company's official Twitter support page wrote to curious users,
"Hey there!  You might've received a test message.  We're always testing things in order to improve Spotify. There's more info here: spoti.fi/1U6Olr5 /PL."
The page, of course, links to a support post explaining why features suddenly change on its platform.
Once the news leaked, the company quickly sent out press invitations to a rather obscure "news announcement." Without providing any hints, Spotify may officially introduce the car speaker on "the morning of Tuesday, April 24th" in New York City.  The invitation reads,
"Save the date. Spotify invites you to a news announcement."
---
Featured image by Spotify