I recently had the opportunity to hop on a call with the team behind Ultimate Ears's Pro line and get filled in on what they have been working on.
This is one of my favorite brands to work with because I really appreciate their focuses on quality, providing a useful product that is functional and protects the hearing of musicians and comes in a variety of price points without diminishing quality at the entry level. The UE Pro CIEMs are great for both pro artists and for audiophiles thanks to their phenomenal sound quality so I recommend learning more if you are either of those.
The reason for this article and for my recent conversation with the company is that UE is updating their entire line! They have a new flagship and a new entry level model and their whole range has improved technology for the drivers, connections and cabling. They also have a better integration for Bluetooth in their new line which I am very excited to test!
I will be reviewing the Live pair with Bluetooth once they are available so keep an eye out for that review.
Here is there press release which has a lot more information:
Today, at Musikmesse, Ultimate Ears, announced Ultimate Ears LIVE, the brand's new flagship custom in-ear monitor (CIEM), and Ultimate Ears 6 PRO, both using Ultimate Ears' patented hybrid acoustic architecture. And, in a relentless pursuit to improve reliability, the entire Ultimate Ears CIEM lineup is now upgraded with the Ultimate Ears IPX Connection System, a durable new cable connection system that can withstand the rigours of music touring and minimize the need for service and maintenance.
"Our intention when designing our new flagship model was to create not only the best sound, but also the most reliable monitor possible. With UE LIVE, you're getting our best: pure, raw stage energy. We also needed a sweat-proof and tour-proof cable system, so we co-developed a solution from the ground up with a company that specializes in hearing aid and medical-grade cables. The UE IPX Connection System was designed to handle everything a musician deals with nightly — sweat, makeup, hairspray, humidity, set up, break down and travel."

Philippe Depallens, vice president and general manager of Ultimate Ears.
Ultimate Ears LIVE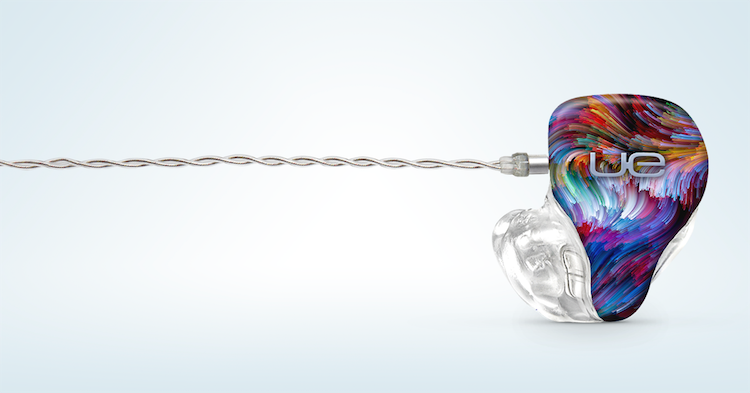 UE LIVE is ideal for festivals, arenas and stadiums, and offers a perfect solution for touring musicians. Built with a hybrid acoustic architecture, these monitors incorporate the most complex and powerful acoustic systems Ultimate Ears has ever developed, including six balanced armatures, one dynamic driver and the True Tone Plus, an upgraded version of Ultimate Ears' proprietary True Tone Drivers. Each driver is designed to handle its specific frequency range, giving UE LIVE the purest signal path Ultimate Ears has ever created.
Ultimate Ears 6 PRO
UE 6 PRO was designed as an introductory hybrid solution for drummers, bass players, DJs and hip-hop musicians. Taking advantage of the same hybrid acoustic architecture as UE LIVE, UE 6 PRO gives warm tonality, along with impactful bass and clear audio reproduction. This design includes two dynamic drivers for midrange and bass, along with Ultimate Ears' original True Tone Drivers for high-frequency fidelity.
Ultimate Ears IPX Connection System
This new system, co-created with estron a/s, provides a lightweight, IP67 certified sweat-proof, durable connection between cable and connector, allowing for easy swapping between different cable types. The Ultimate Ears SuperBax is a road-worthy cable, strong enough to hold a 12-pound barbell, yet so lightweight and transparent that it becomes virtually invisible. With significant reliability improvement, this new system can handle thousands of cycles of connect-disconnects.The new UE IPX Connection System can be plugged into any audio interface with a ⅛" (3.5mm) headphone jack.
Pricing and Availability
UE LIVE and UE 6 PRO can be pre-ordered today and are expected to be available and ship worldwide in early May 2018 through Ultimate Ears and authorized dealers, for a suggested retail prices of $2,199 and $699, respectively. Numerous color and custom faceplate options are available. For more information, please visit pro.ultimateears.com/uelive and pro.ultimateears.com/ue6. The UE IPX Connection System is expected to be available worldwide on all custom in-ear monitors orders starting in April 2018 through pro.ultimateears.com and authorized dealers. The connection system will be incorporated into the full Ultimate Ears CIEM lineup. You can choose between a 50", 64" or Bluetooth version of the system.
You can experience the new products and cable system at the Fischer Amps/Ultimate Ears booth at stand C43 in Hall 4.1 at Musikmesse. For more information on new products, please visit pro.ultimateears.com.
About Ultimate Ears Pro:
Ultimate Ears Pro, a brand of Logitech, revolutionized the way artists perform music on stage with the creation of its custom fit professional earphones in 1995. Today, more touring artists use Ultimate Ears Pro products than any other brand. For more information, please visit pro.ultimateears.com.