Swedish pop-DJ Avicii has been found dead at age 28.  The circumstances surrounding his death remain unknown but suspicious.
The following is a developing story.  Last updated Apr 20th 11:45 am PT.
Swedish superstar DJ Avicii (real name Tim Bergling) has been confirmed dead today (April 20th), a shock to the music community.  Exactly what killed the superstar — I'm not sure we want to know.
Avicii's publicist, Ebba Lindqvist, confirmed the death but did not offer many details.  The only concrete fact we have at this stage is that Avicii was found dead in Muscat, Oman.  It is believed that the Bergling was on vacation (Muscat is a pricey getaway destination).
Here's the official statement shared:
"It is with profound sorrow that we announce the loss of Tim Bergling, also known as Avicii.  He was found dead in Muscat, Oman this Friday afternoon local time, April 20th.  The family is devastated and we ask everyone to please respect their need for privacy in this difficult time. No further statements will be given."
At this stage, suspected causes of death are speculative, though Bergling had a rough history with alcohol.
Avicii was previously diagnosed with acute pancreatitis, traced partly to over-the-top drinking.  In 2014, Avicii removed both his gallbladder and appendix and was forced to cancel a string of shows.
In 2016, Avicii made mention of his health in a decision to scale back his touring and career.  "To me it was something I had to do for my health," Bergling told The Hollywood Reporter.
"The scene was not for me. It was not the shows and not the music. It was always the other stuff surrounding it that never came naturally to me. All the other parts of being an artist. I'm more of an introverted person in general. It was always very hard for me. I took on board too much negative energy, I think."
Already the condolences are pouring in.
Sony/ATV, Avicii's longtime publisher, immediately emailed DMN: "We are mourning the incredibly sad loss of an exceptionally creative talent who we have been honored and proud to represent as one of our songwriters for a number of years. Our thoughts are with his family at this time."
David Guetta offered on Instagram:  "Something really horrible happened. We lost a friend with such a beautiful heart and the world lost an incredibly talented musician.  Thank you for your beautiful melodies, the time we shared in the studio, playing together as DJs or just enjoying life as friends. RIP @avicii."
Calvin Harris said Avicii was "a beautiful soul, passionate and extremely talented with so much more to do," while Ellie Goulding wrote that the DJ "inspired so many of us. Wish I could have said that to you in person."
Here are just a few of the others.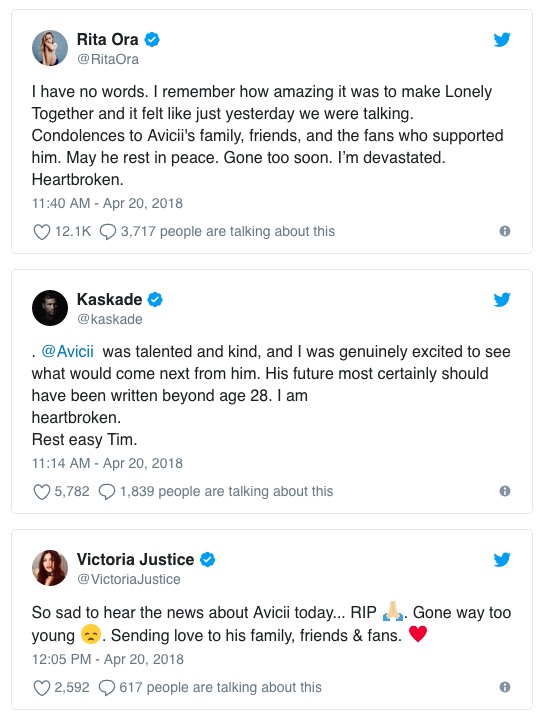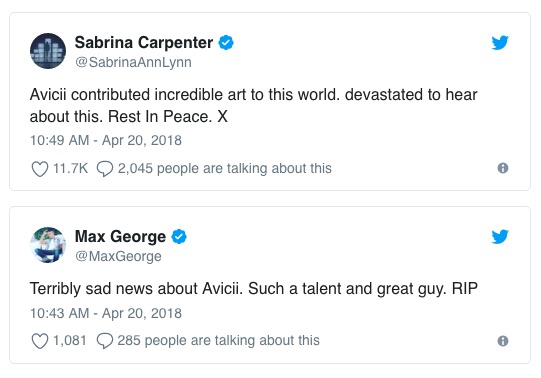 We'll have more as this develops.
---