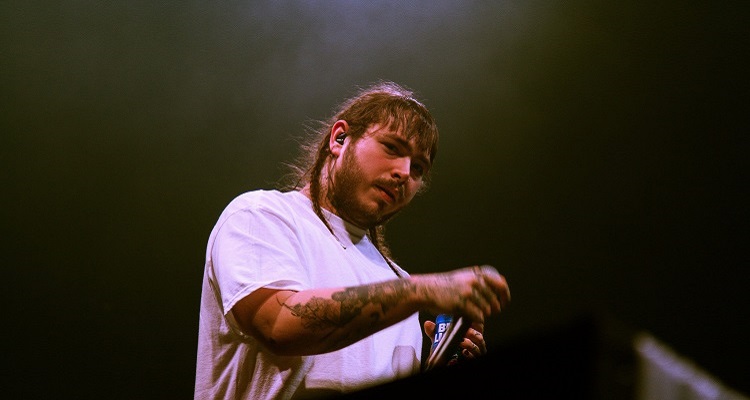 Post Malone goes platinum in just 4 days.
The Recording Industry Association of America has certified platinum Post Malone's sophomore album, Beerbongs & Bentleys.  Thanks to the popularity of his hit single, 'Rockstar,' the album had already been eligible for a gold certification prior to its release.
In addition, Beerbongs & Bentleys has broken the first-day streaming record on Spotify.  According to the streaming music service, the album has racked up 78,744,748 plays in just one day.  The album racked up 47,930,039 streams in the US alone.
---
J. Cole earns his fifth No. 1.
Cole's fifth studio album, KOD, has debuted #1 on the Billboard 200.  This marks the singer's fifth consecutive album to reach the top spot.  In addition, J. Cole also hit No. 6, No. 8, and No. 10 on the Billboard Hot 100 with 'ATM,' 'Kevin's Heart,' and 'KOD,' respectively.
---
Edison Research finds that heavy radio listeners probably already own a smart speaker.
Edison Research has released a new study titled The Infinite Dial: Heavy Radio Listeners.  The firm found that one-fifth of radio's biggest users own a smart speaker.  In addition, 'Heavy Radio Listeners' now compromise 30% of the American population aged 12 and up.  Among these listeners, 44% streamed music on YouTube.  29% used Pandora.  20% listened to AM/FM streams.  One in six heavy radio listeners has listened to a podcast in the past week.  You can find the complete study here.
---
R. Kelly's reps evoke images of black lynchings to defend the beleaguered singer.
Kelly's representatives have responded to sexual allegations against the embattled R&B singer.  They called the Time's Up-backed #MuteRKelly movement to boycott his music "unjust and off-target."  His reps added that the singer has become a target of "a greedy, conscious and malicious conspiracy."  Citing, America's troubled history with racism, they said in a statement,
"Since America was born, black men and women have been lynched for having sex or for being accused of this.  We will vigorously resist this attempted public lynching of a black man who has made extraordinary contributions to our culture."
---
Jeff Sosnow receives a promotion at Warner Bros. Records.
Warner Bros. Records has promoted Jeff Sosnow to Executive Vice President of A&R.  He will oversee the signing and developing of artists for both Warner Bros. Records and Reprise.  Sosnow had served as Senior Vice President of A&R since 2012.  He has worked with artists including Tegan and Sara, ‪Deftones, Mastodon, ‪Mac Miller, AJR, Death from Above, ‪The Head And The Heart, Twin Shadow, ‪Houndmouth and Rufus Du Sol.
---
Sources confirm Avicii's suicide.
A new report has confirmed that Avicii took his own life.  Sources speaking with TMZ claim that the famed Swedish DJ smashed a wine bottle and "used a shard of glass that caused massive bleeding."  In a statement released last week, Avicii's family had strongly hinted that the DJ committed suicide.
---
Orkila goes Down the Drain.
US capital fund Orkila has purchased 40% of Danish festival promoter Down the Drain.  The promoter currently owns music festivals Northside in Aarhus and Tinderbox in Odense.  It also owns another promoter, Beatbox Entertainment.
---
Record Store Day breaks a new record.
Nielsen Music has released its report on this year's Record Store Day.  The 11th annual edition, which took place on April 21st, yielded 733,000 vinyl albums sold in the US.  Independent retailers sold 580,000 of those albums.  The numbers mark the biggest week for vinyl album sales outside the Christmas season since Nielsen Music started tracking sales in 1991.
---
Restoring Massey Hall.
The governments of Canada and Ontario have announced a combined investment of up to $60 million into one of Toronto's most iconic heritage venues, Massey Hall.  Through the Revitalization project, engineers will restore the exterior and interior of the 124-year-old National Historic Site.  A new addition will be connected through the construction of a 7-story South Tower.
---
Gibson files for Chapter 11 bankruptcy protection.
Gibson Brands Inc. has announced that it will reorganize the company to focus its core business on the manufacturing of musical instruments and professional audio products.  It will also continue developing its portfolio of Gibson and Epiphone brands.  The company has reached a "Restructuring Support Agreement" with most shareholders.
---
TickPick acquires Razorgator.
Secondary ticketing marketplace TickPick has announced the acquisition of ticket resale platform Razorgator.  TickPick purchased Razorgator for an undisclosed amount after the latter company declared financial insolvency last February.  Razorgator will retain its company website and name.
---
The USTR releases its 2018 Special 301 Report.
The Office of the United States Trade Representative (USTR) has published its yearly Special 301 Report.  The report highlights countries that have failed to adequately protect US copyright standards.  The USTR identified 36 countries on the Priority Watch List.  In 12 countries – including Argentina, China, and Russia – the US will focus on the IP issues during intense bilateral engagement during the coming year.
---
Edge Music Network's new partnership with MondoTunes.
Streaming music video platform Edge Music Network (EMN) has announced a partnership with digital distribution service MondoTunes.  Edge has also launched Artist Pages.  The feature provides a way for artists and musicians to establish connections with fans, venues, and record labels.
---
Keeping the music industry in good health.
Country stars Rodney Crowell and John Vezner will lead Music Health Alliance's (MHA) 2nd annual "Heal the Music Day."  Launched last year, the day serves as a nationwide music industry fundraiser.  Taking place on Friday, October 19th, it will also raise awareness of MHA's free emergency services.
---
PRX signs with WME.
PRX, a podcast company, has signed with entertainment agency WME.  WME will expand PRX's work into film, television, and books.  PRX's work includes the distribution of This American Life and The Moth Radio Hour.
---
Entercom makes two key hires.
Entercom has hired two executives for its Radio.com brand.  It has named Pamela Russo as Senior Vice President and General Manager.  She will focus on advertiser and consumer products, client development, and revenue growth.  Christopher Rosen will serve as the editorial director of Radio.com.  He will lead content development, editorial, and video strategy for the platform.
---
Coca-Cola promotes BTS.
Coca-Cola has named Korean boy band BTS as promotional ambassadors ahead of the 2018 FIFA World Cup.  The company will debut as the group's promoter in June.  Coca-Cola has served as an official sponsor of the FIFA World Cup since 1978.  BTS will release their third full-length album, Love Yourself: Tear, next month.
---
Nappy Roots launches two craft beers.
Nappy Roots will launch two new craft beers this month.  On May 2nd, the Southern rap group will debut Watermelon, Chiquen & Gritz at Against the Grain brewery in Louisville, Kentucky.  On May 18th, Nappy Roots will launch The Humdinger at Monday Night Brewing in Atlanta, Georgia.  The group has previously experimented with their own home brewery, Atlantucky.
---
Four Tone Artists launches.
Four Tone Artists, a new boutique booking agency, has launched in Australia.  The agency will offer comprehensive booking services across the Asia-Pacific region.  Adam Montgomery and Josh Lane will head Four Tone Artists.
---
Vivendi will discuss UMG's IPO.
Vivendi has set a date to discuss Universal Music Group's IPO with its Board.  During the next Supervisory Board Meeting on May 17th, the Vivendi Management Board will present its initial findings.  The Board will also discuss the different hypotheses of how Universal Music Group capital may evolve.
---
Donald Glover signs a publishing deal with Kobalt.
Kobalt Music has signed a publishing deal with actor and rapper Donald Glover, aka Childish Gambino.  The worldwide agreement includes publishing administration – global synch and creative services – for all of Childish Gambino's future songs. In addition, Kobalt has signed Wolf + Rothstein, Glover's teams of collective songwriters and artists.
---
Featured image by The Come Up Show (CC by 2.0)