YouTube Music Premium, YouTube's subscription-based music service, is arriving in a matter of days.  Here's what we know.
YouTube is easily the largest online source for music consumption — whether visual, audio, or both.  In fact, it may be the single-biggest destination for music — period, online or off.
Now, that dominance is getting seriously stepped-up.
According to a confirmed announcement issued this morning, YouTube Music and its paid counterpart, YouTube Music Premium, are landing on Tuesday in five markets.  The U.S., Australia, New Zealand, Mexico and South Korea will enjoy the first iteration, with Austria, Canada, Denmark, Finland, France, Germany, Ireland, Italy, Norway, Russia, Spain, Sweden, Switzerland and the United Kingdom on the next wave.
"On Tuesday, May 22, we'll be changing that by introducing YouTube Music, a new music streaming service made for music with the magic of YouTube: making the world of music easier to explore and more personalized than ever," the company announced on its blog this morning.
"The days of jumping back and forth between multiple music apps and YouTube are over. Whether you want to listen, watch or discover, it's all here."
What's included?
We haven't seen the beast yet, but it looks like YouTube is planning to smartly leverage the content that other competitors like Spotify lack.  That includes everything from official music videos, remixes, and live performances, not to mention endless covers and other variations.  YouTube also promised 'thousands of playlists' and a radio feature.
Even better: YouTube says YouTube Music will organize the chaos of it all, with a touch of personalization thrown in.
YouTube also promised a 'totally reimagined' mobile app and desktop solution to neatly package it all.  They're even planning to unveil a smart search layer, so fans can search by lyrics and other identifiers.
As for personalization, YouTube Music promises to make recommendations based on your past listening — just like Spotify, Apple Music, and others.  They're also planning to introduce location-based recommendations, with an airport used as the example (though not sure exactly how that changes people's preference for tunes).
What's the price?
Interestingly, YouTube is planning to offer a major chunk of this for free.  So, millions of listeners will enjoy a stepped-up experience overnight.  But if they want extra features like background listening, downloads and an ad-free experience, that will cost $9.99 a month.
The paid-for option is technically called' YouTube Music Premium'.
On top of all of that is simply 'YouTube Premium,' which covers YouTube in its entirety.  That will cost $11.99, though existing YouTube Red subscribers will enjoy the same, $9.99 rate for everything.
It looks like YouTube Red is completely disappearing here, and getting reimagined as YouTube Premium.
One detail for South Korea is that YouTube will only be launching YouTube Premium, not YouTube Music Premium, in that country on Tuesday.  Frankly, it's hard to tell exactly what that will include at this stage, but it looks like South Korea will eventually get the dedicated YouTube Music Premium option — probably in a few weeks.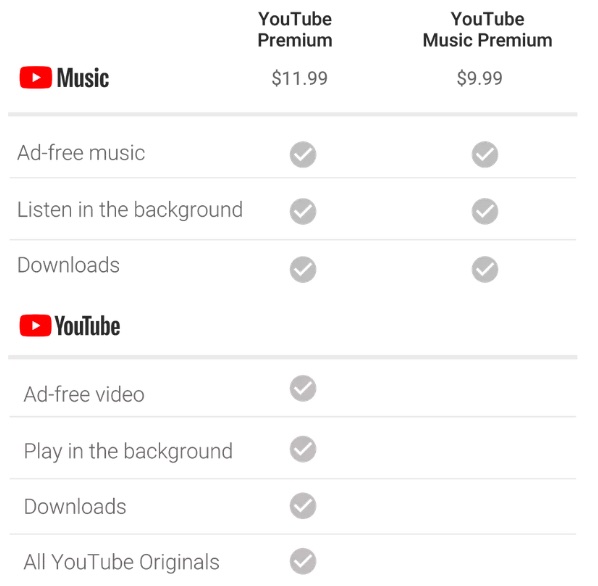 Should Spotify, Apple Music, and Amazon Music be scared?
Quick answer: definitely.  But the biggest reason isn't that there's a new paid subscription service coming.  It's that YouTube is now stepping up its music offering in a serious way, and offering it for free.  Already, the company brags that more than a billion people come to YouTube specifically for music, and they might not be far off.
Those kinds of numbers have been creating serious drags on platforms like Spotify, who are competing by creating a better service.  Spotify is also winning subscribers with an actual mobile experience that works, something that YouTube is now releasing.
All of which means that an enormous elephant just got bigger and better — while offering people far more reasons not to pay.  And, offering a potentially superior experience for those that are willing to commit to a $9.99 cost.
---