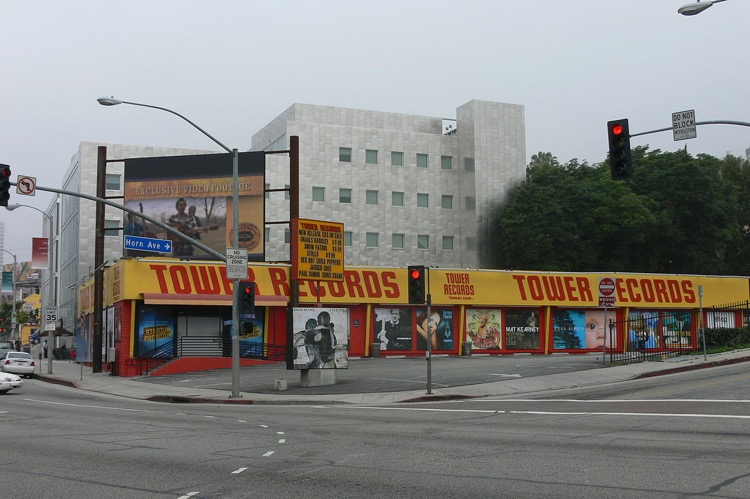 The storied Tower Records building on Sunset Blvd. in Los Angeles could be getting demolished — thanks to the situation surrounding Gibson Guitar's bankruptcy.
Tower Records has been out of business for more than a decade, but its legacy remains on Sunset Blvd. in West Hollywood.  In fact, there's even a grassroots effort to preserve the structure as a historic landmark, given the importance of the once-proud retailer in LA music culture.
Now, it looks like those efforts might get brutally crushed — by a wrecking ball.  And you can thank Gibson Guitar for this looming mess.
The reason is that Gibson is actually the lease holder on the property, located at 8801 Sunset Blvd.  They assumed the lease back in 2014 as part of an effort to preserve the landmark.  That was a noble effort, but ultimately a unmanageable expense for the troubled guitar giant.
Accordingly, Gibson is now asking a U.S. Bankruptcy Court judge to void its lease of the property.   Apparently the building was being used as an 'entertainment relations office,' even though Gibson had other, more functional offices nearby.  In the petition, Gibson cited 'expensive monthly rent,' and a property unneeded for its core business of making guitars.
One likely result is a transfer to another leaseholder, and — at best — a total paint-over of the iconic Tower sign.  But this prime real estate could easily be transformed into a shiny office building, high-rent building complex, or a flashy hotel.  All three of these structures are in high-demand in this highly-desirable district.
The lease situation was first uncovered by local publication WEHOville, which noted that most Los Angelenos welcomed Gibson's involvement back in 2014.
"Gibson's lease of the building and its decision to restore the Tower Records logo on its façade were welcomed by preservation activists and rock music enthusiasts," WEHOville relayed.
Shortly after Tower Records went bankrupt in 2006, the Sunset structure was painted white, erasing the longtime legacy.  Upon commencement of its lease, Gibson repainted the iconic, red 'TOWER RECORDS' letters back on the front, complete with the yellow backdrop.
That effort turned out to be largely philanthropic however, with Gibson failing to use its lease to catapult its own business.
Separately, the building's owners are probably looking for a new tenant given Gibson's instability.  We're actually not sure who owns the lot and property, though it's likely that a new lessee would use the property to advance its own business interests — instead of creating a historic shrine for music fans.
Then there's the possibility that Gibson walks away and the property remains idle while another buyer is sought.  But the likelihood of the city preserving this structure in the meantime are very, very slim.
---