Major venues and indie promoters across North America are dealing with a blackout following Ticketfly's massive data breach.
Updated, Sunday June 3rd: Ticketfly's main site has remained down all weekend.  Certain client sites appear to slowly coming back online, and Ticketfly has now issued the following statement over the weekend:
"In consultation with leading third-party forensic and cybersecurity experts, we are in the process of bringing the Ticketfly ticketing system back online with the security of our clients and fans top of mind. We are grateful for the outpouring of support our community has shown us while we continue to work through this cyber incident."
Here's our coverage from Friday.
Popular ticket distribution service Ticketfly has suffered a major data breach.
In a statement posted on Twitter, the service confirmed the hack.
"Following recent site issues, we determined that Ticketfly has been the target of a cyber incident.  To protect our clients and fans, and to secure the website and related data, we have temporarily taken all Ticketfly systems offline.  We'll keep you updated."
Amplify first broke the story.
The breach forced the company to take its ticketing service offline.  Ticketfly has also taken down its blog, all supporting sites, and its ticketing sales queue for thousands of events and independent promoters.  As a result, thousands of clients, including major indie venues, have been unable to sell tickets to their events.
It remains unclear when the actual breach took place.  Company engineers – including founder Andrew Dreskin – have worked sleepless nights trying to contain the breach and assess the damage.  Yet, a Cyber Incident Update page on Ticketfly only states,
"Our investigation into the incident is ongoing.  We're putting all of our resources to confirm the extent of the unauthorized access.  We're committed to communicating with all customers once we have more information about the scope of the issue. "
A warning posted by the hacker – known only as 'Ishakdz' – earlier this week gives us a clue into the full extent of the attack.  And it's not pretty.
A source speaking with Amplify confirmed that the 'backstage' database includes client information for "thousands of venues, promoters, and festivals that use Ticketfly."
"It's where clients perform all their work building events, setting prices, etc."
Even worse, the source only "hopes" that the service has "cordoned off and encrypted" clients' info.  This means that the hacker may have gained access to customer data.
Ishakdz first breached Ticketfly's WordPress blog.  The hacker then gained access to "information about Ticketfly's members."  It remains unclear what "members" means.  In addition, the company doesn't know when and where Ishakdz will dump the stolen and sensitive information.
In fact, speaking with Mashable, the hacker claims to have asked the company for a single bitcoin – worth about $7,500 – in exchange for the data.  Ticketfly reportedly refused.  Ishakdz then posted a screenshot of the files breached.
"I asked them 1 bitcoin for protection.  But I did not receive a reply from them."
Following the hack, the indie music industry has braced itself for what Amplify has dubbed "a North American blackout."  The Monarch Music Hall in Peoria, for example, has closed its box office.  Several promoters, including I.M.P. Concerts, have postponed ticket sales.
Even a Digital Music News staffer running sizable events of her own has been forced to make on-the-spot changes.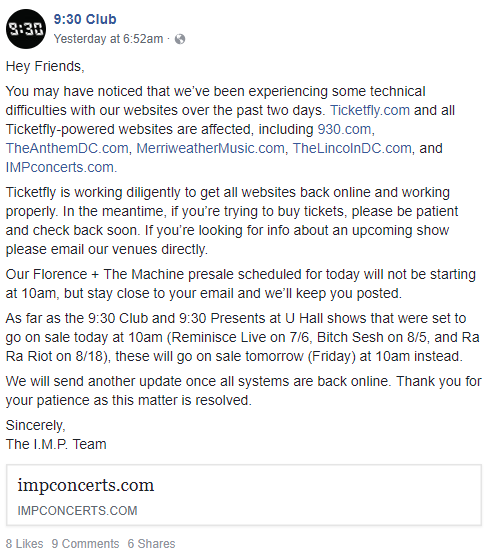 The 9:30 Club reassured callers who phoned in that it had a list of ticketholders for several shows.
Spaceland Presents in Los Angeles has asked ticket buyers to remain patient.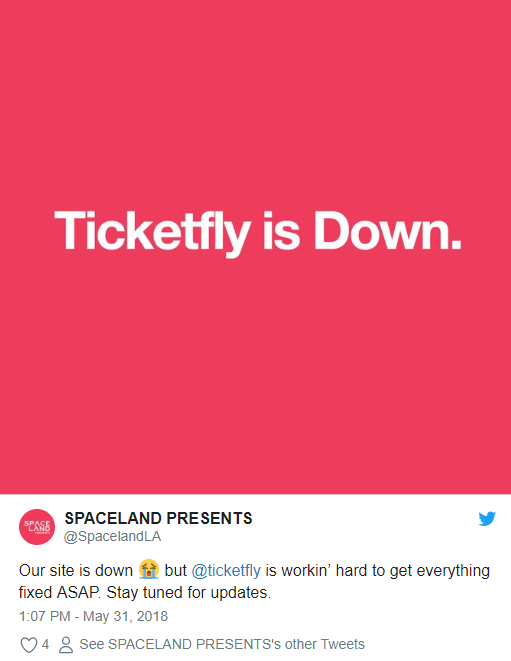 The Brooklyn Bowl has offered to sell tickets at the box office and urged fans to reserve tickets by telephone.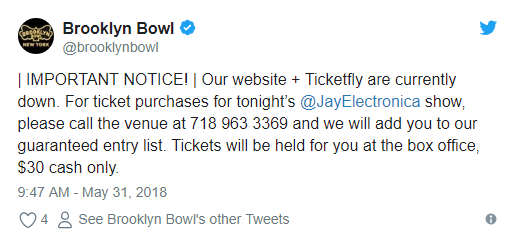 Ticketing and event technology platform Eventbrite had purchased Ticketfly from Pandora Radio for $200 million last year.  Pandora had initially purchased the independent ticketing service for $450 million in 2016.
Eventbrite issued a statement on Twitter that the Ticketfly breach hasn't affected its platform in any way.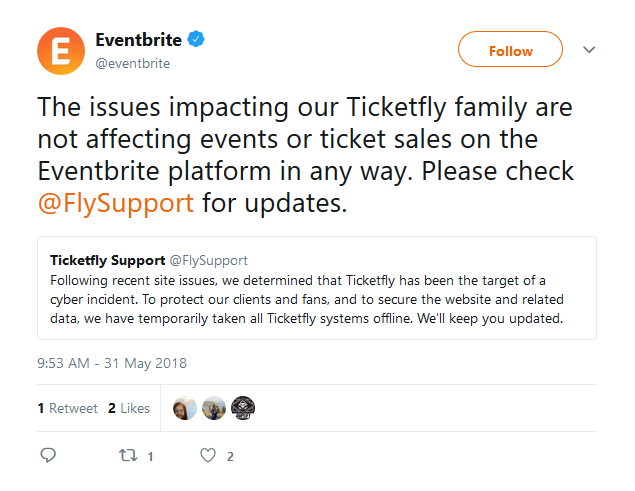 ---
Featured image by Christoph Schulz (CC by 2.0)